How to avoid silly mistakes and negative marking in NEET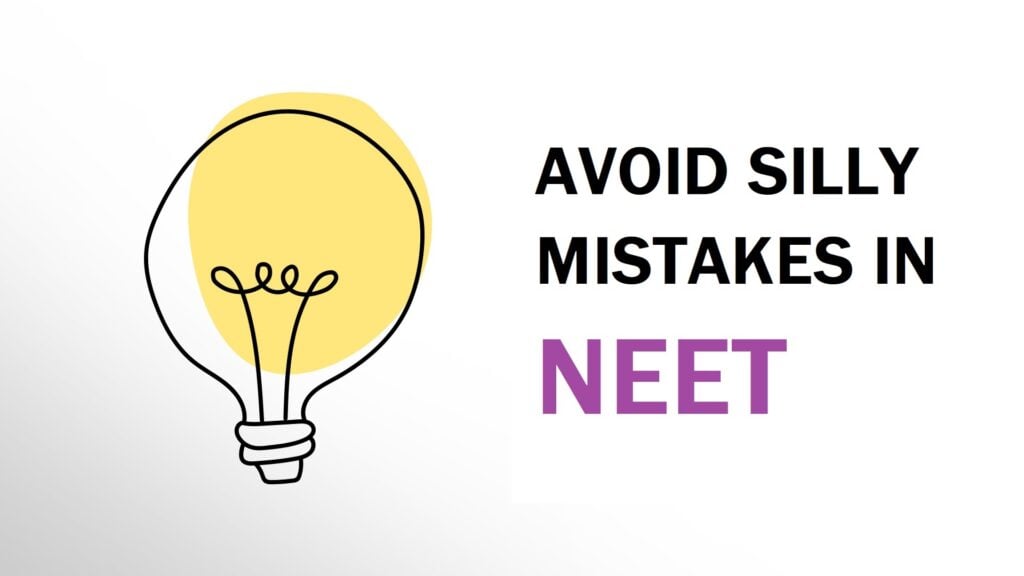 Thousands of students sit for the NEET exam every year to get into the college of their choice. But only a few make it to the finishing final.
Do you find yourself making silly mistakes in the NEET mock tests? No matter how hard you have studied and how much you know, you keep making those mistakes. These mistakes can prove costly to you.
After all, just a mark here and there can hamper your efforts in securing your dream rank. Therefore, here are some tips that a NEET aspirant should follow to reduce negative marking in the NEET examination.
1. Overconfidence Precedes Carelessness
When NEET aspirants become overconfident, it affects the strategies they adopted to learn the information. As a result, these students underestimate how much time and effort they should put into a topic or subject. Being confident about the exam is good, but it is also important not to mistake one with the other because overconfidence could lead to carelessness and silly mistakes while attempting NEET questions. For example, while reading the questions, some students get excited to tick the option even when they have a slight idea about the topic, which often leads to negative marking.
2. Read All Questions Carefully
Have you ever faced the scenario where multiple-choice questions were given to you, and you were too sure of the answers? However, when you got the test results, you found that you chose the wrong answers. There were four choices for every question, but you circled the wrong ones.
Bummer, right? Especially when every mark counts in NEET, and negative marking could put you in a tight spot. We often miss important clues mentioned in the question as our brains have a habit of seeing what they want to see rather than what is actually mentioned. Therefore, reading each question properly is the most important thing while attempting the questions.
3. Answer the easy questions first
If you think that some questions can be answered easily and quickly during the exam, proceed with those questions first. Make a routine to solve NEET mock test paper and get as many marks as possible from the questions you find easy to answer. By doing this, you will find your confidence rising, and you will be getting more correct answers because you are sure that the answers marked are correct. And in the exam, even when time is tight and pressure is high, you will be able to score well in these topics.
4. Skip Doubtful Questions
Why take a guess in the most important exam of your life? Students feel slighted by the fact that they had to leave questions in the NEET examination. You may feel that the exam is not complete till you have attempted every question. But this is not your school test where you have attempted every question, and you may get points from writing steps or just for effort!
Any doubtful questions can result in negative marking. So, skip these NEET questions or come back to them later. Also, don't waste your time on a question that is eating away your time or you are not confident about.
Remember, leaving doubtful questions instead of getting them is always a wise decision.
5. Follow the Right Strategy of Solving MCQs
To solve MCQs, there is a strategy that every NEET aspirant should follow. First, read the questions to understand what the examiner is asking from you. Look out for double negatives or other twists in the answer. Before looking at the options, try to come up with your own answer. This will help you to rule out the choices that are similar to the correct answer.
Eliminate any option which you think is incorrect. Now, focus on the remaining choices. If you complete the entire NEET paper with additional time to spare, you can always come back to the doubtful questions and review these questions. Sometimes, you may get clues from the other questions in the test.
However, these strategies can only be performed if you practice a good number of NEET mock tests.
6. Solve Previous Year Question Paper
One of the best ways to know about your level of preparation is to solve as many NEET previous year question papers. Solving these question papers will give an idea about the NEET exam pattern, exam trends, and types of questions asked in the examination.
The whole exercise will also help you in time management. For instance, if your examination is for 3 hours, you should be able to solve the questions in 2 hours and 50 mins. The remaining time can be left for cross-checking or reviewing the questions.
7. Keep Calm and Stop Stressing Out
Most students lose their calm when they receive the NEET question paper. After just reading the first set of questions and not knowing the answers, they lose confidence in their ability to solve the rest of the questions.
This practice negatively impacts their score as they lose their focus and fail to attempt the questions they actually know. Therefore, for a NEET aspirant, it is important that you beat the stress and remain calm for exceptional results. Moreover, make a habit of double-checking your calculation to avoid silly mistakes in numerical.
How Darwin NEET App Help You Minimize Negative Markings
When a NEET aspirant subscribes to a Darwin app, you get unlimited access to more than 55000 questions. The app contains more than 30 years of NEET solved papers and questions from various medical entrance examinations. As you solve these papers, you can improve your speed, accuracy, and time management.
With the Darwin NEET app, you can also get an idea about your weaknesses and strengths. Our breakthrough technology" PrepDNA" identifies the areas where you need to work more. The adaptive question technology will come up with more such questions until you start getting them correct.
Darwin is your NEET prep partner, which acts as a digital guide and helps you excel in the examination.
Believe You Can and You are Halfway there
NEET is one of the most competitive exams in India, and it requires commitment, hard work, and unparalleled dedication from an aspirant. You not only want to crack the examination, but you also want a good rank. NEET exam patterns have largely remained the same over the years. Practicing thousands of questions can help you gain every mark in the NEET exam. In addition, staying positive, reading questions properly, and avoiding silly mistakes can minimize your chances of negative marking.
Darwin helps you discover the areas where you are making mistakes. As you solve questions from the Darwin NEET prep app, you keep getting better and better with every effort.
Save every mark from negative marking and soar through the skies with an incredible NEET result.