Master NEET Biology in 5 Simple Steps with Darwin App
How important is Biology for NEET preparation? 
With a total of 90 questions out of 180, Biology carries a weightage of 360 marks in NEET. Undoubtedly, this makes biology the most crucial subject in the NEET exam. This subject can make or break your chances of securing your dream rank.
So, how can a NEET aspirant make the most of biology? Do you have to read the whole syllabus? Are you supposed to mug up the facts? Most NEET aspirants are perplexed by these questions.  
Well, worry not! Read our informative guide for NEET preparation tips on Biology that have helped thousands of NEET aspirants in securing good seats in medical colleges.
1.Study the Syllabus
The syllabus is the first step to kick-start your NEET preparation. If you want to get an idea about an exam, read the syllabus carefully. In the past, around 40-42 biology NEET questions came from the 11th Class, while the remaining 48-50 questions came from the syllabus of class 12.
After understanding the syllabus of NEET biology, you should ascertain all the significant topics from both the sections of the Botany and Zoology, the weightage they have, and the books you should use to prepare for NEET.
Here is the NEET Biology chapters weightage:
| | |
| --- | --- |
| Chapters | Weightage |
| Human Physiology | 20% |
| Evolution and Genetics | 18% |
| Diversity of Living Organism | 14% |
| Cell: Function and Structure | 9% |
| Reproduction | 9% |
| Human Welfare and Biology | 9% |
| Environment and Ecology | 6% |
| Plant Physiology | 6% |
| Structural Organisation in Animals and Plants  | 5% |
| Biotechnology and its Applications | 4% |
Go through the syllabus to understand the pattern. The weightage and pattern will provide you with the roadmap to prepare ahead.
Darwin NEET prep app helps aspirants in their aim to crack NEET biology with continuous evaluation of their learnings. Our NEET question bank has been designed by experts based on the importance and weightage of each subject. You can even customize your test workout based on the topics and subjects. Apply your learnings by practicing topic-wise questions for biology NEET.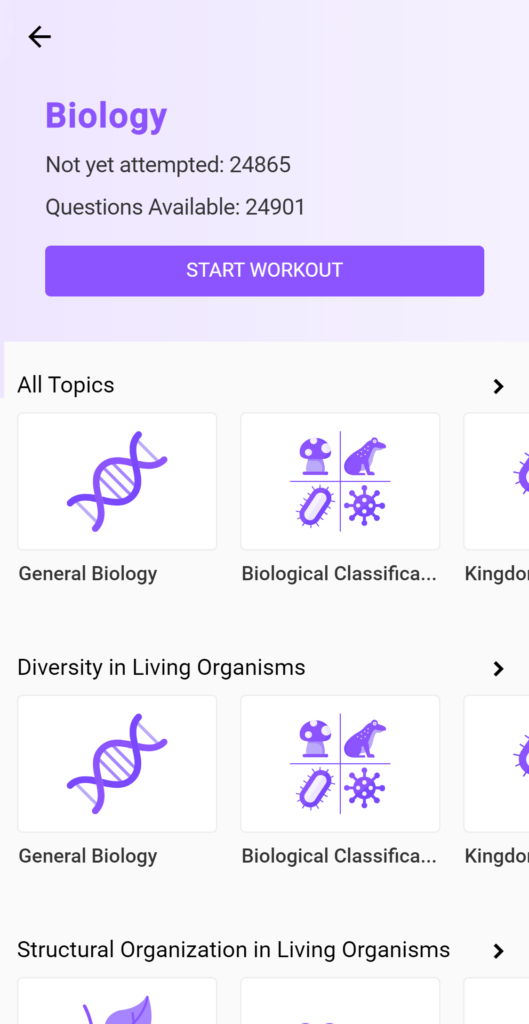 2.NCERT First
NCERT is called the bible of NEET. You can't score good marks if you haven't prepared from NCERT. On the other hand, if you have read NCERT thoroughly, you can easily solve around 70 questions from the NEET biology paper. This is because most questions from the 11th and 12th classes are based on NCERT books, either directly or indirectly.
You can start reading NCERT books and make detailed notes along with them. For example, while going through a particular chapter, you can mark or highlight important concepts.
 Many NEET aspirants also make hand notes. This process helps you remember the concept more than what you would just after reading it once. Then, later, when you revise, you can simply go through the concepts that you have marked or written instead of re-reading the whole chapter.
In addition, you can also use flashcards for active recall and retention. DARWIN App offers a flashcard feature to assist students in cracking NEET through purposeful practice. With over more than 3000 biology flashcards, students can work on their concepts alongside solving MCQs. NEET Biology flashcards on Darwin are a great memorization aid. You simply have to choose a sub-topic in Biology or Zoology and begin practicing these flashcards.
3.Practice Past Papers every time you get a chance
Did you know that 8-10 NEET Biology questions can be easily solved if you have practiced the NEET questions papers of previous years? In fact, these questions are repeated with little or no modifications. So, why not grasp this chance and avoid any excuse to practice?
When it comes to NEET preparation tips for biology, solving previous years' papers assist you in getting first-hand experience of the exam. You can easily identify frequently asked questions and important topics to prepare for NEET biology.   In addition to solving previous years NEET papers, you should also solve the question papers of AIIMS and JIPMER exams.
Wait!
You don't have to go looking for sources or books to practice biology previous year questions because it's FREE here. Darwin gives you access to over 27,000 authentic MCQs with explanations from old NEET, AIIMS & other tests. With Darwin, you can practice a large number of relevant, high-quality biology MCQs. This NEET prep app also offers explanations with the correct answers. Apart from building a strong foundation, you can even train your brain to find patterns in questions.
4.Mock Test Prepares You for the Finals
If you think you ought to solve mock tests after completing the full NEET syllabus, you couldn't be more wrong.
Mock Tests strengthens your fundamental knowledge and help you understand the NEET exam pattern in advance. They introduce you to the specifics of the exam paper, including the number of questions asked, weightage, type of questions, important questions, etc.
While solving NEET mock tests, you must make notes of topics or questions where you face difficulty. This will help you analyze your performance and give you a clear idea of where you stand.
Thankfully, with DARWIN for NEET app, you can take as many mock tests as you want. In addition, Darwin has advanced technology that keeps a track of your performance, letting you identify your weaknesses and strengths. These insights will direct you to your goal and help to improve your performance in NEET 2022.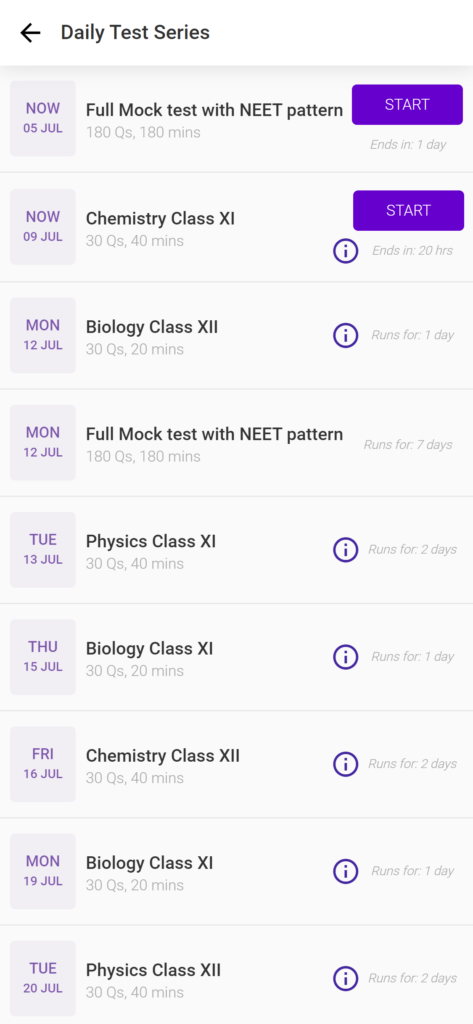 5. Revision Brings Is its Own Reward
Do not forget to revise. Revision requires you to take a look at things you have already learned or practiced. Daily revision means less stress and anxiety as it allows students to revise at their own pace instead of exhausting themselves before the final day.
Approach it in the right way and test revision is an excellent way to consolidate all you have learned about biology in a given period.
Darwin NEET app offers the perfect features for revision. The app helps you revise your mistakes from the last three days to improve your weak areas. As you solve questions, you can bookmark the questions that you got wrong and come back later to revise them again. You can also review your test history, bookmarked questions, and flashcards for revision.
The Best Preparation For Tomorrow Is To Give Your Best Today
Every year around more than 10 lakh students compete for the NEET exam. This number is expected to increase in the future. There is an extreme competition that makes the NEET 2022 a tough nut to crack. Even most meritorious students sometimes do not get desired results.
The vast syllabus, tough subjects, and fierce competition, along with a lot of pressure, may take a lot from the aspirants. It is, therefore, necessary that you "STUDY SMARTER, IF NOT HARDER".
Our NEET preparation tips for biology will help you plan each step meticulously in your path to glory. You ought to understand the syllabus, set learning goals, monitor your progress, and act in a disciplined manner.
The journey is difficult but not IMPOSSIBLE. Subscribe to the DARWIN app for free to see your name amongst the toppers.