Study Plan for NEET 2022 Droppers | Preparation Tips
Took a big step, uh! You dropped a year to prepare for NEET 2022.
A step that you and your family were apprehensive about. A step that you felt would make friends and relatives think less of you. A step that is giving you sleepless nights. The urge to prove yourself to others.
But what if we say that you can change your life with simple strategies. Strategies that can take you a lot closer to your dream of becoming a doctor.
If you are anxious about the decision you have taken regarding taking a drop for NEET, dedicatedly follow these strategies. These tips can provide you the self-belief you need. After all, self-belief is vital to accomplish your goals, dreams and to improve your NEET score.
So, read on to know more about how you can score a lot more than you did last year. Our study plan for droppers offers alternative thinking to your NEET study plan. Read on to know if you should rejig your study plan to reach the finishing line of NEET 2022.
1. Start by Motivating Yourself
If You Can Dream It, You Can Do It.
If you have not been able to clear the NEET 2021, then drop the self-negative thought. So yes, you are dropping a year. But so, what? There is no reason to feel ashamed of the fact.
Do you know 11 lakh students are competing for some thousands of medical seats every year?
The NEET exam is fiercely competitive, and if you have not seen your name in the result list, there is no reason to feel demotivated.
Do not possess the insecurity around yourself of being a dropper. Since you are a dropper, you have first-hand knowledge about NEET preparation. Use it to your advantage, and you will find that you have the edge over the students who will be giving it the first time. This is surely a great position to be in.
Use your experience of giving one attempt to help others and yourself. Darwin enables NEET aspirants to create and post NEET practice questions. You can create challenges and customized tests for your friends. Ask them to join in and find out how everyone else is preparing. When you teach others, it helps you retain better. This exercise will also help you to gain a better understanding of the material.
2. Evaluate Your Mistakes
You have already given one NEET exam. Be honest with yourself as to why you did not clear the exam. If you try to live in self-denial, then you will not be able to improve. There could be numerous reasons and mistakes that you might have made. For instance:
Not serious enough about the NEET exam.
Neglecting 11th class NEET syllabus
Concentrating on one subject and leaving others
No focus, no study plan
Unable to complete the syllabus (lack of time management)
Not practicing enough NEET questions
Leaving NCERT because you thought it was too basic
Several Distractions (friends, social media, phone, etc.)
NEET droppers need to find the reasons for their downfall. It would help if you wrote the reasons, you feel, were responsible for a low score in your previous attempt at NEET. Any weaknesses that you observe must be conquered. Turn your weaknesses into strengths for the final attempt to improve your NEET score.
Darwin's breakthrough analytics allows you to know the amount and direction of effort you need to put in your NEET prep. Find out how much effort you are putting in. When preparing for NEET 2022, you have to build the right strategy that can take you through. Darwin allows you to accurately pinpoint your strength and weaknesses, channelize your NEET preparation in the right direction.
3. Make a study plan
Did you find yourself procrastinating a lot when trying to study? NEET syllabus is vast, and you must keep up with the number of materials (coaching classes and their resources) along with your current study schedule.
Therefore, a study plan is a crucial factor at times like these. A good NEET study plan can benefit you in providing an excellent organization as well as creating a sense of accountability during the learning process.
A study plan is not merely a timetable. It is more comprehensive than the timetable. With a good study plan, you should be able to complete the entire NEET syllabus, focus on strengthening your weaker areas, practice mock papers, and get ample time for revision.
Prioritize your weaker areas for effective preparation. The study plan for NEET should be realistic and based on the following analytical approach: –
How many hours per day can you study for each subject? How many hours per day will you dedicate to solve NEET MCQs?
How you are going to prepare for each subject?
How much time should be dedicated to Physics, Chemistry, and Biology, in view of individual requirements?
How to create an environment for fruitful study? For instance, one can switch off a mobile phone for some time.
How much time for NEET revision should be left?
A solid study plan helps you track your progress. It will increase your productivity and aid in time management.
You can use Darwin PrepDNA, which helps you find out what subjects or topics require more effort on your part. Using the feature, you can create your personalized study plan. This would help you to decide which topics or subjects need more hours of preparation.
4. Form a Solid Base
It is important to build a solid foundation for the NEET exam. A major part of the NEET is based on testing the candidate's concepts. Hence, you should make your fundamentals extremely strong. When your core concepts are strong, you will be able to solve different puzzling questions in the NEET exam.
Read the NCERT carefully. Read the topics of the three subjects and try to understand the concepts behind them. You already know the syllabus and exam pattern of NEET. If you do not, then go through the syllabus for a deeper understanding. Study the weightage allotted to different topics and prepare a strategy accordingly.
The art of writing everything you read is most crucial here. When you prepare good notes, they will benefit you during the time of revision as well. Highlight important topics for easy revision. If possible, make a summary of each topic and jot down the formulas. This way, you can easily go through the whole chapter and revise the topics before the NEET exam. So, if you are a dropper and haven't paid enough attention to note-making, this is the time to gain control.
5. Solve Previous Year NEET Papers and Mock Tests
So, you might be thinking-why practice questions that had already come in past papers? What purpose would they serve?
One of the main areas where most of the NEET aspirants fail is the lack of confidence and unfamiliarity with the exam atmosphere. Past year questions and online mock tests stimulate the actual NEET test environment. You can take these mock tests at your convenience from the comfort of your home. Moreover, mock tests provide NEET aspirants a chance to frequently revise the syllabus. Thus, it is better to take the mock test right from the beginning of your journey.
The mock test also reveals your strengths and weaknesses and indicates which topics need more focus. Competitively attend every NEET mock test to learn the balance between time management and stress management. Do not forget to check your progress-how far you have come and how far you need to go.
With the help of the Darwin app, you can solve a variety of NEET questions from any subject or topic. Solve more than 30 years of NEET previous year papers to gauge your current level of preparation.
Darwin NEET prep app has turned out to be the most beneficial learning resource for NEET aspirants. You can solve chapter-wise MCQs, NEET test series, daily tests & mock tests while studying new topics. As you solve each question, you also get detailed explanations. This would help you prepare your fundamentals alongside solving questions.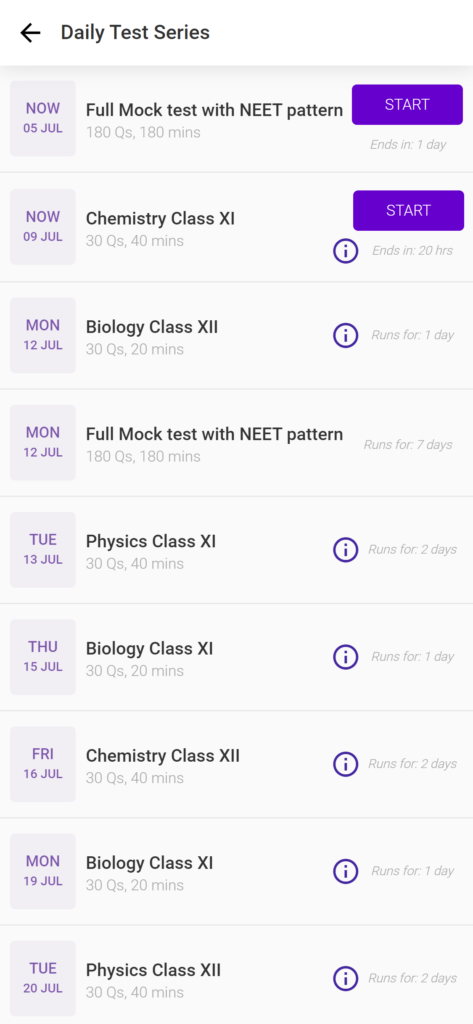 6. Revision Can "Make or Break" Your Dream
Revision is the ultimate "must-do" thing before the exam. You have to revise the topics you learned months back in a timely manner. NEET exam preparation is a continuous process. For instance, you might have completed the Biology syllabus long back, but memory deteriorates with time. So, it is important that you do regular revisions before the NEET exam.
Also, if you have been revising your subjects periodically, it means comprehensive preparation, less pressure, and reduced stress!
Darwin NEET app helps you in revising daily. You can easily use the daily NEET revision feature after you practice the test. Bookmark the questions and revise them any time till your concepts are clear. Our intelligent adaptive question delivery aims for your weaker areas. It will focus on displaying questions that have been done wrong in the past.
7. Be consistent and do not get bored
Your Positive Action Combined With Positive Thinking Results in Success.
Do you find yourself bored by reading the same thing again? After all, you had already studied the same concepts last year. This is the reason many droppers preparing for NEET fail again to clear the exam. If you feel that studying the same syllabus is boring, you should change the learning medium. Why not do something different to read and memorize things!!
Did you know that you can use a flashcard to memorize the facts? Darwin has a flashcard feature that can help you to memorize copious amounts of information. With over 3000+ flashcards, our breakthrough technology will analyze how you are performing and will help you evaluate the difficulty level of each card/concept.
NEET aspirants should stick to their study plan. Take regular rests, keep distractions away, and say no to any social engagements if they collide with your study schedule. If you want to motivate yourself, say affirmative things like 'I am capable' and 'I can do it. You need to get in the right frame of study to excel in the NEET.
Success Takes Time. Stay Focused!
Cracking the NEET exam with flying colors is every aspirant's dream. You have worked hard to achieve this dream. So, NEET droppers, do not panic. Instead, get moving, do smart studying, be consistent, and take advantage of the best resources.
Get organized, evaluate your failures, and find out what you need to do more to get your dream NEET rank. Students who do not plan their study schedules suffer a lot. Learning from your past mistakes is the first step to success.
Remind yourself why you have chosen this path for yourself. Maybe, you and your parents dreamed it. But now, you owe it to yourself to make your dreams come true. So, come on! Subscribe to Darwin and maximize your chances to crack NEET.
Believe it. Do it. All the best!