How to revise effectively for INICET
Are you gearing up to take the INICET Medical PG Exam? With the exam date fast approaching, it's important to make sure you are prepared to tackle the vast amount of information you need to know
A well-planned revision strategy can be a game-changer to secure the desired score. It allows candidates to make the most of their time while also assisting them in understanding their own strengths and weaknesses.
This article aims to inform aspirants about some simple hacks that will assist them to take their revision game to the next level!
1. The first step
Before doing anything, the 1st step is to make a detailed plan or a to-do list. Without a proper direction, you will just end up wasting time. Determine ahead of time what you want to and do not want to study. How many INICET mock tests, MCQs, etc you want to solve each day, and the time you want to dedicate to revision. Everything should be mentioned in the daily plan or to-do list. At the end of the day, check how many tasks you achieved and what were the reasons for not completing certain tasks. Having a well-thought-out plan gives you mental satisfaction and lessens the burden on your mind.
2. Use flashcards to retain clinical facts for long
For ages, flashcards have been used as an effective tool to memorize essential facts. In the smartphone era, digital flashcards are preferred over physical flashcards due to easy accessibility and smart algorithms that support speeding up the learning process. You can literally carry thousands of flashcards in your pocket to use anytime anywhere. Pre-PG has compiled flashcards to help you memorize the conceptual facts asked in clinically-oriented MCQs so that you can always stay ahead of your peers.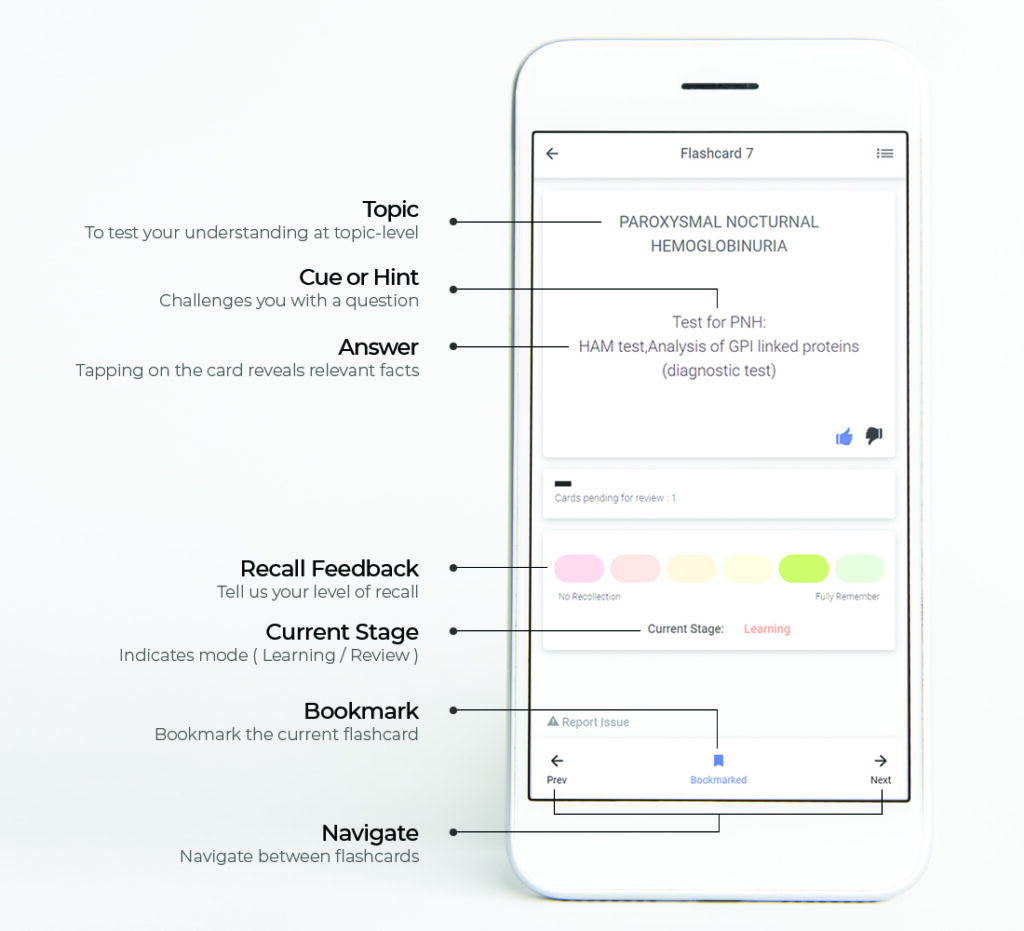 3. Don't aim blindly
Doing things without analyzing if we are on the right track or not is like time and effort going down the drain. It becomes more vital for exams like INICET where time is scarce. Identifying the topics where you're good and the ones where you lag will help you to modify your strategy from time to time and yield better results. PrepDNA acts as a personal guide, lets you work on your weak subjects, and makes you proficient in them. Put in more hours to practice MCQs from the topics highlighted in red and orange and you will soon notice those topics turning into your strengths.
4. Practice, practice and more practice
How does one ensure that he or she answers questions accurately within the least amount of time in competitive exams like INICET PG? By attempting to answer as many questions as possible prior to the exam. Practice makes you perfect and there is no substitute for that. Pre PG offers 10,000+ INICET-focused MCQ's which are modeled in the pattern of the latest trends.
As you answer more questions on Pre-PG, you will notice that many of them are repeated, and if you got the answer wrong at first, you now know which is the correct answer. Going over the INICET questions with the "exam pattern" filter on a regular basis will automatically reduce your anxiety because you will know exactly the kind of questions you will encounter.
5. Study smarter, not harder
Answering questions without understanding why they are correct or incorrect is a waste of time. After practicing, it's a good habit to check which questions you got right and which ones you got wrong. The daily and deep revision feature literally makes this a breeze.
Pre-PG's breakthrough analytics repeat all questions that you answered incorrectly in the past three days through the daily revision. With the deep revision, you get to re-practice all the questions that you got wrong while practicing. This saves a ton of your time as now you can study only the parts where you lag and retry those questions again. You will have time to relax, breathe, and process everything you have read.
6. Face the concepts that challenged you in past
Revision is critical to achieving the desired rank. All of your efforts will be pointless if you have not revised them. Complete your syllabus 2-3 months before the exam and revise it three to four times before D-day. Don't wait for the last few months. As you practice on Pre-PG, bookmark the questions that you find difficult, even if you manage to get the correct answers to them.
Practice all of the bookmarked questions or questions you marked incorrectly from the revision tab. The more questions you attempt, the fewer chances you will have of making mistakes in the INICET exam. The more time spent doing revision may show effects on the test day where most likely, you will complete your whole paper faster than others.
—
Effective revision is crucial for success in INICET. By following the tips mentioned in this blog, you can develop a revision plan that works best for you. Monitor your weaker subjects with Pre-PG and steadily work on them. Over time, with improved timing, speed, and accuracy, your confidence will skyrocket as well. Remember, only those who push their limits fly higher than the rest.