Transitioning to NExT: Key Changes in Exam Pattern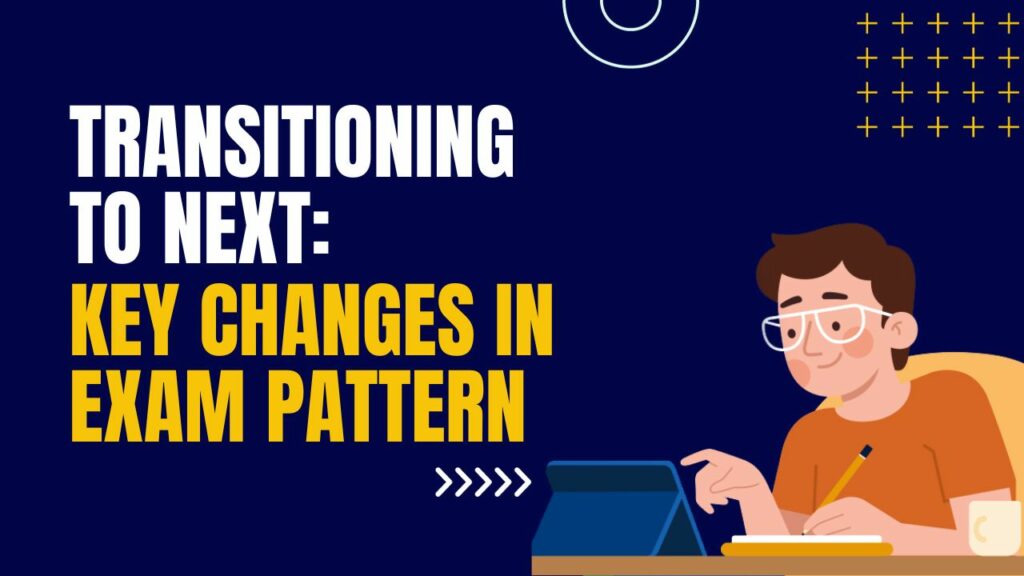 In the world of medicine, aspiring doctors have always faced rigorous examinations to prove their knowledge and skills. The introduction of the NExT step 1 and step 2 exams are set to put India on the global map with the most skilled doctors. However, still, there are things about the exam that many candidates are not clear about. In this blog, we discuss two important aspects of the NExT NEET PG – exam pattern and marking scheme.
The old way – before NExT
In the past, aspiring doctors had to undergo university exams and practicals in the final year of their MBBS. After successfully clearing these exams, they would embark on a one-year internship to become certified doctors. For those seeking specialization, the NEET PG awaited them.
Introduction of National Exit Test
With the inception of NExT, aspiring doctors now face a revised path to achieve their dreams. NEXT will serve as the culmination of years of medical training and education, determining whether medical graduates are equipped with the necessary skills and knowledge to practice medicine.
It will replace the Foreign Medical Graduates Examination (FMGE) and the common final-year MBBS exam (previously conducted by various universities). The primary goal of NEXT is to ensure that all medical graduates possess a standardized level of competence, regardless of their alma mater or geographical location.
The NExT consists of two steps: NExT step 1 and step 2. Let's delve into the details of each step.
NExT step 1
Step 1 is a theoretical exam with questions in MCQ format. This computer-based test checks what you've learned in the III MBBS or final year of the MBBS program. It comprises of six different subjects-
1. Medicine & allied subjects
2. Surgery & allied subjects
3. Obstetrics and Gynaecology
4. Pediatrics
5. Otorhinolaryngology
6. Ophthalmology
Different types of questions
The questions in NExT step 1 come in three types –
a. Problem solving and analytical skill types – (60-70%)
b. Comprehension types (to test how well you understand what you're reading) – (20-30%)
c. Recall types (to gauge how well you remember facts) – (5-15%)
The level of knowledge required is divided into three categories:
a. Must know – 60%
b. Nice to know – 30%
c. May know- 10%
NExT step 2
In step 2, things get a little more hands-on. It's a practical exam where you have to show your skills in real-life situations. It consists of seven subjects:
Medicine & allied subjects
Surgery & allied subjects
Obstetrics and gynaecology
Pediatrics
Otorhinolaryngology
Ophthalmology
Orthopaedics and PMR (physical medicine and rehabilitation)
The exam will be like a practice session to test your ability to diagnose patients. Step 2 evaluates your capacity to diagnose patients, formulate crucial clinical judgments, and exhibit effective communication skills. The examiner will check if you have the same abilities as a real Indian doctor.
Marking scheme of NExT
How the marks are calculated
The marks you get in NExT step 1 will be calculated as whole numbers called raw scores (whole numbers that show how well you did).
Your raw scores might get converted into percentages if needed.
Criteria to pass the exam
To pass the exam, you need to get at least 50% or half of the highest possible raw score in NExT step 1.
Each of the six papers has its own passing mark, and you have to score at least 50% or half of the highest possible raw score in each paper to pass.
If you fail in some subjects in one attempt, you can try again and only need to pass the subjects you didn't do well in before.
Final grading system
Both NExT step 1 and step 2 follow a pass/fail scoring technique. To pass, aspiring doctors need to demonstrate competence in the evaluated skills. There are no numerical scores or percentages associated with the results.
Determining merit for postgraduate courses
To decide who gets into postgraduate courses, add up your raw scores in each subject from a single step 1 exam. NEXT scores will remain valid for 5 years. In case of multiple attempts, scores from your last attempt will be considered for ranking.
Tiebreaker rule for generation of rank (rules to determine the rank in the NExT step-1 exam):
a) The scores obtained by candidates in each subject of the NExT step-1 will be made fair and comparable by adjusting them to a common scale. These adjusted scores will be added together to determine the ranking.
b) Aspirants with fewer attempts in step-1 will be given a higher rank.
c) If candidates have the same total normalized score and the same number of attempts, the rank will be determined based on the recommended order of preference:
Here is the order of preference:

Candidates with higher marks in medicine and allied subjects will be given a higher rank.
If the marks in medicine and allied subjects are the same, candidates with higher marks in surgery and allied subjects will be ranked higher.
If the marks in both medicine and surgery subjects are the same, candidates with higher marks in obstetrics and gynaecology will be given a higher rank.
If the marks in all three subjects mentioned above are the same, candidates with higher marks in paediatrics will be ranked higher.
The next preference for higher rank will be given to candidates with higher marks in otorhinolaryngology.
Finally, if all the above subjects have the same marks, candidates with higher marks in ophthalmology will be given a higher rank.
Becoming a specialist
If you want to specialize in a specific area of medicine, your scores in NExT step 1 will help you get there. They'll determine which postgraduate courses you can choose from.
———————————-
With NExT NEET PG, the emphasis has shifted towards a more comprehensive assessment of theoretical knowledge, practical skills, and clinical decision-making abilities. These changes aim to produce competent doctors who are well-prepared to serve the healthcare needs of the nation. The path to becoming a certified doctor may look more challenging, but with NExT preparation app like Pre-PG, you can be sure of getting the best resources to give your 110% in the upcoming assessments and making your long-cherished dream a reality.