How can an average student score high with the right NEET MDS strategy
Many aspirants want to appear in NEET MDS but give up on the idea of feeling that they are average students and won't be able to cope. They go on a comparison spree and start doubting their skills. This happens due to low test scores, not understanding the concepts, being weak in many topics, etc.
But you reading this blog proves that your dental PG dream is still alive and you're willing to give yourself a chance. As an average student, you may have to put in more effort than others but it's not that hard. With the right preparation strategy, 100% focus, and dedication, you can work on all your weaknesses and score well in the exam.
Rome wasn't built in a day
You cannot conquer any big goal in life without proper planning and NEET MDS is no exception. However, everyone cannot have the same strategy as everybody has unique needs and individual learning styles. Thus, keep a proper yet flexible plan that allows you to space out your study sessions. Have enough time for practice and revision in that. Don't aim for the moon from day one, take one step at a time.
For example- If you have decided to solve 200 MCQs daily but are able to go beyond that. Increase the limit to 250-300 MCQs the next time, keep challenging yourself but don't get too worked up about it. See how much you can do instead of keeping an unrealistic expectation of solving 400 MCQs a day or finishing 2 long chapters from the start. Stamina doesn't increase in a day. Having unrealistic expectations can increase your stress levels and give you tension headaches.
Start brushing up on BDS Subjects
Being thorough with the BDS syllabus is extremely important for NEET MDS preparation as this exam is based on the BDS curriculum. Spend your initial 2-3 months brushing up on the BDS concepts and important topics. Take this period to complete your notes on any previously studied topics that you may have missed and the new topics you have gone through now. Be clear with your basic fundamentals as they are vital if you want to score well in the dental PG exam.
Recalling the extensive syllabus of BDS is not easy. So, make it a habit to go through the notes of your weak topics time and again and then solve their practice questions to get a firm grip on them. After every mock test, take time to review your progress on PrepDNA. Once you have strengthened one weak topic, move on to the next one and follow suit.
Practice mock tests to know your preparation level
You won't be able to gauge how much you know unless you test yourself. Mock tests help you do that. They will also aid you to realize where you need to put more effort and how much extra effort is needed. The more practice tests you attempt, the more idea you will get about your strong and weak topics and why you struggle with certain questions. As an average student, follow this hack to surpass the competition. Do not miss the mini mock tests, daily practice tests, and full-length NEET MDS mock tests on PULP. This will assist you to understand the exam pattern and improve time management along with speed and accuracy.
Be Familiar with Dental Instruments and Materials
NEET MDS questions will also test your knowledge of dental instruments and materials. It can be confusing, even for the most brilliant students. And that's where you can take the extra leap. Be familiar with the different types of dental instruments and their uses. Similarly, know the properties and applications of different dental materials like composites, cement, and impression materials.
Be well-versed in clinical subjects
Having a good clinical understanding is vital for success in NEET MDS and can't be missed. They help the aspirants to identify the clinical symptoms, accurately identify the diseases, and suggest the right treatment to the patients. Clinical knowledge also helps in the interpretation of various diagnostic tests, such as radiographs, CT scans, MRIs, and blood tests.
Being pro in the clinical aspect and practicing clinical questions frequently will allow candidates to answer the clinical-based MCQs more precisely, resulting in a higher NEET MDS score. Part B of the NEET MDS exam consists of 140 questions from Dental Sciences. Spend more time on dental subjects like Oral Anatomy, Oral Pathology, Oral Medicine, Periodontics, Endodontics, Orthodontics, and Prosthodontics. Ensure that you cover all the topics and subtopics in these subjects.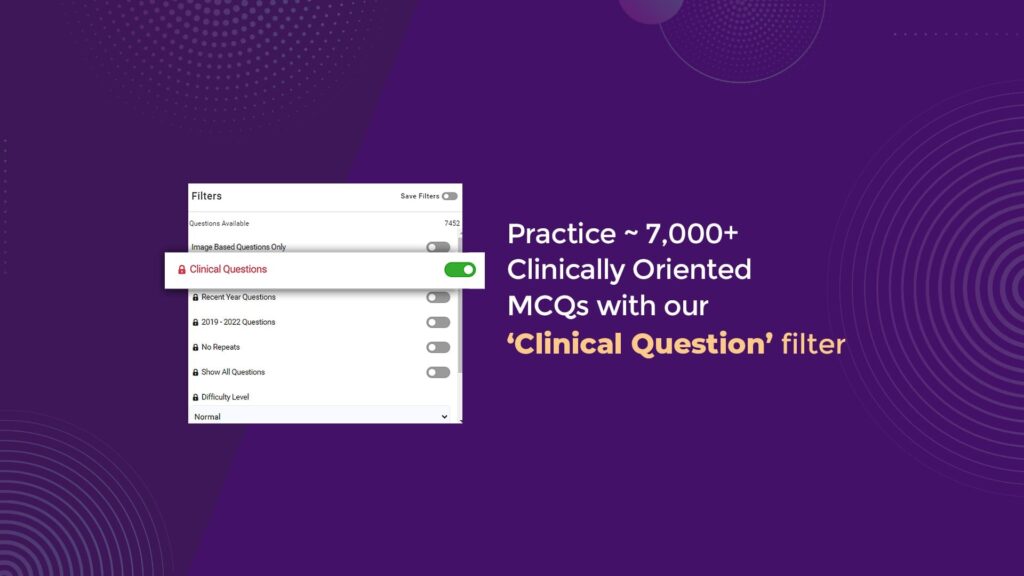 Solve PYQs for a sure shot win
Solving NEET MDS previous year question papers will support you to know the types of questions asked, their difficulty level, and the exam format. That means no surprises during the real exam to stress you out. Many MCQs are repeated every year so if you have practiced enough PYQs, you will answer these repeated questions in no time. Enable the 'recent year questions' in the advanced filter tab and practice these NEET MDS PYQs.
Revise regularly to improve your scores
As an average student, it is important for you to work on your retention skills. If you want to achieve a high rank in the dental PG, you need to go over everything you studied that particular day and once a week, go through your complete notes of everything that you learned. This routine will assist you to recall all the important points, concepts, and definitions that will come in handy while solving the NEET MDS practice questions. To intensify your preparation further, re-practice the questions that you couldn't answer correctly in your previous attempts. Do this often and gradually, you will notice that you're getting more answers right and are taking less time to solve them.
—
You don't need to be a top scorer or extremely intelligent to get a high rank in NEET MDS. Nevertheless, you need to have dedication, willingness to learn, un-learn and re-learn and be ready to give it all in order to achieve what you have set your eyes on. But, in an attempt to remove the tag of the average student and see your name with rank holders, it is very easy to ignore your personal health and cram day-night into preparation. That won't help but will cause damage. So, take regular breaks, stick with the schedule, and work on your shortcomings one by one and soon you will start seeing a massive improvement in your rank.
All the best and subscribe to PULP to clear dental PG with flying colors!