How To Prepare for NEET MDS 2023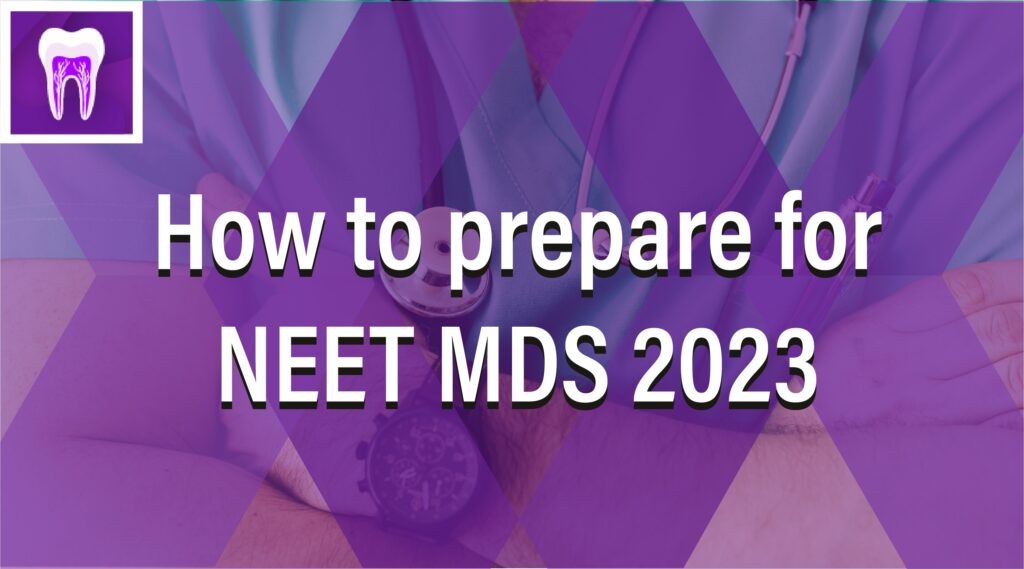 Every NEET MDS aspirant wants to put the best foot forward in their journey to excel in the NEET MDS exam. The scope of opportunities you get when you clear the exam is enormous, and therefore you do not want to make any mistakes. But when the competition is too tough and the journey is challenging, you should know what it will take to clear the exam.
NEET MDS can be cleared with a strong strategy, hard work, commitment, and dedication. The recent changes in the exam have made the exam a little difficult for all aspirants. The NEET MDS 2023 exam tests students on all major aspects including theoretical knowledge, analytics skills, and psycho-motor domain. An aspirant not only has to be proficient in theory but should also be able to answer clinical questions correctly. To ace the exam in your first attempt, you should be familiar with the tips and tricks. Read on to know how you can prepare for NEET MDS 2023.
Start Your NEET MDS 2023 Preparation Early
If you are yet to start your prep for NEET MDS 2023, it is still not too late. But if you continue to take your time, you will miss your train to your favorite medical and dental college next year. So, what are you waiting for? Your competitors have already started; some of them are even into their second or third revision!
If you have decided to attempt the NEET MDS 2023 exam, you should begin your preparation right away. The best time to start is during the internship or when you are in the final year of your dental college. You will be studying some of the last 8 topics of the NEET MDS syllabus in your last year of college. These subjects also have a greater weightage, so paying close attention to these subjects may prove fruitful for you.
However, if you couldn't prepare in college, start your NEET MDS prep one year before the exam. The dental PG exam will require at least 10-12 months, giving you ample time to study the subjects, practice MCQs and revise before the final exam.
Master Your Basics
The most crucial aspect for NEET MDS aspirants is to master the core concepts and fundamentals. To prepare for this exam, you must have a solid understanding of the basics in order to grasp the advanced concepts. Since NEET MDS 2023 exam assesses aspirants' analytical problem-solving and comprehension skills, mastering them is a must.
To strengthen your basics, you should:
Learn the concepts through examples
Avoid missing your clinical duties
Divide large topics into sub-topics.
Use the best learning resources to practice thousands of NEET MDS MCQs
Carefully analyze your performance to improve your analytical skills.
Focus on NEET MDS Clinical Questions
In the recent trend of the NEET MDS exam, more and more NEET MDS clinical questions are being asked. The clinical questions put your applied knowledge to the test. If you want to improve your probability of answering these clinical dental PG questions, then you should develop a habit to solve NEET MDS clinical questions on a daily basis.
Because PULP understands the importance of clinical dental PG questions, we have created the most comprehensive clinical question bank for NEET MDS. You can choose from more than 7000+ NEET MDS clinical questions to improve your clinical expertise and ace the exam.
Prepare your NEET MDS Notes
In the NEET MDS exam, there are some high-yielding topics, and then there are some which do not have a high weightage. However, you cannot ignore these low-weightage topics because the NEET MDS exam has overlapping subjects in the NEET MDS syllabus. Application-based questions are at the forefront of the exam due to their interdisciplinary nature. You can dedicate more time to NEET MDS topics with higher weightage but at the same time don't ignore the other topics if you want to get a seat of your choice.
You can read the subjects and topics from learning resources such as books, coaching institute materials, reference books, YouTube videos, etc. When you are studying from various resources, you should create your own notes. They will not only help you to retain the concept for a longer duration but will also help in revision. Highlight important points in your first reading and make your notes during your second reading. For better recall, revise these notes and practice questions on a regular basis.
Practice Past NEET MDS and INICET papers
NEET MDS aspirants should prepare for the exam by working through NEET MDS 2023 practice papers and mock exams. These NEET MDS questions and mock tests will help you manage your time, speed, and accuracy during the exam. The practice of marking random answers to fill out the question paper will be kept in check if you take practice tests.
The PULP MDS preparation app has always highlighted the importance of practicing NEET MDS past years' questions. The app has an extensive collection of dental PG questions from the last 30 years. You can learn about the recent MDS exam trends and patterns by solving these past years' papers. Additionally, solving questions from PULP's Q-bank can help reduce the surprise factor in the exam.
Analyzing test performances
Practicing NEET MDS MCQs will help you improve your speed and accuracy, but it is possible only when you review and analyze the results of your practice questions. A careful review of the mock test results will reveal the topics in which you are underperforming. You will have the chance to focus on these topics, which will help you do better in your subsequent test.
PULP understands the importance of keeping a close watch on performance. Using the PULP NEET MDS prep app, you will learn more about your strengths and weaknesses. Working on your flaws can help you turn them into your strengths, and the PULP's PrepDNA tool can assist you in accurately identifying them. You can track your progress over time, and this helps you to crack the NEET MDS 2023 on your first attempt. Understanding your weaknesses and strengths can help you master these topics.
The Way Forward
NEET MDS aspirants should stay focused throughout their preparation phase. The journey is difficult, and many aspirants lose their focus after a while. But this will cause you to lose your precious time and track of your preparation. Hence, prepare for the exam sincerely and smartly to secure a high rank in NEET MDS 2023. Join the PULP app to practice questions, solve daily tests, discuss your doubts with community members, and revise on a regular basis to get into the dental PG college of your choice.