How to Prepare for NExT – NEET MDS 2022?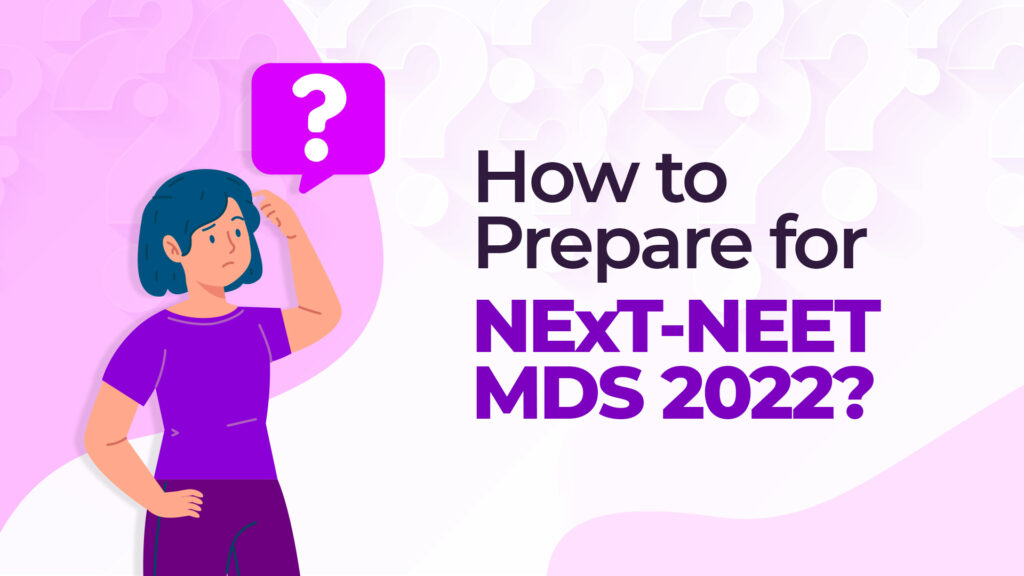 Wondering how the NExT test is going to impact your NEET MDS preparation? Worried that you don't have enough time and resources to prepare for it?
Don't worry, we have got you covered!
NEXT, also known as the National Exit Test, is a common entrance exit exam that would serve as a Licentiate Exam for entrance to Post Graduate (PG) MDS course. It will also be a standard gateway to get your practice license in India.
NEXT is going to replace NEET-MDS by 2022, and hence, students who have enrolled in 2018 will appear in NEXT for the first time.
The format of the NEXT is broader than the existing NEET MDS. The NEXT MDS will involve questions from both lower and higher domains of knowledge. The test objective is to take care of the most significant aspects of a good dentist- first is knowledge, second is skills, and the third is the psycho-motor domain. The National Exit Test aims to improve the quality of MDS students in India.
The test is bound to test your clinical concepts and problem-solving skills; thus, you must be geared up to showcase your analytical and rational skills. Therefore, we are providing you with an informative guide to prepare for the NEXT MDS exam.
Acing the Basics
If a building does not have a good foundation, it is bound to crumble. Similarly, if you do not learn the basic concepts, it causes you problems in the NEXT NEET MDS exam. Understanding basic concepts thoroughly will help you form a strong foundation. Since the main objective of the NEXT exam is to test students on their analytical skills, 90% of the NExT questions will be based on problem solving and comprehension. The Exit Exam for MDS will consist of questions that will test students' pre-clinical, clinical, and para-clinical learnings.
The new method aims to limit rote learning among BDS students to crack the MDS medical entrance exams. Instead, the test wants the students to apply their knowledge in different scenarios ingeniously. So, if you have not mastered your basics, there are very few chances that you could clear the exam.
If you want to strengthen your basics:
Start by learning the concepts through examples.
Break large topics into small parts for easy learning.
Apart from learning from good resources for NEXT MDS preparation and practice thousands of new pattern questions to strengthen your concepts.
Pay extra attention to your postings as it will improve your analytical skills.
Mastering Your Clinical Concepts
Clinical Concepts have gained massive significance in the recent exam trends. These clinical questions intend to test how well you can apply your knowledge gained from studying books in a clinical scenario. You just can't simply learn theory from the books and solve these clinical NEET MDS questions. Your analytical and practical skills should be spot on to solve the questions correctly in the NEXT dental PG exam.
Start by training your mind to solve these questions. Don't miss any of your postings, and pay attention to your experiments and practicals. Of course, you must comprehend every question carefully before attempting it. PULP understands the importance of clinical questions, and that's why we have built the largest question bank of clinical questions for MDS. You can more than 6000+ NExT-Focused MDS clinical questions to upgrade your clinical skill.
Practice Every Subject
You might have heard various rumors about some subjects holding greater importance than others in upcoming MDS exams. That's not entirely true! Even though the syllabus of NEXT MDS has clearly not mentioned some of the subjects, we are all aware of how much overlapping is present in the entire BDS syllabus. With so much crisscrossing amongst the topics, it is hard to differentiate.
Most of the subjects will be integrated vertically and horizontally in these clinical NEET MDS questions. The interdisciplinary nature of the exam puts applications-based questions right at the front center. And thus, you can't miss on subjects, no matter how unimportant they may seem.
Practice Past NEET MDS and INICET papers
It's not that BDS students will be given an entirely new format to clear the post-grad dentistry medical entrance exam. If you have seen the questions papers from the last two to three years, they have already hinted at the change in the exam pattern. The NEET MDS exam paper has become more clinically oriented than ever. Recent year's dental PG exams had witnessed many changes. Paragraph-type questions were introduced, which replaced many one-liners. Aspirants should amp up their comprehension skills to not lose time in reading it. This has not been the case just for NEET MDS, but INICET MDS, too, showcased the above trends.
PULP MDS preparation app has always emphasized the importance of practicing previous year questions for dental PG. This is the reason why it has a huge resource of the past 20 years' question papers. By solving past and especially recent papers, you can get an idea about the latest MDS exam pattern and these recent changes introduced. Moreover, solving multiple questions from these patterns can lessen the surprising element in the exam.
Begin Early
Time will hold a great place amongst the BDS students due to the early setting of the NEXT exam. Previously, students had about 9-11 months to prepare for the MDS exam during their internship. But now, the first phase of NExT will be conducted in their final year and not right after their internship. It means that without qualifying this phase of NEXT MDS, you will not be eligible to practice or pursue an internship in India. Hence, your title hinges on you clearing the exam.
So, it's better to start early. If you had planned to prepare for your MDS entrance exam after the final year, we advise you to start with the third year. With sufficient time in hand, you can go through various learning resources and practice sample questions. Practicing from PULP will help you understand your weaknesses and strength. PULP PrepDNA feature can help you identify your weaknesses which you can transform into your strengths by focusing on them. As time passes, you can track your growth, and thus, when the time comes, you clear it NExT NEET MDS on the first attempt.
The Way Forward
The NEXT MDS might be something that your nightmares are made of! But, it is an excellent concept to ensure that the best doctors and dentists are churned from every medical college, every year. The NEXT – NEET MDS 2022 will test your skills and mettle. With the right strategy and proper guidance, you can easily crack the exam. Success is that ladder you can't climb while putting your hands on pockets; you have to put in hard work, commitment, and determination to excel. Prepare for your NEXT NEET MDS battle diligently, and you will come out of it as the" Winner."