Last Minutes Tips for NEET MDS
National Eligibility cum Entrance Test for Master of Dental Surgery NEET MDS is an eligibility cum ranking examination conducted by the National Board of Examinations (NBE). National Eligibility cum Entrance Examination or NEET for MDS courses is conducted once a year and is one of most the legitimate entrance test for admission to the Master in Dental Surgery programs across the country.
All the aspirants put their best efforts in their preparation phase to crack this exam and secure a seat for themselves in one of the top dental colleges in the country. But for a successful finish to your years of hard work, you need to give the final touch to your exam preparations. Instead of being nervous, anxious, and bewildered, you need to pay your focus on following the appropriate last-minute preparation tips. You should inspire yourself from a well-said quote that,
In order to utilize the period before the exam judiciously, this article has brought some of the best last-minute tips for NEET MDS to facilitate the aspirants with better understanding and preparation.
Follow Your Own Strategy
Every aspirant has his/her own strength and weakness. Therefore, you need to follow your own instincts to prepare for the examination rather than following someone else. Following your peers and friends blindly may end up being a failure. So, try to frame your own strategies based on your strength and performance in Mock Tests. Trusting yourself and keeping a positive mindset is the only way to give your best.
Watching interviews of the NEET MDS toppers can be of great help to you as it properly explains the various ways of scheduling your day hours to utilize the time judiciously.
Give More Preference to Revision
The best use of notes and highlighted texts in the textbooks is availed during the last minutes of preparation. So, instead of reading chapters and topics in complete detail, give a thorough reading to all those important pieces of topics like Anatomy, Physiology, and Pathology in the Basic Sciences and Radiology, Surgical anatomy that you might have highlighted and recall them thoroughly. Moreover, pay extra attention to mistakes that you made in past and try practicing those topics more with the help of revision tests on PULP. This way you can gradually eliminate those weaklinks and maximize your score in NEET MDS. .Beginning with a new topic at the last moment creates immense trouble and confusion which can greatly affect your overall preparation.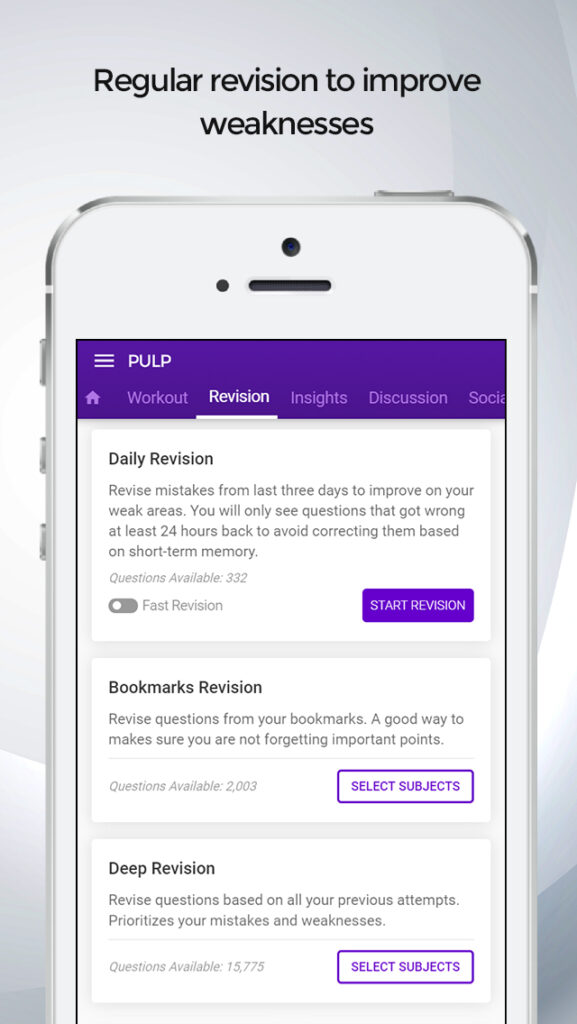 Practice Mock Tests
The main objective of the Mock Tests is to make you fully prepared for the final examination. It gives a simulation of the real exam and helps to reshape your preparation both physically as well as mentally according to the final day. You should try to take the mock tests during the time slot according to the final day timings as it will help your body cycle to work at its maximum capacity during the exam hours. It plays a key role in familiarizing you with the examination environment as well as helping you know the factors, mistakes and weak topic which may act as the obstacles in your performance.
Mock tests on PULP- NEET MDS Prep App have well-planned practice sessions that are appropriate to brush up your concepts along with proper time-management. Recall the concepts and analyze your pre-exam performance to give your best shot at NEET MDS Dental PG exam.
Avoid Distractions
Framing a distraction-free zone to study is a very effective method at the last minute. It includes avoiding all those things that can distract you and maintaining an environment where you feel positive and comfortable to study.
Keep All Necessary Documents Ready
Keep all the requirements ready a night before the day of examination to avoid the last-minute rush and unnecessary hassle. Do not forget to take printouts of your NEET MDS admit card and keep your original Photo ID proof.
Throw Away the Phobia of Exam Difficulty
Never let the phobia of difficulty level hamper your score, especially at the last moment. Always keep in mind that if the exam turns out to be difficult then it will be difficult for everyone and if it is easy then it will be easy for everyone. Thus, you should not worry about the difficulty level of the exam and just concentrate on your preparations to deliver your best in the exams. Moreover, if you have prepared well enough by your side then the exam should not worry you much. You just need to do your part and rest everything will be fine.
Take Adequate Break and Proper Sleep
It is advised to take adequate breaks and not to study at a stretch. The NEET MDS aspirants should take frequent breaks between topics and subjects during their preparation. Along with focused studies, involve yourself in mind relaxing and energizing activities to keep your energy levels high. Taking a sound sleep before the day of your examination is very important because a sound mind resides only in a sound body. A sound sleep reinvigorates you and enhances your ability to remember as well as recall everything better with a fresh mind.
The article has tried to impart all the mentioned tips and strategies to help you crack NEET MDS with flying colors. Moreover, we have concluded three major things you need for success and based on which you should work ahead in your preparation. The points are as follows:
Know more than others
Work more than others.
Expect more than others.
The motive of your efforts should be cracking the exam if you are seriously interested in pursuing your post-graduation in the dental field. You can also listen to the experiences of your seniors for a broader point of view about the course. Always remember the fact that if you are meritorious then none can stop you from achieving your goal. If your dedication and preparation for the exams are efficient, then have confidence in your knowledge and abilities. One who works hard with dedication definitely gets a fruitful result in future
All the best!