How to make the best use of NEET MDS filters on PULP
No NEET MDS aspirant learns the same way or at the same pace. Each student goes through a journey of individualized learning tailored to their requirements and interests.
One size does not fit all, and PULP is aware of this fact. Therefore, instead of putting all the NEET MDS aspirants through the same set of MCQs, we have designed adaptive filters to let students choose the type and number of questions they want to solve.
PULP has been designed to serve as a guide to aid each student on their unique learning journey in an ideal personalized learning environment. There are times when a student just wants to focus on clinical questions and sometimes wants to practice recent years' NEET MDS questions to gear up for the latest pattern. PULP's workout filters allow aspirants to specifically practice clinical questions, image-based questions, recent year questions, etc. Each one of them has the game goal- to help you crack the NEET MDS exam.
Read the blog to learn how to make the best use of the PULP advanced workout filters.
Image-Based Questions Only
Image-based are designed to test your practical and applied knowledge. You cannot specialize in the dental field if you are unable to comprehend complex structures or ailments through diagrams and images. PULP has compiled 1700+ image-based questions for NEET MDS aspirants. Solve image-based NEET MDS questions from one of the largest dental PG Q-bank to get an extra edge.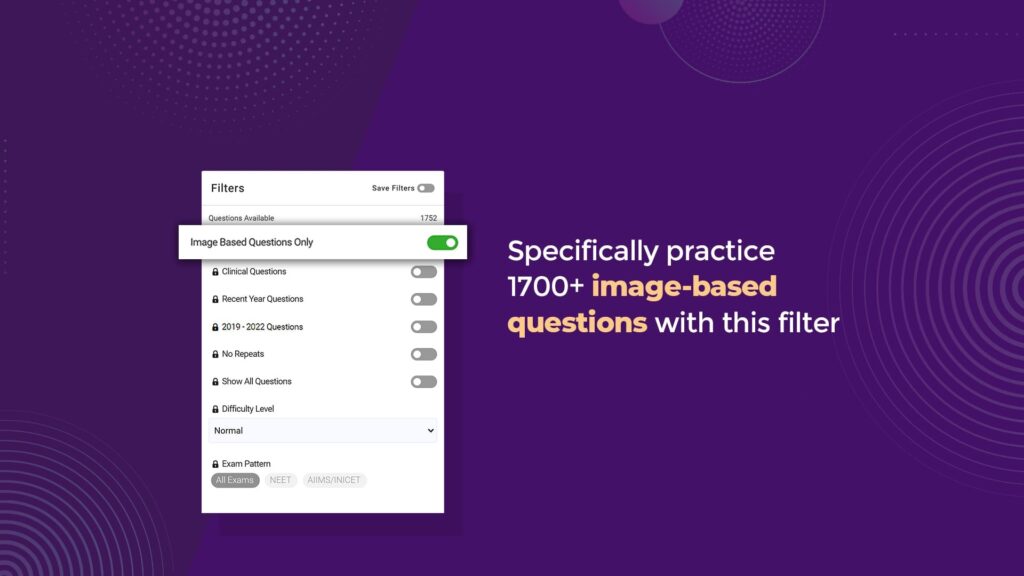 Clinical Questions
The Dental Council of India has revised the exam format, and as a result, the clinical questions have gained favor with the examiners. The NEET MDS test format has changed from one that emphasised factual knowledge to one that is more clinically applicable. Now, the paper consists of more paragraph-style questions rather than one-liners to assess applicants' practical expertise.
The PULP team has been working extensively with global medical resources to develop 7000+ Clinical NEET MDS questions for you. All you need to do is apply the 'Clinical Question' filter in the PULP workout section.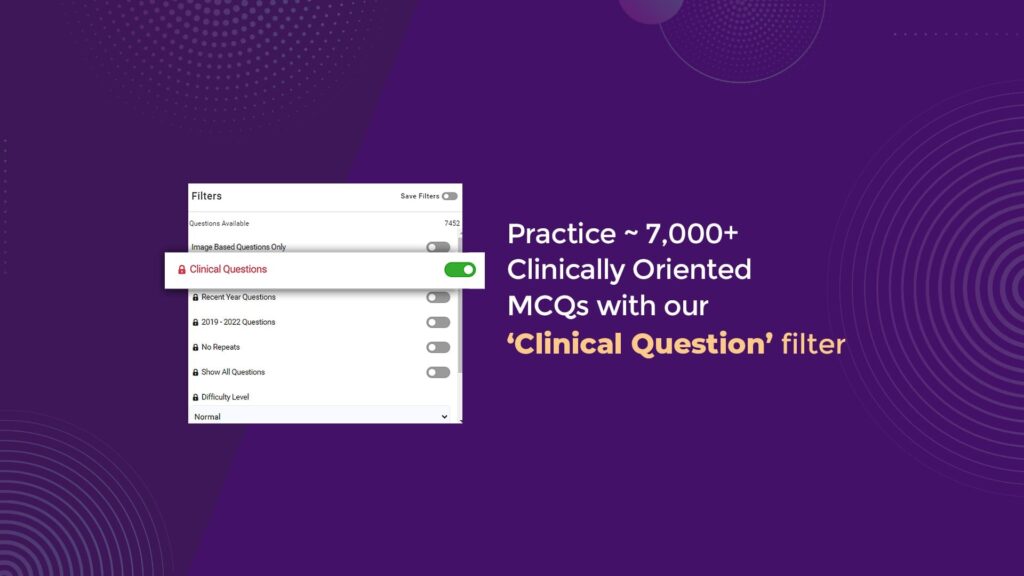 Recent Year Questions
Previous year NEET MDS questions are important for the preparation of dental PG entrance exams because they provide a fairly accurate template of the actual exam. This means that aspirants can get an idea of the type of questions asked, the difficulty level, and the structure of the paper. Such insights can help the aspirants to plan their strategies in advance and save time during the exam. Apply the "Recent Year Questions" filter and get access to all the questions that were asked in past NEET MDS, INICET MDS, AIIMS MDS, and other dental PG exams. Use them as an indicator to reveal where your knowledge is strong and where you might want to improve.
2019 – 2022 Questions
Practicing 2019-2022 questions enables you to comprehend the latest trends and changes in the exam pattern. Understanding the examiner's approach in these years will help you adjust and strategically plan your NEET MDS preparation. Selecting this filter can help you anticipate the questions that you might be seeing in the upcoming NEET MDS exam.
No Repeats
The NEET MDS questions that you have previously marked incorrectly while practicing are often repeated by our algorithm. That's why while practicing, you will observe questions being repeated from your weakest sections in addition to some new problems. This process eventually strengthens your weakest sections. However, the desire to practice only brand-new questions persists.
You can apply the "no repeats" filter if you don't intend to practice the NEET MDS questions you have attempted before. Selecting the questions will help you solve new and challenging questions. Determine your knowledge and skills as you advance to solve new questions each time.
Show All Questions
PULP has the largest Q-bank of more than 32,000 questions for NEET MDS aspirants. By applying this filter, you can solve all the questions on our question bank, including the ones that you had already practiced before. Practicing questions from this filter will give you a holistic idea of your weaknesses and strengths.
Difficulty Level
The word "difficult" is quite subjective. A student who comprehends things clearly will have an easier time answering challenging questions than a student who does not. Similarly, someone who thoroughly practices high-quality NEET MDS questions might not find any questions in the exam challenging. You should attempt to answer simpler questions first if you find it difficult to answer most of the NEET MDS questions from any topic. Start with simpler ones and progressively raise the bar.
PULP helps you to overcome your fears by enabling you to solve very easy, easy, normal, difficult, and very difficult questions. You can choose your level and solve the types of questions you want to solve first. Ensure that you are correctly solving easy and very easy questions first because this would reveal that you know your concepts. Failing to do so, you should head back to fundamentals and come back again to solve questions.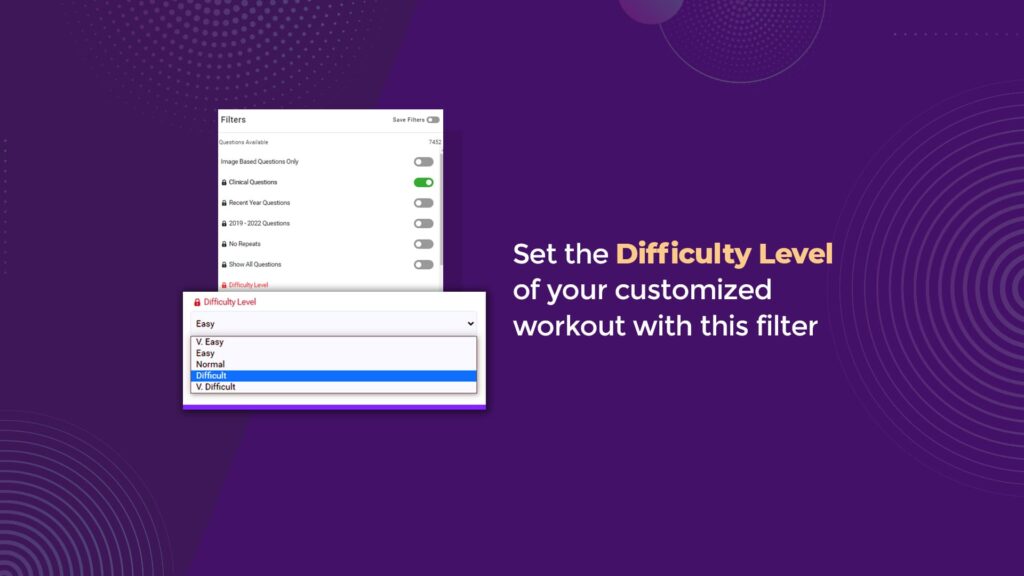 Exam Pattern
You can organize your MDS preparation in a better way by being aware of the questions and exam format for NEET MDS & INICET MDS. With the aid of this filter, in addition to NEET MDS questions, you can specifically practice questions that were asked in INICET MDS and other dental PG entrance exams. To get a clear understanding of the pattern, make sure you answer as many questions as you can. You can use this information to determine which topics and concepts are typically asked in each exam so that you don't miss concentrating on them.
PULP adaptive filters are a boon for NEET MDS aspirants who want a customized learning approach. The goal of the PULP's adaptive workout filters is to fulfill each student's unique needs, interests, and skills. Each student can solve NEET MDS MCQs based on their prior knowledge and preferred learning styles. You can subscribe to PULP NEET MDS App to get started on your preparation journey.