Top Dental Specialties to Consider After Clearing NEET MDS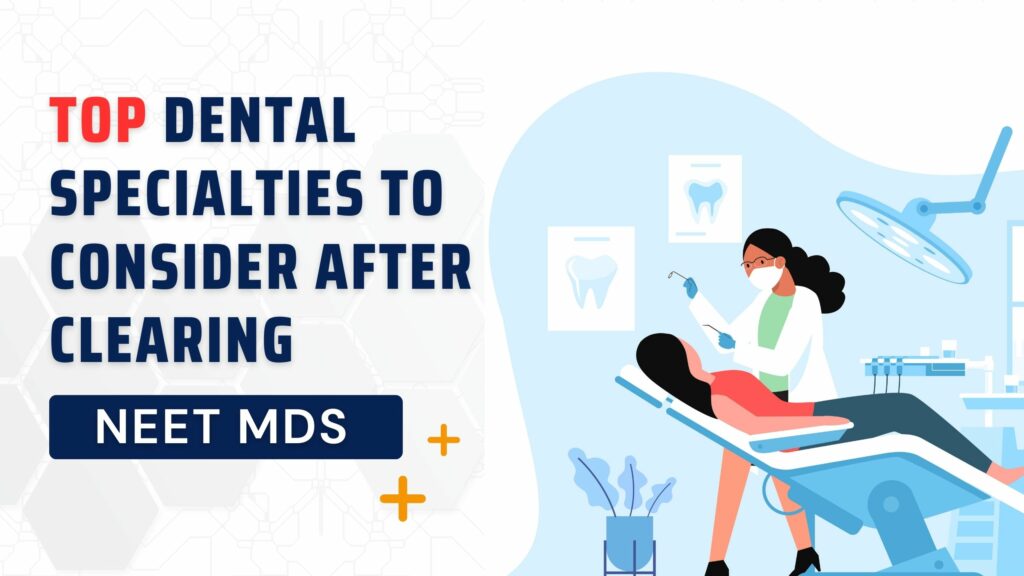 For aspiring dental students, the question of which dental branch can lead to a lucrative career looms large as they progress toward specialization. However, finding the answer is far from simple, with uncertainties, familial pressures, and conflicting advice adding to the complexity.
Dental PG aspirants face an even greater challenge due to their varied interests, limited exposure to specific fields, and information overload from the internet. Amidst this confusion, discovering the perfect niche that aligns with their passion and goals becomes a paramount quest. Let's explore the diverse dental specialties, their unique opportunities, and the key factors that can pave the way to a fulfilling and successful dental career.
Steps to find your ideal dental specialization while studying for NEET MDS
Research different dental fields to get a basic notion of which branch interests you the most.
Check previous years' cutoff ranks for different colleges and branches to set realistic goals.
Talk to your seniors and mentors to get more ideas.
But for your reference, we have compiled some of the top dental disciplines below that you can opt for.
Orthodontics
Orthodontics is one of the most sought-after dental specialties, focused on correcting misaligned teeth and jaw structures. As an orthodontist, you will use braces, aligners, and other appliances to enhance the appearance and functionality of your patients' smiles. This branch allows you to work with patients of all ages, from children to adults and can be a rewarding choice for those who enjoy a blend of science and artistry.
Periodontics
Periodontics is a dental specialty that focuses on the prevention, diagnosis, and treatment of gum diseases and supporting structures around the teeth. As a periodontist, your responsibilities will include performing procedures like scaling and root planning, gum grafting, and dental implant placements. This field plays a crucial role in maintaining overall dental health and is particularly suited for dentists who are passionate about oral health and preventing gum-related issues.
Moreover, success in this area often requires excellent manual dexterity and the ability to work for extended periods. It's important to be prepared for the presence of blood and debris during certain procedures, as these are inherent aspects of the job.
Oral and maxillofacial surgery
Oral and maxillofacial surgery is a bold and challenging specialty that deals with complex surgical procedures involving the face, oral cavity, head, neck, and jaws. It includes reconstructive surgery, facial trauma surgery, and cosmetic procedures like cleft lip and cleft palate surgery. This field demands exceptional surgical skills, problem-solving abilities, and a passion for both dentistry and medicine.
As a surgical specialty, this field involves intricate procedures and delicate tissues, making it unsuitable for the faint-hearted. It encompasses a broad spectrum of treatments, ranging from dental extractions and corrective jaw surgeries to facial trauma reconstruction and dental implants. The area requires dedication, steady hands, and a keen interest in improving patients' facial aesthetics and oral functionality. While maxillofacial surgery can be financially rewarding due to its complexity and specialized nature, its true appeal lies in the ability to make a significant impact on patients' lives by restoring their facial harmony and improving their oral health.
Prosthodontics
Prosthodontics focuses on the restoration and replacement of damaged or missing teeth. As a prosthodontist, you will design and fit dental prosthetics such as crowns, bridges, dentures, and dental implants. This specialty allows you to enhance patients' oral functionality and aesthetics, making it a gratifying choice for those dental NEET MDS aspirants with a creative flair, lots of patience, and an eye for detail.
Endodontics
Endodontists specialize in diagnosing and treating diseases of the dental pulp and the tissues surrounding the roots of teeth. Root canal treatments are among the most common procedures performed by these specialists. If you have a keen interest in saving teeth and alleviating dental pain through other procedures, this specialty might be an excellent fit for you.
Pediatric Dentistry
Pediatric dentists specialize in delivering dental care to infants, children, and teenagers, ensuring the optimal health and well-being of their primary teeth. Their expertise lies in safeguarding young patients from decay and other dental ailments. Patience, compassion, and effective communication skills with both children and their parents are fundamental attributes for excelling in this area.
Oral medicine and radiology
OMDR is a dental specialty that focuses on diagnosing and managing oral and dental diseases using advanced imaging techniques like X-rays, CT scans, and MRIs. Aspirants opting for this field should have an in-depth understanding of oral pathology, oral manifestations of systemic diseases, and oral cancer.
This plays a crucial role in early detection, accurate diagnosis, and comprehensive treatment planning, making them indispensable members of the dental healthcare team. Additionally, OMDR experts often engage in research and academic pursuits, contributing to the advancement of knowledge in dentistry.
How to use PULP to get into the branch of your choice
With the comprehensive notes feature, dental PG aspirants can understand complex concepts effectively and fill their knowledge gaps.
With access to 32,000 multiple-choice questions, candidates can cover all NEET MDS topics in detail, enhancing their preparation.
The "Build Your Workout" feature assists dental MDS candidates to create unlimited customized mock tests for each topic and evaluate their learning effectively.
Daily and deep revision features enable the aspirants to revisit incorrectly answered questions, reinforcing their understanding.
AI-enabled analytics assess candidates' proficiency in subjects, topics, and concepts, guiding focused improvement.
The platform provides advanced filters such as clinical-based questions, image-based questions, recent-year questions, and difficulty levels. Thus, allowing dental PG aspirants to tailor their preparation to their preferences.
———————————————————–
Deciding on a dental specialty post-NEET MDS is a vital choice that can define your career path. Reflect on your passions, strengths, and long-term aspirations as you explore the diverse branches of dentistry. Each specialty presents distinct opportunities for professional advancement and for positively influencing patients' well-being. Take ample time to conduct thorough research and consider shadowing practitioners in your desired fields to gain deeper insights. This well-informed approach will empower you to make the best decision for your future dental career.