Why PULP is Creating Largest Clinical Q-bank for NEET MDS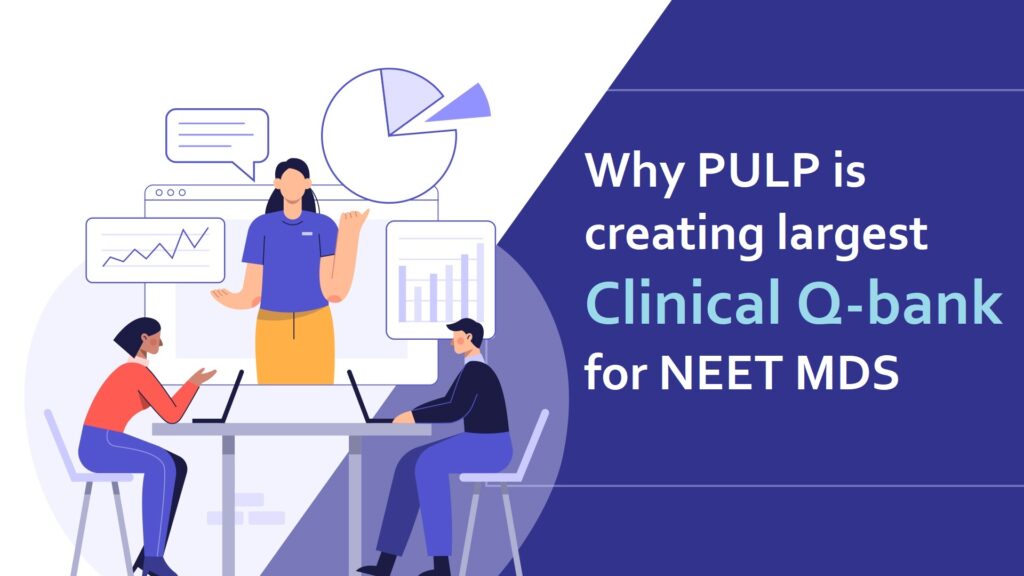 Are you preparing for NEET MDS? How are you dealing with the recently introduced clinical questions?
Did you barely manage to skim and complete the paragraph-type questions on time?
If the answer to all the questions is yes, then you are not alone!
With the recent changes in the exam pattern notified by the Dental Council of India, the clinical dental domain has gained preference amongst the examiners. As a result, one-liners have been replaced by paragraph-type questions to test the applicants on their practical knowledge.
Many candidates find themselves struggling with clinical questions due to scarcity of practice or time. PULP prepares candidates to perform extraordinarily in clinical dental NEET MDS questions with an easy to use highly interactive platform.
What Should You Expect?
The objective of the NEET MDS clinical questions is to test your practical skills. You have to apply your reading and analytical skills here.
When you come across a clinical question in dental PG exams, the first thing to do is to read the questions carefully and quickly make the diagnosis accordingly. Next, eliminate the options to find the relevant solution.
Clinical NEET MDS questions test how well you have understood the concepts. You should be able to analyze and apply the knowledge gained from studying books in a clinical scenario.
How to Prepare for Clinical Questions?
A clinical question and para-type questions usually contain a diagnosis within it. The majority of the questions are application-based, image-based, or diagnosis-based. The cases are written in such a manner that the diagnosis could change if minor details in the questions are changed.
Clinical questions test the pre-clinical, clinical, and surgical dental learnings of your BDS course.
For instance, a clinical question could look like this:
An adolescent reported with a red smooth, shiny and fluctuant lesion in his marginal gingiva. He reported of injuring his gums while eating fish and had no history of ailment. On examination, adjacent teeth were sensitive to percussion. What is the most probable diagnosis?
Gingival abscess
Periapical abscess
Pericoronal abscess
Periodontal abscess
To answer questions like these, your basics should be good. You need to put your dental learnings to the application here. You have to keep practicing such questions to master them and to gain insights.
PULP is built for the very reason to help students excel in the NEET MDS exam. To help students with the latest pattern, we have integrated more than 2300+ clinically oriented questions on our platform. In addition, every question contains detailed explanations to give you an understanding of a concept
How to access Clinical questions on PULP?
You can apply the 'Clinical Question' filter in the workout section of PULP. Just a single click on the filter, and you can specifically practice clinical NEET MDS questions.
You may not find many NEET MDS clinical questions in books; hence the PULP team is working hard to bring these questions to you.
Practice 2300+ clinical questions on PULP and take your preparation to the next level.
Practice and Learn New Skills
Clinical questions are based on fundamental concepts. These questions do not just test you on your theoretical knowledge. It rather assesses how well you can apply your knowledge gained from theory in a clinical scenario. These MDS clinical questions are interdisciplinary, and therefore, many dentists are scared of them.
So, do you get scared away or pave the way for a new methodology to tackle them?
The more that you read, the more things you will know. The more that you learn, the more places you'll go.

Dr. Seuss
The NEET MDS clinical questions are different from one-liners, you have to practice new skills to get the results.
Clinical questions for NEET MDS require skills such as speed reading and comprehension. The questions are framed from a total of 17 subjects.
If you feel unsure about a particular subject, it is better to focus more on that subject. Identify the tough concepts or weak areas in your knowledge in advance. For example, if you find Oral Surgery a difficult subject, then you should practice plenty of problems from the same.
With PULP, you gain the advantage of testing yourself in the desired way.
Just as bodybuilders work up gradually to lift heavier weights over time, you should also train for the clinical questions to build your exam-taking endurance. You need to prepare your test-taking muscles by practicing at least more than 50 clinical NEET MDS questions every day.
Pacing is essential in NEET MDS because you have limited time to complete the paper. The test paper of NEET MDS consists of 240 questions. You will have to complete the paper in three hours.
While practicing, give yourself less than a minute per question. Take multiple practice tests, track your progress, and learn from your mistakes. Practicing will help you get familiar with the new pattern, identify problem areas and resolve the issues you are struggling with.
PULP contains a questions bank of over more than 30,000 questions along with 6000+ clinical NEET MDS practice questions. You can practice as many questions as you want without wasting your time looking for other sources. 
The PrepDNA on PULP lets you discover and confirm your subject matter strengths. With unlimited customized tests on PULP, you can diligently work on your weaker areas.
While there is no denying that practicing clinical questions can help you achieve better, you should also pay closer attention to postings and practicals to understand the concepts in an applied manner. In this manner, you will be applying theory to real-life scenarios and engaging with the concepts a lot more.
Let's get started then. It's time to disperse the fear away!