NEET Preparation Along with Boards
NEET preparation is not easy, especially if you are attempting NEET 2023 along with the 12th board examinations. Most NEET aspirants get intimidated by the vast syllabus of boards and NEET. However, with the right approach and strategy, you can crack both exams.
Determine the common topics
The CBSE board exam and NEET syllabus have many topics in common, making it easier for NEET aspirants to prepare for the exam. However, you just cannot concentrate on your class 12th syllabus and prepare for the NEET exam. The syllabus from the class 11th exam is also included in the NEET 2023 exam. You need to build a solid foundation from class 11th so that you can easily cover the topics that will be introduced next year. Study the overlapping syllabus thoroughly to make optimal use of your time. In this manner, when studying or revising for boards, you are covering some of the NEET exam syllabus too!
Pay extra attention to the NEET topics. You may have already covered the topics in your class or from NCERT books. Now, read in detail about the topics for the NEET 2023 exam from reference books, notes, video lectures, or study materials. This will help you prepare for the boards and NEET exams.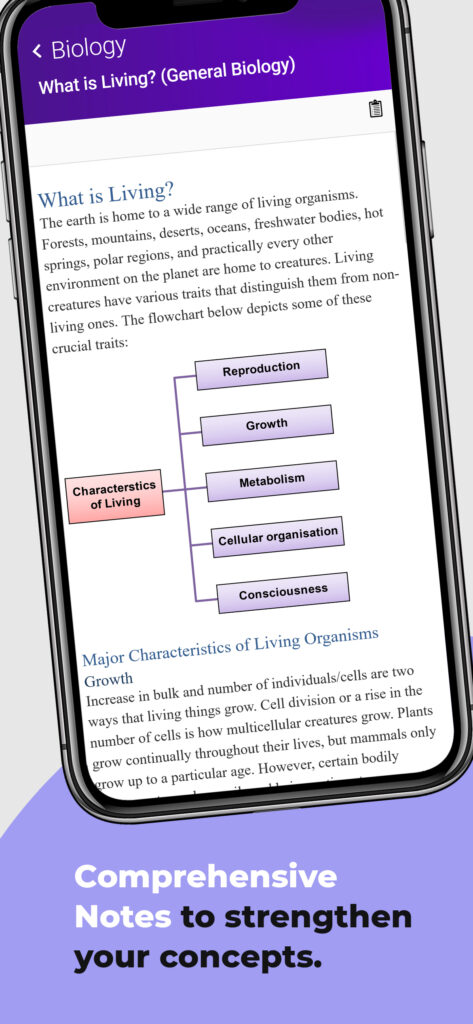 Plan your study goals for NEET and boards
This is a must for NEET aspirants preparing along with 12th board exams. You must have a clear and detailed study schedule for both exams. Focus on studying the subjects from authentic NEET books and sources. Reading from multiple books for one single concept or topic can cause confusion. Stick to your source of learning and follow the relevant study material when preparing for both examinations.
If you fall short of your study goals for some reason, don't get concerned. Keep your study schedule flexible enough to help you prepare accordingly. Keep both the board and NEET study goals separate. But they should intermingle in such a way that you can prepare for both the boards and NEET simultaneously.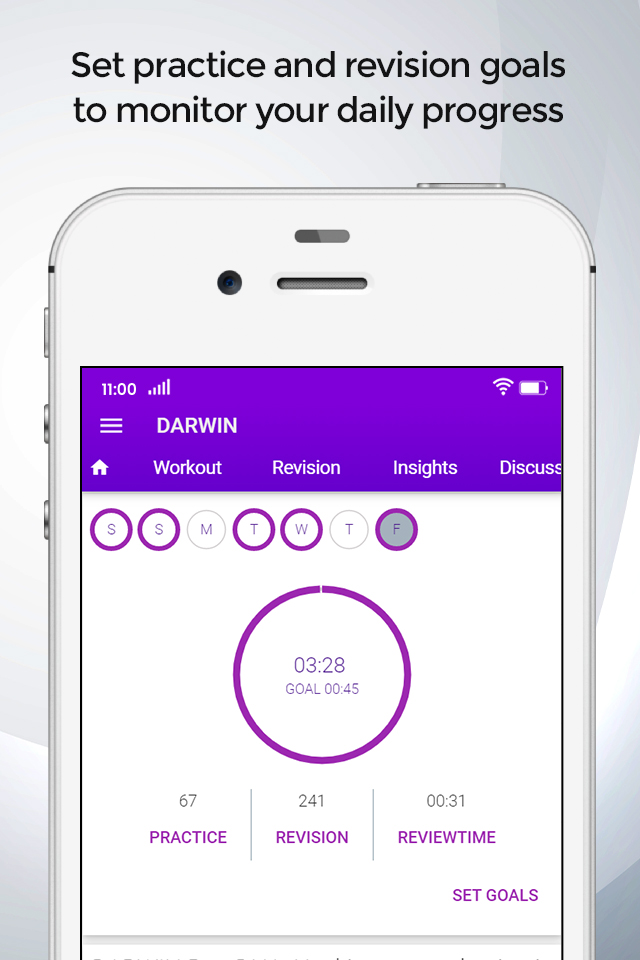 Preparing for these two exams can be challenging for NEET aspirants. Therefore, fulfilling your study goals with effective time management is the key to success.
Read NCERT books for boards and NEET
NEET aspirants should choose NCERT books for NEET as well as board exams. These books are the basic bedrock. Time and again, NEET questions have come from NCERT; therefore, no NEET aspirant can ignore NCERT without impacting their final scores.
You should solely focus on NCERT textbooks for Physics, Chemistry, and Biology. Also, when you study the chapters and topics from NCERTs, you complete the same syllabus for both these exams. The questions at the end of the NCERT chapter also come in the NEET exam.
Learning from NCERT textbooks provides you the double benefit of preparing for both exams. Solving numerical and reading the solutions can help you grasp the concepts and prepare a strong base for the NEET 2023 exam. You can also study from Darwin's notes to help you prepare for both exams. These notes have been designed keeping in mind the syllabus of these two exams. Though the notes primarily focus on NEET 2023 exam, the concepts and facts are as per NCERT books.
Solve NEET MCQs and 12th board Previous Year Papers
After understanding the concepts and topics from the syllabus, you should solve the questions- NEET MCQs and sample board papers. Make sure to practice the previous years' questions too that are asked in NEET as well as in the board exam. Based on your learning, you could easily tackle the questions. However, there is a difference between boards and NEET MCQs. The NEET questions are objective, whereas the board's questions will be subjective.
But the underlying fundamentals in the format of the questions are the same. A candidate with a superficial understanding of the subjects will be unable to give correct answers in the 12th board exams because these questions are subjective. When your concepts and base are strong, you can easily solve board questions and NEET MCQs.
To determine if you truly understand the topic, topic-wise questions from Darwin, and carefully analyze the scores. You can set the level to easy questions in the beginning and then gradually increase the difficulty level. Don't ignore the numerical questions. At last, appear in free NEET mock tests on Darwin and see how good your time management is.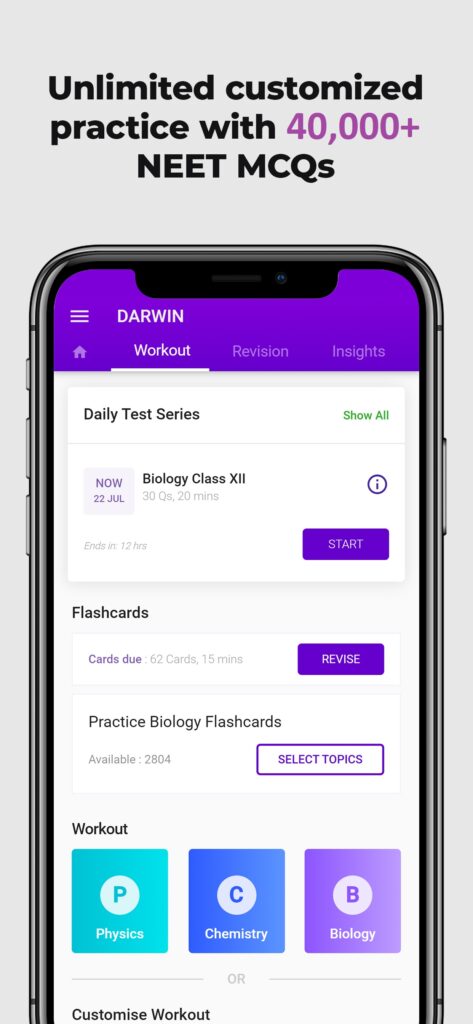 Regularly revise topics and NEET questions
The secret to acing NEET and 12th boards is thorough revision. Making brief notes in a notepad or stick-on while emphasizing key themes is crucial to NEET preparation and board exams. When reading any paragraph or lines for the board exam, look for key ideas that can be turned into NEET MCQs.
Regularly revise topics from the Class 11th syllabus. Keep your class 11 formulae sheets handy and revise them whenever you can. You can also refer to Darwin's in-depth notes to revise your class 11th and class 12th concepts.
Recognize your strengths and weaknesses
During the mock tests, you may encounter some questions that cause anxiety or stress. Identify which topics are your areas of strengths and weaknesses rather than just blindly completing the NEET 2023 syllabus. To find such topics, you can solve previous years' question papers or take online practice tests.
After solving the questions, carefully analyze your scores and feedback. During the analysis of test results, note down your weaknesses and strengths. Darwin's PrepDNA helps you identify your weaknesses so that you can master those topics for NEET and board. It works as a coach here and delivers the questions from weak areas and helps you improve.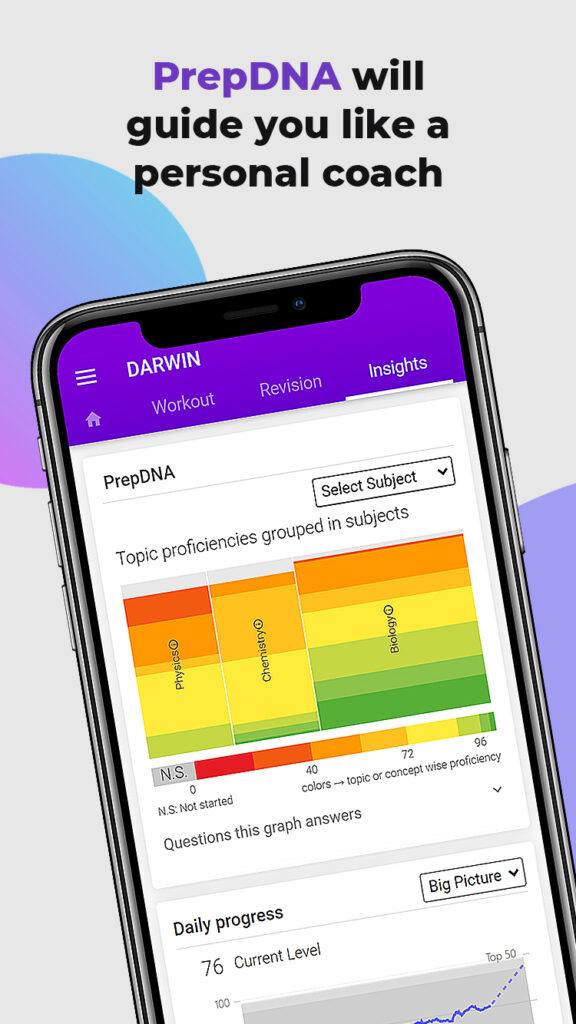 Also, before you begin revising, create a detailed study strategy and revision schedule. Make sure to allot more time throughout your NEET preparation for reviewing topics that you find challenging. Darwin NEET Prep prioritizes mistakes that you have done in the past. It looks for patterns within your incorrect questions and delivers such NEET MCQs. This helps you learn from your mistakes. Darwin's NEET revision feature is designed using effective learning techniques that help you improve significantly faster than your competitors. With each revision, your preparation for any competitive exam gets better and better.
Balancing the NEET preparation and the Class 12 board examination is no easy feat. Both exams must be passed with flying colors. With lakhs of aspirants competing for every mark, you should be prepared well for both. Darwin NEET Prep helps you in preparing holistically and strengthens your base. It has everything that you need including NCERT-focused notes, 40,000+ practice questions, free mock tests detailed insights on your performance, revision features, and a lot more. Join Darwin to efficiently juggle between the two exams and crack NEET 2023 to accomplish your dreams.