Selection Guarantee Plan for NEET 2023 Droppers – Practice Strategy
The story of some NEET aspirants failing in the exam and topping in the next year is like a journey of a mountaineer that has faced many obstacles in his/her journey but still has managed to reach the pinnacle. The mantra of these extraordinary NEET droppers has been to "never give up" and "work hard" until they succeed in the NEET exam.
But many NEET droppers remain clueless about their failures in the exam. They need some handholding and personalized learning to help them reach their goals.
That is why Darwin is presenting a "Selection Guarantee Plan for Droppers" for NEET 2023. This is a rare opportunity for NEET droppers to reach the top 98 percentile in NEET 2023. Various coaching institutes may claim to produce toppers, but none will give you a guarantee or money-back offer like us. We're guaranteeing your selection because of the confidence we have in our methodologies, which no other platform or coaching has.
If you sincerely follow Darwin's recommended practice strategy, you can get into the college of your choice and achieve your dream of becoming a doctor. If you fail to get into the top 98 percentile, even after following our recommended method, we will refund you the full money. Moreover, this refund guarantee will be applicable only for first-time NEET droppers who have scored 85 percentile or above in the NEET 2022. Other droppers can join our Selection Guarantee Program but will not be eligible for the 100% refund.
Darwin's Selection Guarantee Plan
NEET Prep App by Darwin achieved a strike rate of 98% in NEET 2022 exam. This was the highest strike rate amongst any coaching institute for the NEET exam. Last year too, Darwin launched a selection guarantee plan for NEET droppers. Please note that last year we did not conduct any tests for students while enrolling them in the SG program. Overwhelmed by the messages from tons of our users, we decided to bring another round of our selection guarantee plan.
From this year, we have added criteria for enrolment. Only NEET droppers can get enrolled in our selection guarantee plan.
However, the refund guarantee will be valid only for the first-time NEET droppers who have scored 85 percentile or above in the last NEET-UG.
Over the years, Darwin has become the ultimate source for NEET droppers to improve their ranks. The app has helped thousands of NEET aspirants to move from the bottom of the pack to the front.
This does not mean that a NEET dropper with less than 85 percentiles in the last exam cannot join our Selection Guarantee Plan. You can still apply for the plan and will get access to all the exclusive features, but you will not be eligible for a refund in case you fail to get into the top 98th percentile even after following our recommended method.
All the users of SGP (Selection Guarantee Plan) will get 40,000+ NEET MCQs, study material, weekly personalized guidance, comprehensive notes, advanced concept lectures, AI-enabled analytics, and access to other premium features.
But be warned. You must give 100 percent to get into the top 98 percentile in NEET 2023. Our recommended strategy demands a high level of commitment and hard work from the students. If you are ready to give your all, join our selection guarantee program without any delay.
How to Get into the Top 98 Percentile in NEET 2023?
Darwin had created a winning strategy for all NEET droppers aiming to improve their scores by a huge margin.
You can start by:
Getting enrolled at Darwin's Selection Guarantee Plan for NEET 2023 Droppers (apply early because there are limited seats only. Once the batch closes, no new users can apply).
Follow Darwin's Study Plan with daily revision, video lectures, notes, and homework. The daily study plan will help you learn 2X faster than any other coaching institute or application.
Nominate a person who can monitor your progress (parent, friends, peers, or mentor). The person responsible should hold you accountable for your efforts and proficiency. He/she will also get regular updates from Darwin regarding your progress.
Follow weekly personalized guidance to correct your shortcomings in the previous week.
If you do not get into the 98th percentile in NEET 2023 even after preparing as per our recommended method, you get 100% money back. No questions asked.
What is the Darwin's Recommended Study Plan?
Our study plan includes four components:
Completing the syllabus
Routine for revision
Regular Tests
Daily routine
Completion of NEET Syllabus
It is important to complete the NEET syllabus on time. If you are a NEET dropper, go through your notes and learning resources to complete the syllabus beforehand. You will also have the access to Darwin's comprehensive notes customized for each topic. Make a thorough study- schedule that incorporates all the chapters in the NEET 2023 syllabus. Allot time on the basis of the length and weightage of each chapter.
Curated Notes from Industry Experts
Students enrolled in Selection Guarantee 2023 plan will also have exclusive access to our comprehensive and concise notes. We will also share some good videos with our users to study from. Apart from this, our subject matter expert will deliver a lecture on a daily basis. In this lecture, our experts will discuss conceptual and difficult questions to leave no stone unturned for the NEET 2023 exam. Spending time on theory alone won't help you in the long run. It would be best if you practiced NEET questions alongside your preparation. Therefore, spend 75% of your time practicing the NEET MCQs.
In a study schedule of 10 hours:
2-3 hours to study notes and for self-study
6-7 hours to practice questions on Darwin
Subject-wise allotment of time spent on notes should be:
Spend 5-10% time on Physics
Spend 10-15% time on Chemistry
Spend 25% time on Biology
Practicing NEET questions with notes
If you are solving questions by looking at the notes, then ensure that majority of the questions are correct on your second attempt.
If you are solving questions without notes, then carefully read the detailed explanations to get better clarity of the topic at hand. This will help you to eliminate your doubts and understand the concepts efficiently.
While completing the syllabus, solve topic-wise questions in Darwin. Then, move on to the next topic after referring to your PrepDNA. A green colored graph indicates mastery of the concept, whereas a red colored graph indicates weakness in that topic. While solving MCQs on Darwin, if you are not getting more than 70% correct, you should go back to your notes to understand the underlying fundamentals. Ignoring the topic and rushing to complete the syllabus might prove detrimental in the NEET exam.
Revision Schedule
Darwin has created an elaborate revision strategy for NEET aspirants. There are 3 components in revision that you must focus upon:
1. Daily Revision: With the help of this feature, NEET aspirants can review the questions they got wrong over the previous three days. You can retain the concepts and topics by reviewing the shortcomings frequently.
2. Weakness-based revision: Students must first comprehend the topics. Most of their time should be spent identifying their weakest areas and practicing the fundamentals to strengthen them. To understand how much knowledge you have gained, you must spend 60% of your revision time to revise questions from your weakest subjects.
3. Time-based revision: Pay attention to the subjects or topics you haven't studied recently. This would enable you to stay connected with the topics that you have ignored for a while.
For a more elaborate revision strategy – Read Darwin's Revision Guide for Selection Guarantee. This will help you better understand how to use the revision feature effectively.
Flashcards
Flashcards are a valuable tool for remembering essential facts. Flashcards smoothly align with our aim to help students recall information alongside deliberate practice. Since not all high-yield facts can be covered in explanations of MCQs, we decided to use them as flashcards.
Most NEET aspirants ignore this crucial feature. You might feel that it is a waste of time and effort but ask our users; they could reveal the benefits Darwin's NEET flashcards offered them.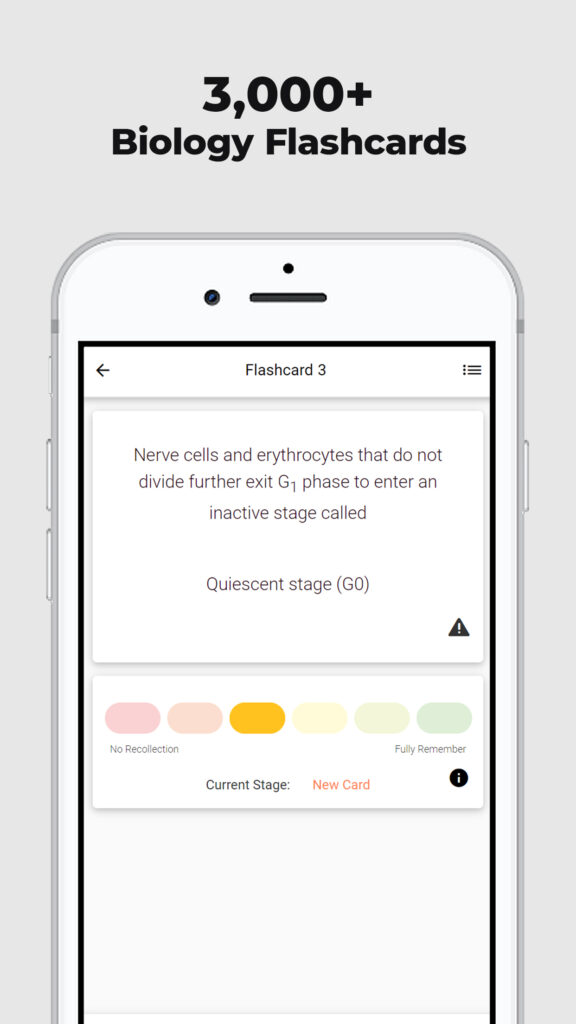 You should consistently use flashcards and try to incorporate them into your daily schedule. With over 3000 flashcards for biology, you can retain high-yield concepts with regular usage.
5-10 min usage can drastically improve your NEET biology scores. Please do not use them for over 10 mins since it will decrease their efficiency. Revisit the flashcards 5-8 times a day to ensure that it gets imbibed into your memory. When you have used a flashcard, honestly rate the scale rating. This would help our advanced AI to frequently bring up flashcards with weaker concepts.
Feedback Scale (from left to right):
0 – No idea what this card is talking about.
1 – Knows other related facts but no idea about the current fact.
2 – Faint ideas about current facts.
3 – Not sure about the answer but would remember if it comes in MCQ.
4 – Remembers the answer but had to try recalling it.
5 – Remembers the answer crystal clear.
Do not spend more than 30 mins a day on flashcards. Spatial reading and revising are the key concepts for using flashcards. Going overboard may have negative effects.
Daily Routine
Darwin has created a strong study schedule for NEET 2023 droppers. SGP users should follow the daily routine strictly to gain benefits.
NEET droppers are advised to study for a minimum of 10 hours daily. However, NEET beginners should work more to compete with the best. Your typical day should look like this:
30 mins – 1hr for Daily Revision: Start your day by completing the "Daily Revision" from the Darwin app. This will help you to retain the concepts for longer. Revising regularly can help you succeed in the NEET exam.
30 – 45 mins for Daily Test: Solve practice questions for the chapters you have already studied. Daily tests will take 30-40 minutes of your time and will help also help you keep a track of prep alongside your peers. After attempting the test, take time to analyze where you went wrong and areas where you need to improve.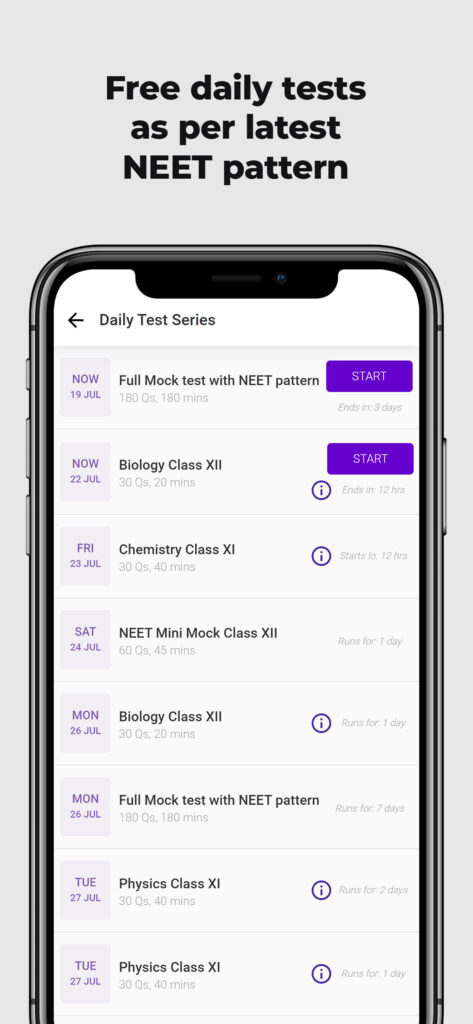 30 mins for Flashcards: Practice flashcards five to eight times a day.
6-7 hrs for Deliberate Practice: After going through your notes, ensure that you spend 75% of prep time on practicing MCQs
Put in the best of your efforts to prepare for the NEET 2023 exam. Our detailed recommended strategy for NEET droppers will get you through the doors of the top 98 percentile, but only if you put enough hours and effort into practice and revision. Subscribe to Darwin's Selection Guarantee Plan early because getting into the top ranks requires at least 8-10 months of sincere study.
Darwin's Selection Guarantee plan for NEET 2023 droppers is designed to help you get a seat in your preferred medical college, but this could only be possible if you are ready to do the necessary hard work to make it happen.
If you too have a burning desire to become a doctor, join our program now!