Top 10 NEET Preparation Tips to Score Better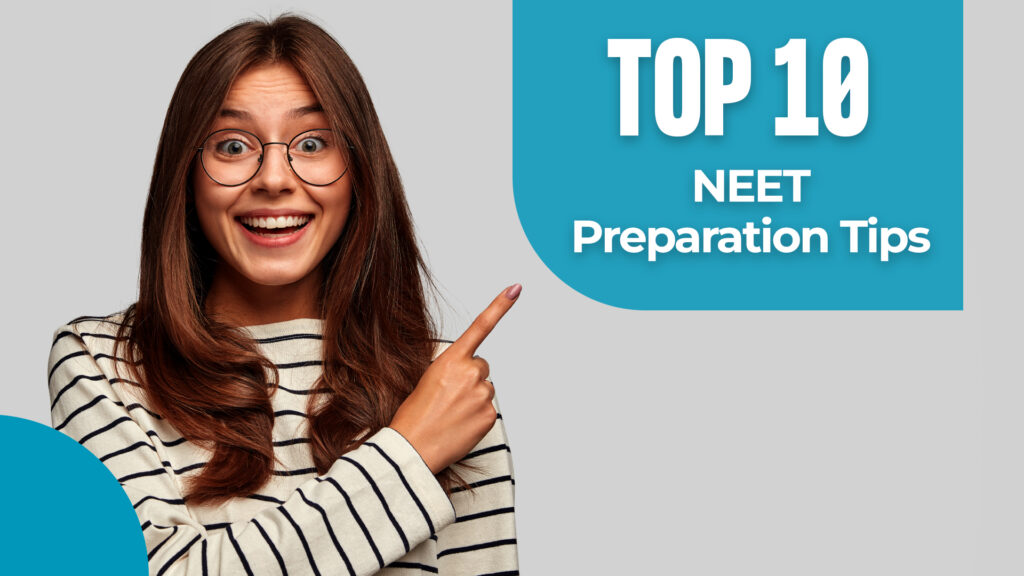 Are you getting ready for NEET UG? If so, then we are aware of the immense pressure you are under. The competition is becoming fiercer every year and general preparation isn't enough to finish the vast syllabus and pass the medical entrance exam. To beat the crowd, one needs to have a solid plan.
Here are 10 tips that will help students stand out and improve their chances of success in NEET.
Be well-versed in high-weightage topics
Aspirants should be well aware of the official NEET syllabus before anything else. Their board exam syllabus and the NEET syllabus can be compared. It is convenient because if there are similar chapters, they don't need to be prepared separately. This can provide students more time to study NEET concepts that aren't in the board syllabus. Along with this, play it smart by making a note of high-weightage chapters so that you become a pro in them.
Follow your study regime
Sticking to a fixed schedule during the NEET prep helps you stay focused on your objective as you have a two-year syllabus to complete. Make a habit of creating goals and a to-do list on a weekly basis and then break them up further into daily tasks that need to be done.
If you have a test coming up and the syllabus isn't finished, take a pause to cool off, make changes in your schedule, and allocate time to the topics appropriately. Never be too rigid with your timetable. Be ready to modify it if it's not working out or if something else is a priority.
Too many resources will create confusion
The Internet is filled with 100's study materials for competitive exams. Thus, choosing the right NEET reference book or the right test series can be confusing but is essential for test preparation.
Those who have taken the exam in the past have found that NCERT is one of the best books to use to strengthen concepts. For MCQs, you can choose to practice from Darwin NEET Prep which has the largest Q-bank of 40,000+ MCQs and the last 20 years of NEET PYQs for you to maximize your potential.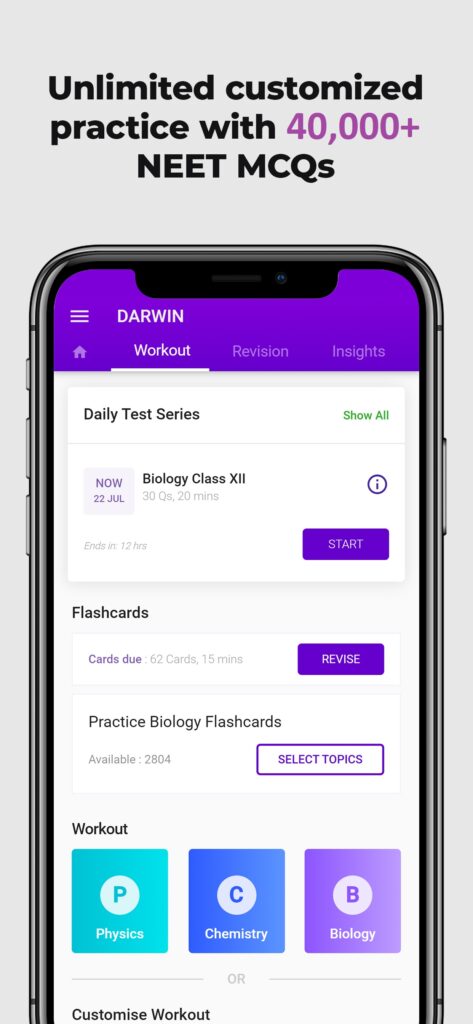 Practice mock tests and previous years' question papers
Practicing mock tests and previous years' question papers is non-negotiable during the NEET prep. Solving numerous question papers assists to get familiar with the exam pattern and its difficulty level, making the aspirant well-prepared to tackle the uncertainties of the NEET exam.
Aim to give a minimum of 1-2 mock tests in a week as it will guide you to gauge your strong and weak areas. You can then work on your shortcomings which will eventually improve your overall preparation.
Darwin offers free NEET test series to help you get ready for the exam day. You can check your understanding at the subject level by appearing in our subject-wise mini-mock tests.
Rely on the right study material
Handwritten NCERT notes are no doubt the best but if you are short on time then it's better to rely on other sources. Make sure to separately highlight important formulae and diagrams. Our subject matter experts have designed comprehensive topic-wise NEET notes based on NCERT to prepare you better. This makes it easy to remember and they can be referred to even when you are going through mock tests or revisions.
Use mnemonics and flashcards for better retention
These are the best methods to study and memorize on the go. They are small and simple pieces of information that can help you retain the trickiest concepts. You can also have fun and challenge your peers to see who gets the max answers right. This will amplify your prep which will show in your NEET results.
Digital flashcards can be accessed anytime as they are right in your pocket. You can check out the biology flashcards in the workout section of the Darwin app. Biology holds 50% weightage in NEET and you can select any flashcards from the topic and instantly start practicing, no matter where you are.
Revise simultaneously
Revision is a crucial part of the NEET exam and has to be done alongside regular preparation. Before ending the day (assuming you are done with school and coaching work), dedicate 1-2 hours every day to revise your mistakes.
The revision section on Darwin allows you to re-practice questions that you got wrong while practicing. Check the formulae, concepts, and graphs from the topics where you scored low, and make a note of anything that you didn't understand. Learn from your mistakes and use them as stepping stones to success.
Two heads are better than one
Joining a study group can provide a platform to exchange ideas, share notes, and clarify NEET doubts. You can learn new strategies and techniques from your group members and improve your preparation. You can create our study circle on Darwin to create a challenge for you and your group members, where you can select subjects/topics and no. of questions after defining a time limit.
Know your strengths and weaknesses
NEET syllabus is extensive and it's not possible for students to excel in every topic. You can be strong in a few sections while weak in others, so don't get disheartened by that. It is vital to review the mistakes and develop strategies to avoid them in the future.
For example, if you have problems understanding difficult concepts, start with easier questions, take the time to understand them better, and then try questions with higher difficulty levels. To analyze your stronger and weaker topics, you can use PrepDNA from the Darwin app. Through the color-coded grouping system of chapters & topics in a graph, you can easily identify where you are good at and where more focus is required.
Regular breaks during studies
It is essential to take regular breaks while studying for NEET. This can help to improve concentration and alertness, minimize stress, and generally improve academic performance. Taking breaks also benefits clearing the mind and prevents mental fatigue which can seriously impede a candidate's ability to focus on difficult topics.
You can use the Pomodoro Technique which is a famous time management method where you can study for an hour and then take a 5-10 min break. This will support you to avoid distractions as you will feel refreshed, motivated, and ready to continue with your studies after the breather.
Along with this, it's vital to take care of your health by sleeping for 6-7 hours, having healthy meals, and avoid junk, and doing some kind of physical activity to avoid unnecessary strain on your body due to the long hours of sitting.
—-
These were some pointers on how to do well on the NEET exam. After passing Neet with flying colors, you will be proud of all the sleepless nights, festivals, and occasions missed in order to achieve your goals. Prepare well and practice regularly on Darwin to gradually improve your performance.
All the best and we hope to see you in a white coat one day!