97% of NEET PG 2021 Questions were from Pre-PG
Addendum: At the time of publishing the blog, the strike rate was 89.5 percent. But thanks to our users, who continued to send us NEET PG 2021 questions that got repeated from Pre-PG. The current strike rate is 97%.
First of all, we are grateful to all our users who wrote to us, thanking us for building a platform that proved to be a game-changer in NEET PG 2021. Our inbox has been flooded with emails from many such Pre-PG users.
As we have stated many times before, Pre-PG is designed to empower and enable you to face the actual exam confidently. We intend to bring discipline into your preparation.
Many top scorers in NEET PG have acknowledged the role of Pre-PG in their success. The story this year was no different. Pre-PG continued with its winning legacy of achieving a strike rate of 89.5% in the NEET PG 2021 exam. 179 out of 200 questions asked in NEET PG 2021 were from Pre-PG's question bank.
[The strike rate of Pre-PG is now 97% in the NEET PG 2021 exam. We were able to track 15 more questions since then. Our sincere apologies for missing those questions. 194 out of 200 questions asked in NEET PG 2021 were from Pre-PG's question bank.]
In this blog, we are providing you with evidence of our claims. You would even find that some of the most difficult questions asked in this year's NEET PG were already covered in our platform.
Bang on Target, Every time
After the NEET PG exam, our team sat down to analyze the paper. Mind you; it's not an easy feat. And no, we do not do this to make promotional claims of being the best.
We do that to understand the new trends in the NEET PG exam. We analyze the paper to find answers to the following question:
How was it different from the rest of the years?
How did the students find paper this year?
Did our platform give an added advantage to our subscribers?
Are we on the right track?
Do we need to make changes in our question bank, daily test pattern, and in our in-app analytics?
Being updated and catering to the needs of the students is the vital step to being the best NEET PG prep platform. We believe it is our duty towards NEET PG aspirants who trust us to show the right path. Very often, this introspection has given us confidence in the quality of services we offer and the conviction to guide all future doctors.
So, based on our analysis, what did we find this year?
About 700+ marks in NEET PG 2021 could have been easily scored if you were an ardent follower of the Pre-PG App.
97% of NEET PG 2021 questions were from Pre-PG
Thinking that we are just bluffing? Cross-check the findings by assessing the exact question ID on Pre-PG prep with the NEET PG 2021 paper.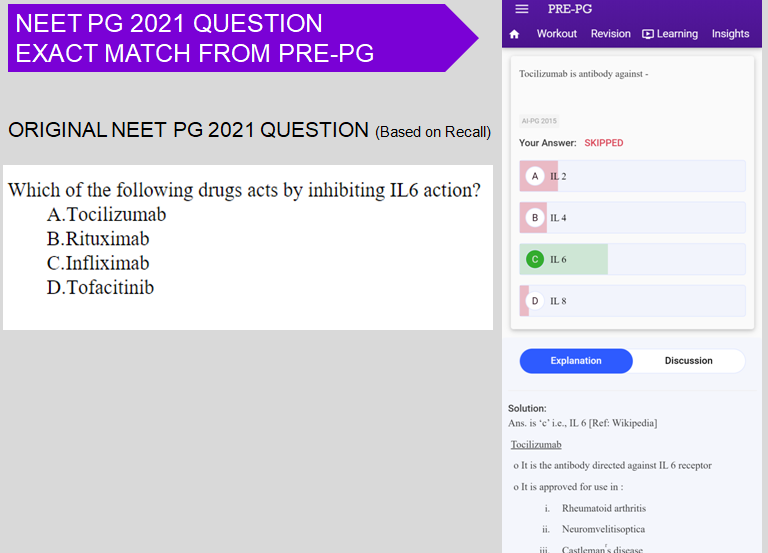 To access this exact question on Pre-PG, click here.
Here is another example of NEET PG 2021 repeats from PSM. You can double-check the findings for all the 194/200 questions for NEET PG 2021 from our other blog.
To access this exact question on Pre-PG, click here.
It is very clear that these PG medical exams are now shifting their focus to clinical questions rather than just theoretical medicine to test aspirants. This NEET PG was also more clinical and application-based in comparison to previous years. Most of the clinical questions asked in NEET PG 2021 were already covered in Pre-PG. But we are not surprised; after all, we have the largest question bank of 23,000+ NEET PG clinical questions.
And again, you can verify it by accessing this exact question ID on Pre-PG.
We are separately sharing the 15 NEET PG 2021 questions that we were able to map later on Pre-PG. After including these additional 15 questions, Pre-PG'ss updated strike rate is 97%. You can verify the findings for all the 194/200 NEET PG 2021 questions that got repeated from Pre-PG in this blog.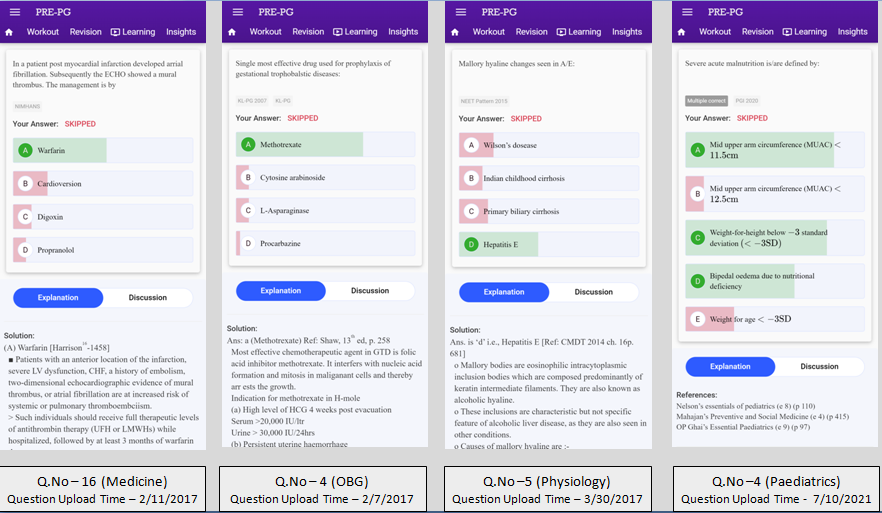 The Best Strategy to Clear NEET PG
Every year, NBE conducts the NEET PG exam. A record number of medicos sit for this paper, and this year was no exception. With fewer seats for PG medical studies, competition is fierce and every mark scored is crucial.
Subscribing to Pre-PG is the best thing you can do to clear this exam. We have been maintaining our strike rate over the years, and most of our question selections and intuitions have turned right. This is what we mean by the right guidance and clear approach.
Rethink your Preparation
Despite spending thousands of rupees at various coaching institutes, if you are finding NEET PG a tough nut to crack, it's time to rethink. There are expensive classroom programs of many coaching institutes that charge tens of thousands to help candidates clear the NEET PG exam. No, we are not against any coaching institute.
It is not the philosophy of Pre-PG to grow by belittling the efforts of others. There are quality players in every field.
What we are trying to communicate is that Pre-PG gives you the highest Return on Investment (RoI). With the best benefit-to-cost ratio, Pre-PG manages to create wonders year after year.
—
Pre-PG's breakthrough analytics tracks your progress and keep you updated about your strengths and weaknesses. Our subject matter experts design the questions in a manner that optimizes your result in the NEET PG.
Practicing more and more questions will make you well versed with all the topics. Integrating your learning with the best online free NEET PG test platform can help you score the highest marks. Seek the right advice. Get insights about your preparation and solve questions according to the changing priorities and pattern of NEET PG. That's the path you should follow.
All the Best!