How to make the best use of filters on Pre-PG
Planning is essential in all aspects of preparation. NEET PG aspirants can significantly improve their performance in the exam with the help of careful planning. NEET PG is a major milestone in the career of any would-be doctor. Besides chalking out the plan to complete the syllabus, you also need to dedicate reasonable time to practice questions. Solving NEET PG questions in Pre-PG can help candidates get an extra edge. It lets you get familiar with the exam pattern, know your weaknesses and strengths, and boost confidence.
Practicing NEET PG MCQs is crucial since it puts them in a better mental state for the test. NEET PG candidates feel more capable of producing the right responses. Customization while practicing is important as it addresses each issue a candidate faces while solving the questions.
Pre-PG has designed adaptive workout filters to help NEET PG aspirants to help personalize their preparation and specifically practice recent-year questions, PYQs, clinical questions, image-based questions, etc. Read the blog to know more about the various types of Pre-PG adaptive filters and what significance each serves.
Image-Based Questions Only
You all must know the importance and weightage of image-based questions in the NEET PG examination. The image-based questions are designed to test your knowledge of applied information. Also, when you are studying medicine, it can't be devoid of diagrams. Without understanding complex structures or illnesses through human body diagrams, you can't specialize in medicine.
Using the Pre-PG image-based questions filter, you can solve 7000+ NEET PG image-based questions. The comprehensive questions include most image-based questions that the examiner can think of. You can improve your NEET PG score by practicing and revising them regularly.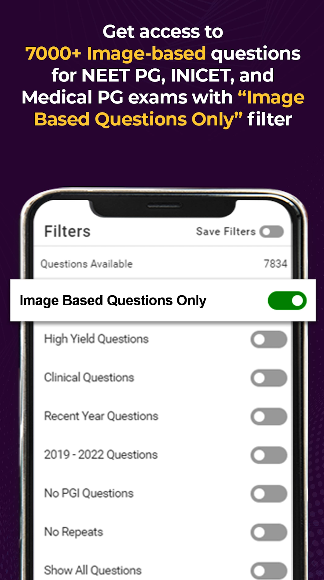 High Yield Questions
How do you know that a NEET PG practice question or any topic is critical or might come in the exam? The answer is simple- you would know by examining the pattern of NEET PG and analyzing the topics or concepts that have generated the most questions. You can increase your score by solving and practicing questions from these NEET PG topics.
Pre-PG has already done the work for you; you don't have to go through every previous year's paper over and over again in order to determine the high-yield topics. By applying the high-yield filter, you can solve 9000+ high-yield NEET PG questions critical for your preparation. Solving them can specifically let you focus on important concepts.
Clinical Questions
NEET PG clinical questions test your applied knowledge. These questions are not the usual one-liner and typically come in long paras. One must have good comprehension as well as great practical skills to solve these questions in one go.
Pre-PG has the largest Q-bank of NEET PG clinical questions. You can improve your clinical skills with more than 18,000 NEET PG clinical questions. These clinical questions compromise of pre-clinical, clinical, and para-clinical learnings of your MBBS course. Practicing NEET PG clinical questions can help you alter new dimensions, including speed reading and comprehension.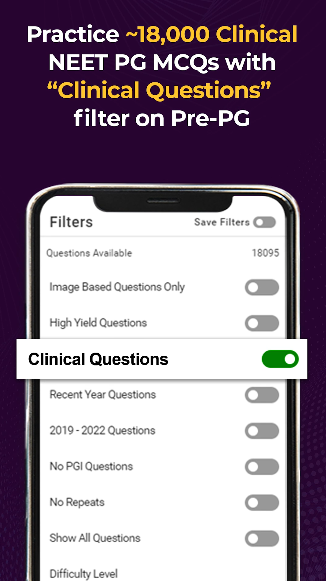 Recent Year Questions
Studying and practicing mock tests is not enough for any NEET PG aspirant. It would help if you also solve the past year's questions to understand how questions are framed from each topic and how prepared you are for the actual exam.
Pre-PG has the largest collection of previous years' questions from Medical PG entrance exams. With more than 30 years of previous year papers available, you can optimize your NEET PG preparation. Understand the NEET PG pattern and become familiar with questions that are asked in the exam.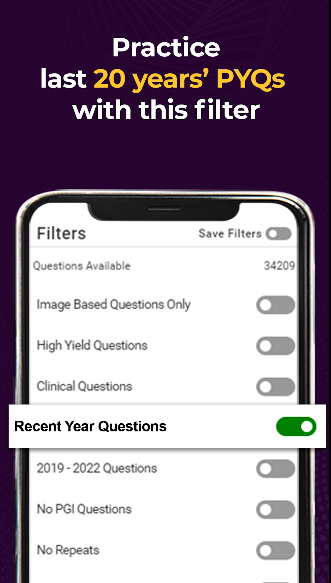 2019 – 2022 Questions
Solving the last three-year questions can help you to understand the recent trends and the latest changes that happened in the NEET PG exam. "2019-2022 Questions" filter can help you understand the examiner's strategy for designing the question paper so that you can modify and strategize your NEET PG prep accordingly.
This Pre-PG workout filter has the latest questions not just from NEET PG but also from INICET, PGI, FMGE, JIPMER, and other medical PG entrance exams. Solving these questions can help you prepare for the exam in a better manner. You can gain knowledge and a wider understanding of the upcoming questions in the final exam.
No PGI Questions
Post Graduate Institute of Medical Education & Research is one of the reputed examinations for doctors looking for specialization. Pre-PG has provided PGI questions for those aspirants who want to clear the PGI exam. By selecting the "no PGI" option, you can exclude the questions from PGI and solve questions solely based on your examination. However, solving PGI questions can help you maintain a strong grasp on all subjects.
No Repeats
Our algorithm tends to repeat the questions that you have marked wrong before. Along with some new questions, you will also see questions getting repeated from your weakest concepts. This methodology gradually strengthens your weaker areas. But there is always an urge to practice just new questions. NEET PG aspirants can apply this filter to solve questions they have never seen. This filter can help you particularly practice questions that are new and challenging. Already practiced questions will not appear in your feed, and you can practice unfamiliar questions.
Show All Questions
Pre-PG has more than 87000+ questions. With the application of this filter, you will see all the questions including the ones who have practiced before. This filter also helps in tracking your NEET PG prep, as your PrepDNA will reveal whether you have mastered the topic or not.
Difficulty Level
A NEET PG aspirant ought to solve easy, moderate, and difficult questions to know where they stand among the competition. If a NEET PG aspirant can solve easy and moderate questions easily and correctly, that means that the candidate has a good grasp of the subject. If you can solve difficult questions, then it means that you have mastered the fundamentals.
Pre-PG allows you to solve very easy, easy, normal, difficult, and very difficult NEET PG questions through the application of the filter. By selecting each filter, you can move to the next stages. This would help you to correctly determine where you stand in each stage. If you are making mistakes in very easy and easy questions, that means that you do not have good knowledge of that topic, and you should go back to your study materials to develop a better understanding of that topic.
Exam Pattern
Understanding the exam pattern and questions asked from each Medical PG entrance exam will help you plan your preparation in a better way. Apart from NEET PG, you can specifically practice questions that were asked in FMGE, INICET, JIPMER, PGI, and NIMHANS with the help of this filter. Make sure you solve as many questions as possible to get a firm idea of the format. This will also help you identify which topics are frequently asked in each exam so that you can eventually you can focus on them.
Pre-PG's adaptive workout filters help NEET PG aspirants who want a personalized approach while practicing. These filters resolve specific issues pertaining to each spirant. For instance, if you score poorly in clinical-based questions, then by applying the "clinical questions" filter, you can only practice clinical-based questions and improve your weakness. Recognizing your weaknesses and working on them is the key to success in the NEET PG exam. Subscribe to Pre-PG to address your weaknesses and work on them head-on until you transform them into your strengths.