Story of Dr. Aanand, AIR 3004 in NEET PG 2021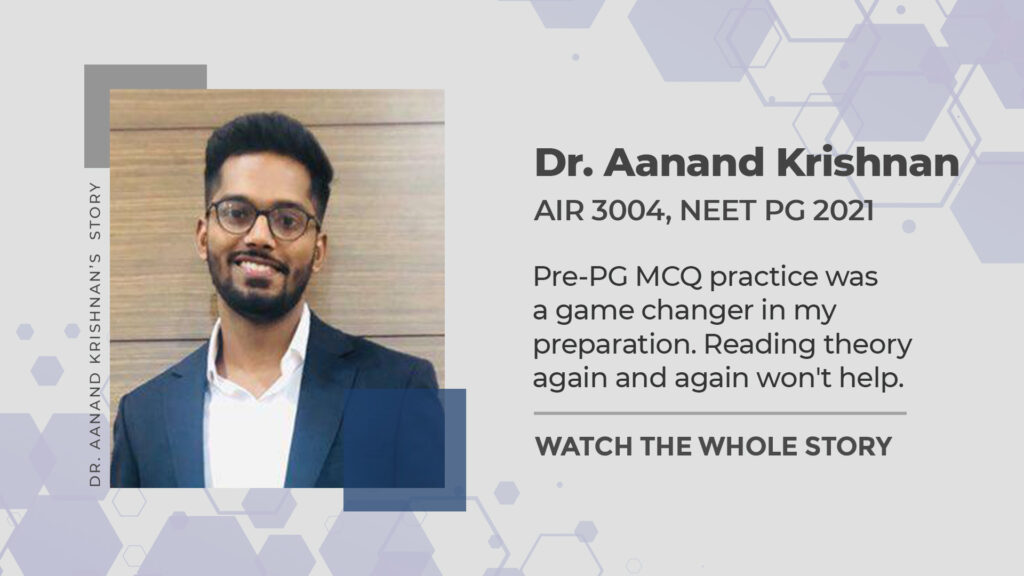 Usually, most students think they are just an "average Joe" who cannot clear India's most challenging PG medical entrance examination. But what if we tell that with smart techniques and consistent preparation, you can achieve your dreams.
Average performance in the exam usually bogs down many students and blocks NEET PG aspirants' minds, causing them to slip into a zone of self-doubting their capabilities. It is important to remember that results are seen only when one comes out of his or her comfort zone. To succeed, every NEET PG aspirant must adopt smart strategies and be more productive at every level to succeed. A systematic approach coupled with innovative and correct guidance can leverage and uplift your preparation.
Ask Dr. Aanand Krishnan, who secured a rank of 3004 in the NEET PG 2021 despite claiming to be an average student.
The Initial Journey
Dr. Aanand Krishnan, a native of Kerala, completed his undergraduate from Government Medical College, Maharashtra. He is from the 2104 batch and started his preparation during his internship.
In his first NEET PG attempt, he secured a rank of 46,594. He reveals that he wasn't much into studies during his medical days and rather had an avid interest in music and sports. The result, which he says, can be identified in his first attempt rank. His college did not have any PG residency, and thus he had a very hectic internship schedule.
Dr. Aanand was short of confidence as he didn't have good basics from his UG. One of his seniors, who had secured a rank of 2000 in NEET PG, told him that he couldn't crack the exam while doing an internship because the whole process would be hectic. But if he doesn't start preparing now, he won't be able to crack in the next attempt too.
Initially, he had an idea to enjoy his internship days and study start, but this advice changed his whole perspective. He started preparing along with his internship by studying for two to three hours daily.
The Rigorous Schedule Begins
Dr. Anand started by finishing 4 to 5 subjects in his internship. By the end of his internship, he was very clear about what to do and what not to do. When his internship got over in February, he started preparing full-time.
He also had a mentor who suggested Pre-PG to him. At that time, Dr. Anand confessed he didn't take it seriously because he needed to complete the syllabus first.
The Mistake Which Cost Him Dearly
During his first NEET attempt, Dr. Aanand regrets not giving the grand tests. He realized his mistake after the exam, and so to rectify his mistake, he started giving grand tests regularly during his second NEET PG attempt.
Gradually, he found that his score wasn't improving with each test. At the time, when NEET PG was of 300 questions, he found that he was correctly attempting about 200 questions, and he hit had plateaued with that score and wasn't making any further progress. After talking with his mentor, he decided to take Pre-PG more seriously.
"I started practising MCQs more because reading theory again and again is not going to help you. The game changer in my preparation was to practise daily MCQs and using magical feature of PrepDNA that helps you to focus on your weakness."

Dr. Aanand
Later he revealed that within a month, he improved his score from 200 to 226, which he feels was a great achievement.
A New Twist
Recently, some major changes were introduced to the NEET PG exam and aspirants have to adapt accordingly with the new 200-question pattern. Dr. Aanand achieved this by practicing grand mock tests and solved around 40 NEET PG mock tests.
"These changes reflected in the PrepDNA. It helped me to focus on mistakes rather than studying the same thing again. Solving questions "n" number of times again helps to improve your score a lot. Also, it gives a confidence like going to NEET PG. I was not worried because I knew my score will be around 150 because I was stable in that range."

Dr. Aanand
Over time, with continuous analysis of his mock tests, he realized that short subjects and second-year subjects proved to be most helpful to improve his score.
"Once you solve the questions, the questions get fixed in your long-term memory. You see your PrepDNA improving and your score improving. The PrepDNA had predicted my rank in 5000s, and I actually got my rank in 3004 in the score of 94. PrepDNA will obviously help you by focusing on your weakness and this will change the entire game."
Final words of advice to NEET PG aspirants
Dr. Aanand suggests that your competition is not with others but with yourself. Compete to improve your scores. Even if you are improving on two questions, write a grand NEET PG mock test regularly.
"19 NEET PG subjects had more than 2000 topics. But questions are asked from only 200 topics. So, you have to identify these topics and concentrate more on these topics. Only by giving a grand test can you find what does the examiner wants to ask. Pre-PG was my practice tool during the NEET PG prep."
During the last one and half years, there was uncertainty about the exams, he got infected with the covid virus, but he had the good support of his family members and friends.
In the end, Dr. Anand says that all these things are not in our control. Therefore, it is better to control the things that are under our control. Just work hard and don't worry about the result, and everything will fall in place.