Prepare for NEET PG along with a job | Preparation Tips
If we talk about the most competitive exams, NEET PG will definitely make it to the list. Numerous aspirants cut themselves off from the world 6-8 months before the exam and study for 13-15 hours a day to cover the entire NEET PG syllabus to get into the desired branch and college. But there are also many who do a job alongside the exam preparation.
There are two categories of individuals who work and study for the NEET PG at the same time.
The first are people who don't have the luxury to take time off for preparation and need to toil. A significant number of NEET PG candidates hail from lower economic backgrounds whose parents have given up everything so that their children can become doctors. These people have loans to repay and rely solely on their paychecks to survive.
The second category would be people who cannot sit and study for long hours every day. They use a job to recharge their batteries, become more productive by doing something in their spare time, and earn extra money.
If you came from any category and are preparing for the job, this article is for you.
Set a schedule for your studies
A study plan is a must if you want to prepare for an exam like NEET PG. But it becomes non-negotiable with a job as you want to make the best use of your available time. Time is a scarce resource when you're preparing for the medical PG exam with a full-time job. You need to divide the hours judiciously so that you have enough time for your job, exam preparation, and some free time for yourself so you don't suffer mental and physical breakdowns. The plan should include dividing crucial chapters so that you can cover the entire NEET PG syllabus in the time available. Hence, you must be extremely attentive and strictly adhere to your regimen.
Choose a clinical job
There are plenty of jobs that you select from. Even in the medical field, you have options from becoming a medical writer, to online tutoring, and lots more.
But doing a clinical job can be beneficial for NEET PG preparation as it can provide you with valuable practical experience and exposure to different medical cases. You can choose to work as a junior resident, medical transcriptionist, clinical research coordinator, or medical officer among others.
The NEET PG questions have become increasingly clinically oriented in recent years, and the best way to answer them is to have on-the-ground experience, which will cut your studying time and help you learn faster and better. To get well-versed with the clinical topics further, during your free time, go through the clinical flashcards on Pre-PG. This will enable you to improve your retention, which will be useful during the NEET PG and other medical PG exams.
Utilize your weekends
As you are working, you may not have the luxury of spending all day studying. However, you can utilize your weekends to maximize your study time. On weekends, you can devote more time to studying and revising. Online platforms allow you to study at your own pace, and you can attend classes after work or on weekends. Many coaching institutes and platforms like Pre-PG also provide recorded lectures, which you can watch later.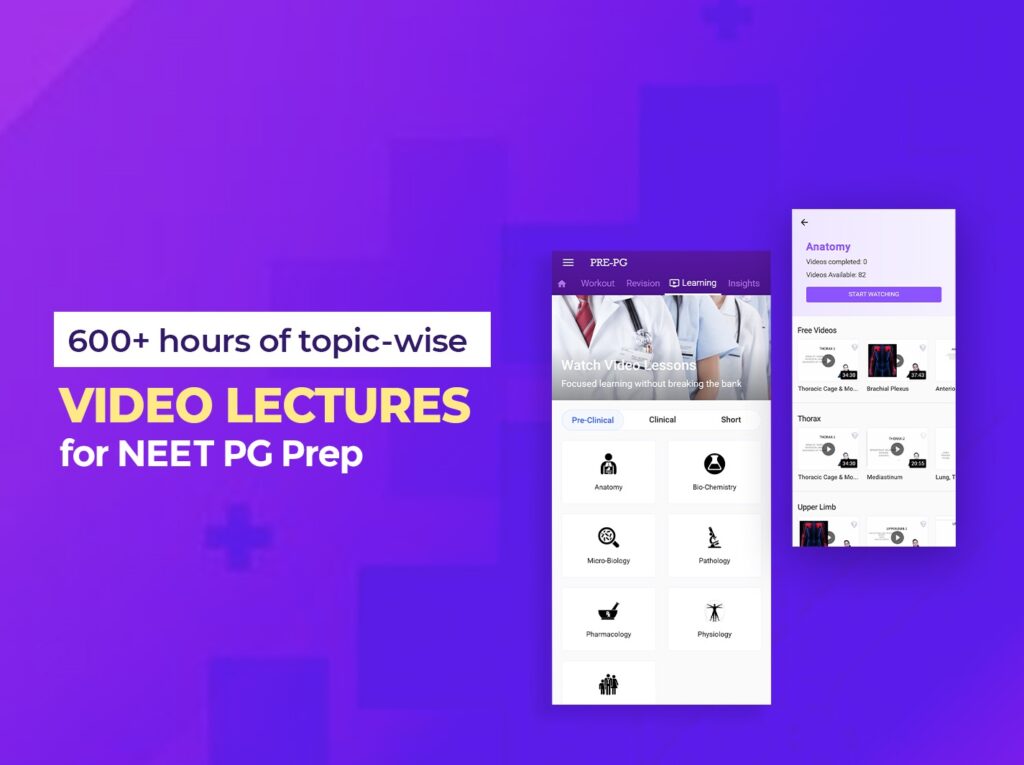 Practice mock tests daily without fail
Your success in NEET PG is determined by how accurately and quickly you can solve the exam MCQs. While creating a timetable, keep a separate time to solve at least 1 mock test or NEET PG previous year question paper in a day. You can also choose to appear in subject-wise mock tests and on your off days, you increase that to two or more. This will help you to understand the various types of questions asked in the exam.
It will also assist you to observe which topics and the kind of questions you struggle with. In addition to this, keep spare time to analyze why you answered these questions incorrectly and how you can fix them the next time. Make it a habit to check the PrepDNA after every mock test. This insights feature will show your strong and weak topics so you can gauge where you need to put more effort.
Don't miss out on the revision
While trying to finish the entire NEET PG syllabus along with the job, revision may take a back seat. However, it may backfire during the exam as it is practically impossible to remember all the things from the medical PG syllabus during the exam. This may cause stress and make you forget the things that you already know. To avoid all this, start revising from the initial months of preparation.
After completing the topic, revise that over the weekend. We mention weekends because, with a job, weekends are the only days left to study with complete attention and no rush. But no matter how tired you feel, build up your mental energy to clear your daily revision bucket before retiring for the day. You can keep the weekends to clear all the questions from the deep revision bucket that will have all the MCQs that you answered incorrectly before.
In conclusion, preparing for NEET PG while working a job may seem daunting and you may feel like giving up many times, but hang on! With proper planning, determination, and the right preparation tools, you can cross this long and difficult path. Keep your goal in mind, balance both work and study and you'll come out on the top.