NEET MDS: Frequently Asked Questions by Dental MDS Aspirants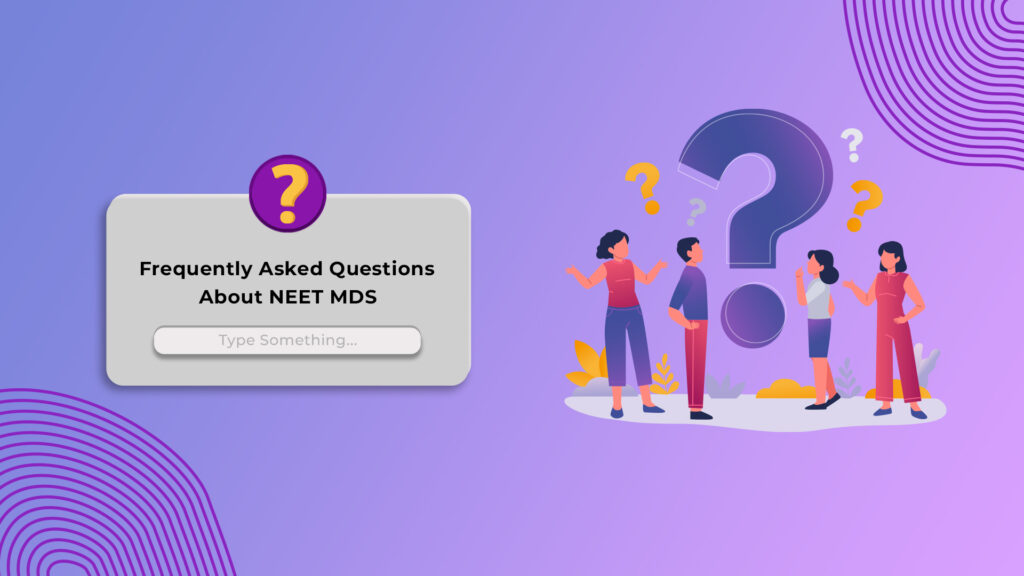 Many aspiring dental professionals start the journey of NEET MDS prep to achieve success. They carry a dream of clearing this exam with a good rank, as it opens doors to renowned dental institutions and specialized post-graduation programs. However, this journey is often accompanied by a multitude of questions that swirl in the minds of NEET MDS hopefuls. Common questions like "What is the exam pattern?" or "How can I best prepare?" linger in the thoughts of NEET MDS aspirants, creating a need for reliable answers and guidance.
Of course, you have an option of clearing your mind doubts on Google but that would waste a lot of your time that you should rather spend on dental medical PG entrance exam prep. In this blog, we embark on a quest to unravel these mysteries and provide much-needed clarity for NEET MDS entrants. We have curated a collection of commonly asked questions and provided helpful answers to support the aspirations of NEET MDS candidates.
We have aimed to address most of the NEET MDS FAQs below. If you still have any doubts, please don't hesitate to ask us in the comments.
1. When is NEET MDS conducted?
The examination is typically held once a year. The official date of NEET MDS 2024 is not yet announced. The exam will be tentatively conducted t in March 2024. The last date for the submission of the application form will be likely in Jan 2024.
2. What are the eligibility criteria for NEET MDS?
Applicants should have a bachelor's degree in dental surgery from any recognized university/ institute by DCI.
The BDS graduates must be registered with the Dental Council of India (DCI) or the State Dental Council (SDC).
Candidates should be at least 20 years old.
All dentists must complete the process of completion of 1 year of compulsory internship or practical training on or before March 2024.
3. What is the exam pattern for NEET MDS?
NEET MDS is a computer-based test (CBT) consisting of multiple-choice questions (MCQs).
The duration of the exam is three hours.
Total number of questions: 240.
Marking scheme: 4 marks will be given for a correct answer, and 1 mark will be deducted for every wrong answer.
The syllabus is based on the BDS curriculum and covers all the subjects taught during the undergraduate dental program.
4. How can you register for NEET MDS?
To register for the dental NEET MDS exam, candidates need to visit the official NBE website and follow the registration process. The application form is usually available online, and NEET MDS aspirants need to provide the necessary personal and educational details, upload the required documents, and pay the application fee.
5. When is the ideal time to begin NEET MDS preparation?
While there is no definitive ideal time, it is recommended to embark on your preparation journey for NEET MDS from the second or third year of your BDS program if your basics are not strong and you want to avoid undue stress. This approach is especially beneficial if you perceive any weaknesses in your conceptual understanding or if your academic performance during the undergraduate years has been subpar.
However, if you possess a strong foundation, you can even commence your NEET MDS preparation in the fourth year of BDS. Aim to dedicate a minimum of 6-8 hours per day towards your studies, adjusting the intensity based on your individual preparedness level.
6. How should I prepare for NEET MDS?
Start by understanding the exam pattern and syllabus thoroughly.
Develop a strong foundation in the high-yield subjects of dentistry, such as oral anatomy, orthodontics, general medicine, pathology, and general surgery, among others.
Create a study schedule that allows for regular practice and revision of all the important subjects.
Attempt as many mock tests as possible to gauge your progress and identify areas that need improvement through PrepDNA.
For a detailed preparation plan, click here.
7. Can we make changes to the application form after submission?
No, once the NEET MDS application form is submitted, you cannot make changes to it. Therefore, it is important to double-check all the information before final submission.
8. Are there any reservation policies for NEET MDS?
Yes, reservations are applicable for various categories as per the guidelines given by the government. These include quotas for scheduled castes (SC), scheduled tribes (ST), other backward classes (OBC), economically weaker sections (EWS), and persons with disabilities (PWD). The exact reservation policies can vary from state to state.
9. How is the merit list prepared for NEET MDS?
The merit list is designed based on the percentile score and ranks obtained by the aspirants. The percentile and rank reflect the relative performance of a candidate compared to all other candidates who appeared for the exam. A higher percentile indicates a better rank in the merit list.
10. Is there any limit on the number of attempts for NEET MDS?
Currently, there is no specific limit on the number of attempts for NEET MDS. You can appear for the exam as many times as you wish, provided you fulfill the eligibility criteria for each try.
11. Are there any state-level quotas in NEET MDS?
Yes, some states in India have their own state-level quotas for dental MDS admissions. These allocations prioritize aspirants from the respective states for admission to MDS courses in dental colleges within that state. The percentage of seats reserved under state quotas can vary from state to state.
12. Can we apply for NEET MDS if we have a back paper or a pending result in the BDS course?
Yes, the NEED MDS aspirants can apply for NEET MDS even if they have a back paper or a pending result in your BDS course. However, the eligibility criteria, including the completion of the BDS degree and internship must be fulfilled before the specified date set by the examination authority.
13. Is it possible to change the examination center for NEET MDS?
Unfortunately, no. The allotted NEET MDS exam centers cannot be changed. Therefore, it is imperative that you appear for the exam from the seat assigned to you.
14. Can we choose a specialization or college during the counseling process?
After the declaration of results, NEET MDS aspirants who qualify become eligible for counseling. During the counseling process, candidates have the opportunity to choose their desired specialization and college based on their rank and availability of seats.
15. Are there any scholarships available for NEET MDS entrants?
Various scholarships and financial assistance programs are available for postgraduate dental students, including those who clear NEET MDS. These scholarships are offered by government bodies, private organizations, and dental institutions. Candidates can explore scholarship opportunities through official websites, scholarship portals, and government schemes.
—————————–
We have tried to cover the maximum question lingering in your mind. However, we understand that there may still be misconceptions or additional queries you would like to discuss.
Do not hesitate to ask your unanswered queries in the comment section. Our team is here to assist you in the best possible way, providing guidance and helping you to navigate through the complexities of NEET MDS, and empowering you on your path to success.