How to be among NEET toppers with Darwin's revision strategy
NEET is the stepping stone to getting into the UG medical course and students prepare for months and years for it. But the biggest worry among many aspirants is that they shouldn't forget what they have learned during the exam. Imagine this happens and your complete hard work will go to waste.
You don't need to sweat reading this as you can combat this fear with an effective revision strategy.
"A good revision plan is like a backbone for the NEET exam."
Multiple revisions prior to the real exam boost your confidence and reduce your worries knowing that you have given your best. Darwin too gives a lot of emphasis on revision and if appropriately used for NEET revision, it can significantly improve your chances of becoming a top scorer in the exam.
Benefits of a good revision strategy
1. Improves Retention: A proper revision strategy can help improve the retention of information. By revising topics at regular intervals, you are more likely to remember the concepts for a longer period of time.
2. Better Time Management: A revision plan helps in managing your time effectively. With a well-planned strategy, you can prioritize the topics that need more revision, and allocate your time accordingly.
3. Reduced Stress: As mentioned before, with a revision strategy in place, you are more likely to feel confident and prepared for D-day. This can help reduce stress and anxiety associated with the exam.
4. Identify Weaknesses: Frequent revision helps identify topics that you may be weak in. This will help you focus your efforts on areas that need improvement.
5. Increased Accuracy: Regular revision can help improve your accuracy in answering questions as you will remember the concepts.
6. Better Performance: With a good revision technique, you can improve your overall performance in the exam.
Re-practice questions that you couldn't get right to improve your rank
We all know the importance of practicing questions for success in NEET. It is a good idea to complete a topic and then practice its MCQs to get a complete grasp of it. You will observe the mistakes you are making or the places where you get stuck. You can bookmark these challenging questions to re-try them later. Practicing questions regularly from Darwin's revision tab will help you rectify your mistakes. Analyze why you answered them incorrectly in the first place, and how to answer them correctly the next time.
The second chance feature also helps NEET aspirants to reduce their mistakes by allowing them to encounter the questions that they have answered incorrectly. When you re-attempt the questions you got wrong, you are more likely to remember your mistakes and get them right when you try again. It also improves your question-reading abilities, and you take less time than before to solve the problem.
To reach the pinnacle of success, use different features in the revision tab:
Daily revision – Re-attempt all the inaccurately answered questions in the past 3 days. It doesn't include the questions practiced in the past 24 hours as the answer may still be fresh in your mind.
Bookmarked revision – This feature enables students to revise all the NEET questions that they have bookmarked.
Deep revision – It enables NEET aspirants to improve their performance by letting them revise all the mistakes that they have made in the past. Our breakthrough technology observes the pattern within the incorrect questions and modifies upcoming questions to enhance your NEET score.
Attempting all the questions every day from the revision tab will get you into the practice of solving questions within a specific time and take your preparation level to a higher notch. After a point, you can answer by just looking at the questions and the options, saving you a lot of time during the exam.
Bring the topics up to par
Simply practicing without the right direction is similar to walking blindfolded on the road. It will waste time and increase the chances of mishap.
Covering the complete 11th and 12th portions is no easy task. And to finish the extensive NEET portion in time, you need to be a smart worker rather than a hard worker. You may have scored well in high school but still may have many topics that you struggle with. With Darwin's AI-enabled analytics feature, PrepDNA, you can find out the topics that you need to put more effort into. The insights feature studies your daily test performance and assess your weaknesses and strengths to highlight how much time you spent on each topic.
The color-coded graph makes it a cakewalk to pick out your weak chapters. The red/orange color symbolizes the ones you need to work on while the green/yellow color highlights the strong ones. Furthermore, it shows progress over time, giving you a clear picture of how you're improving. Build a habit of checking the PrepDNA after clearing all your revision buckets to see which topic still shows in red. Then you can go through those topics again to re-attempt the MCQs. This practice of checking your struggling topics on PrepDNA and then working on them will surely make you get the top rank in NEET. You can further monitor the efforts spent on those topics with the help of EffortDNA.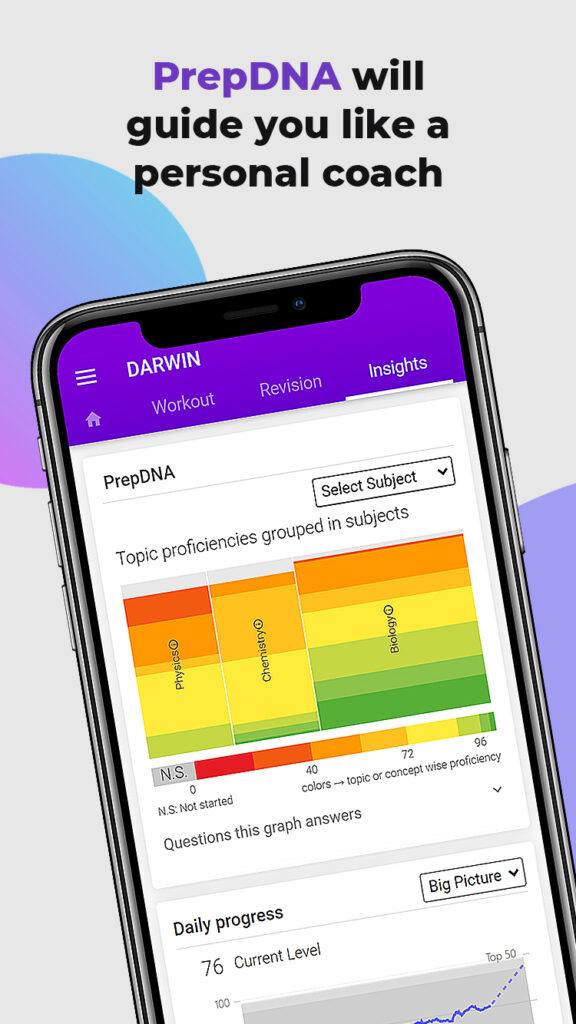 Revise anywhere, anytime with flashcards
Have you been using flashcards for your NEET preparation? If not, you are losing out on an effective tool.
Flashcards need to be a big part of your revision strategy as they help to recall crucial concepts, definitions, and facts. Whenever you find any spare time, check the 3000+ biology flashcards on the Darwin app to implant the information thoroughly in your mind. Assess the difficulty level of each card to improve retention. If you struggle somewhere, you can bookmark that flashcard to refer to it later.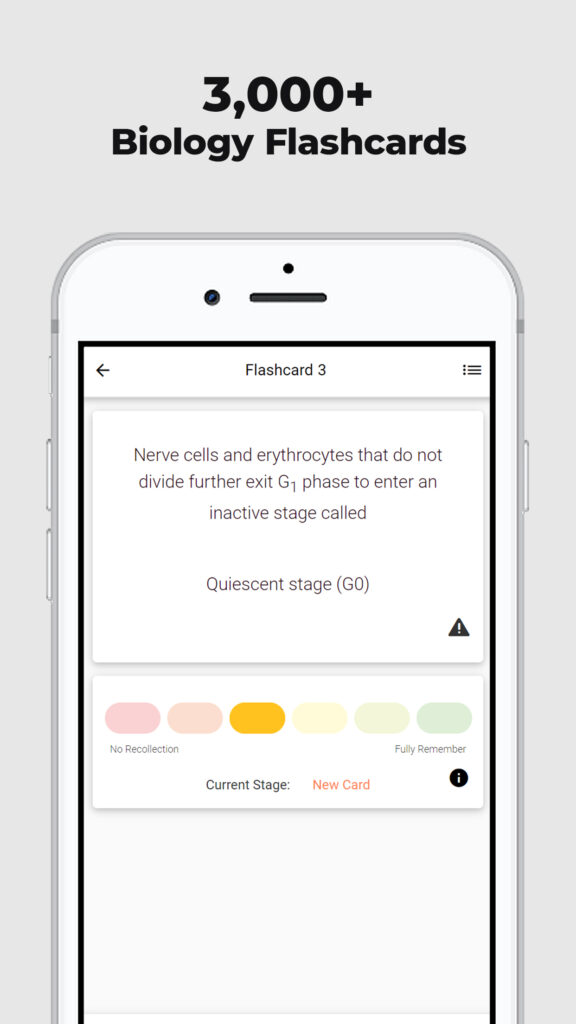 —-
NEET preparation requires hard work, dedication, and an effective revision strategy. With a targeted study plan and regular revision, you can increase your chances of becoming a NEET topper. Stay motivated and stay focused on your goal, and you will surely achieve success. Students who create a well-designed revision plan and stick to it will definitely be among the NEET toppers. So, buckle up, utilize all features mentioned in this blog for your maximum benefits, and be at the top.