How to make the best use of NCERT during your NEET Preparation?
Are you preparing for NEET? Then you must have been looking for various resources to crack this medical entrance exam. You must have asked your teachers, peers, and friends what new and additional NEET study material you should read to help you sail through the exam.
Every time you may have asked for the above advice, the reply from your teachers must be "Read NCERT textbooks of Class 11th and Class 12th thoroughly". And you must have thought, that's just basic books. "How could simple books like NCERT will help you get a good NEET rank"!
But did you know that most of the questions asked in NEET 2021 were from NCERT? The syllabus of NEET is wholly based on NCERT books, and most of the questions asked in NEET are directly from these books. Yes, you can refer to additional reading resources like NEET reference books, coaching materials, but only a fool will leave the NCERT for the NEET-UG exam.
To make the most out of NCERT, you should follow some essential steps to optimize your learning. The crucial key is not about what you read but how you read. Here, we have discussed how you can perfectly read NCERT to score good marks in the NEET exam to get admission to your dream college.
So, before starting, let's make the reason for reading NCERT more clear.
Importance of NCERT Books in NEET exam
The language of the NCERT books is simple and easily comprehensible. These books are straightforward in their approach, making it easy for students to understand the technical aspects of the NEET topics. Furthermore, the concepts in the NCERT books present a clear picture to the students. When students practice NEET questions after reading the NCERT, their fundamentals become much more substantial.
In addition, examiners also take the help of NCERT in framing questions. Since the NEET exam pattern is based on the NCERT syllabus, you may find that some questions are directly fetched from NCERT. These reasons will ensure that you do not make the mistake of leaving NCERT. Read further as to how you should study from it.
1. Read slowly. Take Your Time.
You should know that NCERT books are not leisure books, which you can simply read, and the topics will remain in your mind. When studying for the NEET exam, you must read NCERT line by line until you have grasped the concept. Also, read between the lines to understand the hidden meaning behind it.
Additionally, you should also study the diagrams from NCERT books carefully. Not a single diagram-based question comes out of NCERT. At Darwin, we have designed biology NEET flashcards to help you understand critical concepts mentioned in NCERT. Not just this, our NEET flashcards cover the concepts mentioned in NEET diagrams as well to improve your recall. These cards can help you figure out how the examiner could form a question from this concept.
Besides this, don't forget to read the supplementary material at the end of each NCERT chapter. The material is valuable, and some NEET questions can come from it.
2. Make notes of Important Concepts or Topics
When you are reading any vital topic or concept, make sure to highlight it in NCERT or make notes. You can add your comments alongside the topic to help you retain the concepts. The best strategy for reading NCERT is that you read the chapter first. Then solve the chapter-wise NEET questions, find out how many questions you did right and analyze where you are lagging behind. Make your notes selectively. Try to write the NEET notes in a separate notebook in your language. Writing the concept in a layman's language is an effective strategy to remember the concepts and retain them for a long time.
Darwin app allows students to solve the chapter-wise NEET questions and provides a detailed explanation at the end of each MCQ. So, even if you cannot understand a question or concept, you can look at the explanation to understand what you did wrong, whether the method applied saves your time, or you could make some changes to it to make it exceptional.
3. Read NCERT from Examiner's Viewpoint
Read it from the examiner's perspective on how you think NEET questions will be formed from the concept you are reading. Try to learn the –What, why, whom, where, and how of all the concepts.
If you have problems making out the questions, you can solve topic-wise questions online on Darwin. This will help you stay tuned with the frequency of the questions setters.
4. Test each NCERT concept by practicing questions
After you have completed reading your NCERT, it's time to check your NEET preparation level. Find out if you have studied the concept clearly or is it just your over-confidence talking. The best to test this is by practicing questions for each topic.
Darwin NEET app provides aspirants with more than 50,000+ topic-wise questions. The questions have been designed by the subject matter experts who have gone through the whole NCERT minutely. They know where students falter and in what concepts. The NEET MCQs on Darwin from each topic have been derived from the data of the NCERT textbook, that after solving these questions, you will start seeing the concepts in a new light. As thousands of aspirants have subscribed to Darwin, you will find out how others are faring in the same topics.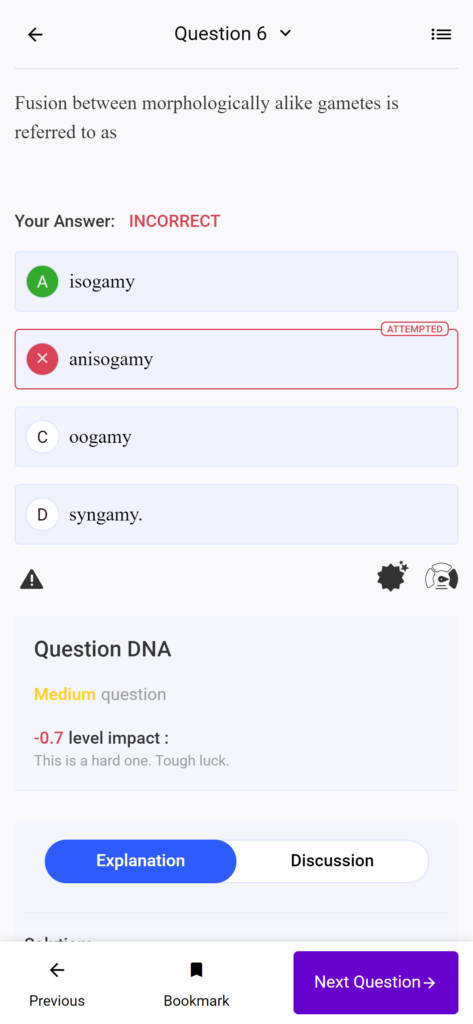 5. Revise Periodically
What's the point of reading thoroughly if you do not revise. Revise your notes and highlighted points in NCERT books at every chance you get. Do periodic revision as single or twice reading of the books alone will not help you remember at the NEET exam. Create a timetable. You can use mind maps, short notes, NEET video lectures on important topics, or solve questions from the topics you haven't got a hold of.
Darwin's exclusive feature lets you bookmark NEET practice questions. Any time you feel like revising, you can go through these questions to make your concepts stronger. You must understand your weaker areas and study them frequently to turn them into your stronger areas.
The Way Forward
You should do a productive reading of NCERT for the NEET exam. NCERT books have proven time and again to be the most innovative learning materials of all time. They have turned NEET aspirants into capable doctors. NCERT books along with Darwin NEET prep app can make your preparation solid proof. You will find that you are enjoying the learning process on your way to making your dream career.
Happy Reading!