How to make the best use of filters on Darwin NEET Prep?
Practicing NEET questions on daily basis helps you improve your confidence level and to get equipped with the latest changes. This helps you to get familiar with the format of the exam and the kind of questions that may be asked. In this way, the NEET question paper won't take you by any surprise on the examination day. In order to get better at solving the questions, you should practice more and more questions every day.
But solving questions can become utterly tiresome and boring. Darwin's advanced workout filters have been designed to cater to each NEET aspirant's needs. With our adaptive filters, you can not only practice NEET questions, but you can also address the specific areas that you are vying for.
Read the article below on how to use Darwin's advanced workout filters to maximize your NEET score.
High Yield Questions
Do you know the best way to practice for NEET? The NEET syllabus includes more than 95 chapters and 14,000+ concepts. The "High-Yield Questions" filter will allow you to specifically target those questions which are important from the examiner's perspective to help you get an extra edge in terms of speed and accuracy in the actual exam.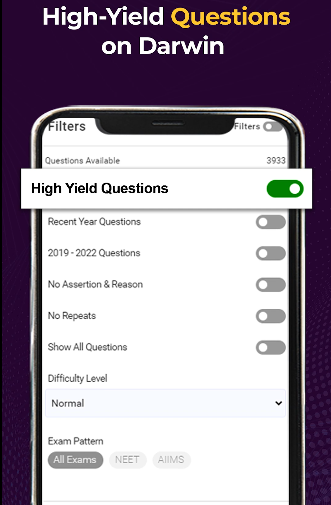 Recent Year Questions
There is no better resource for comprehending the exam format than the question papers from prior examinations. For NEET aspirants, solving previous years' papers has always proved beneficial. You can have a general notion of the paper format, the difficulty level of each topic and subject, and the weightage of each topic. You can determine which subjects are crucial in relation to NEET by carefully examining the question papers. Study and try to finish the subject, topic, or concept in advance and then practice PYQs from that topic.
Darwin NEET Prep lets you solve the last 20 years' PYQs. You can select the "recent year questions" filter to understand what type of questions the examiner has asked in previous years. Darwin has the largest Q-bank from various medical examinations such as AIIMS, JIPMER, KVPY SX, BCECE, KCET, AP EAMCET, NEET-UG, AIPMT, MHT-CET, CITEE, MUOET, COMEDK, AFMC, and more.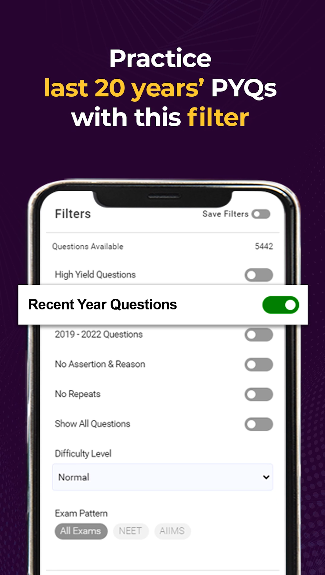 2019- 2022 Questions
Solving NEET MCQs from the last three years can help you determine the latest trends in the exam. This helps you to prepare for the exam in a more organized and efficient manner. NEET Questions from recent years prepare you for the upcoming NEET exam so you can adapt to the latest changes accordingly.
By applying Darwin's workout filter of "2019-2022 Questions", you can identify the new trends and get an extra edge against your competitors.
No Assertion & Reason
Some years back, NEET/ AIPMT test included a larger proportion of questions around assertion and justification. An assertion expresses a fact or conviction. The reason, which may or may not be the explanation of the assertion, is the other statement. Most NEET applicants find it difficult to answer queries of this nature. However, if you practice it correctly, you can improve your NEET score.
By applying Darwin's "no assertion and reason" filter, NEET aspirants can opt out of solving assertion and reason questions. You can simply solve short, one-liner, or image-based questions. Assertion and reason questions have not been a part of the NEET exam in the last some years, and therefore, students can choose not to encounter these questions while practicing. However, NEET 2022 had some assertion and reason questions so you can still continue to practice them to strengthen your fundamentals.
No Repeats
When you mark a question incorrectly, our algorithm frequently repeats it. You will notice questions from your weakest concepts being repeated along with some new ones. This strategy will eventually strengthen your weakest parts. But the desire to practice new questions never goes away. NEET aspirants can apply the "no repeats" filter to exclude them from solving any NEET question that they have practiced before. The filter presents new and challenging questions from the subject or topic and stimulates your mind to solve complex problems.
Show All Questions
When you apply this filter, you get to practice all questions on the Darwin NEET App, irrespective of whether you have solved the question before or not. This will help you to avoid missing any questions that may crop up in the exam. With the help of this filter, you can also analyze whether you have truly mastered the subject, topic, or concept. Apply the "Show All Questions" filter and get a 360-degree perspective on your NEET prep.
Difficulty Level
Any NEET aspirant will demonstrate a strong command of the concepts if they can answer questions rated as easy or moderate with ease and accuracy. You can tell if he/she has learned the principles if difficult problems are also solved effortlessly. You can boost your confidence by practicing the very easy or easy level in the initial period. You can answer the normal questions in the second lot to determine if you have a good grasp of the subject. You can be assured of your expertise in that subject by solving difficult NEET questions correctly. All you need to do is to select the right difficulty level.
The easiest way to prepare for the NEET exam is to practice an ample amount of questions. With the help of advanced workout filters, you can minutely understand how the NEET exam functions and recognize your skills as you continue to practice questions. Analyze your insights and strengthen your weaknesses to ace the test. Subscribe to the Darwin NEET Prep App to reach the pinnacle of success.