The Power Of Setting Goals
We all want to be the best version of ourselves, want personal development and ways to self-improvement so that we can shine amongst others and make life worth living. But to get that success in life, should you really follow old sayings to invest in yourself, focus on yourself so that one day you can actually change your life?
While working hard towards our dreams, we encounter many failures and difficulties that try to hinder our path to becoming successful. Most of us have been through a phase in our lives where self -doubt seeps into our mind due to which our self-confidence and self-esteem takes a backseat.
The quest to become successful can be conquered only when we overcome self-doubt and convert it to self-belief.
Ever encountered the true power of goal setting, or answer to how to set goals and how to achieve goals? Want to know what it takes to get a rank under-100 NEET PG in first attempt?
This highly inspirational and motivational story of Dr. Mathew Jasper, who cracked NEET PG 2020 with AIR 90 in very first attempt, will make you believe in yourselves again and again.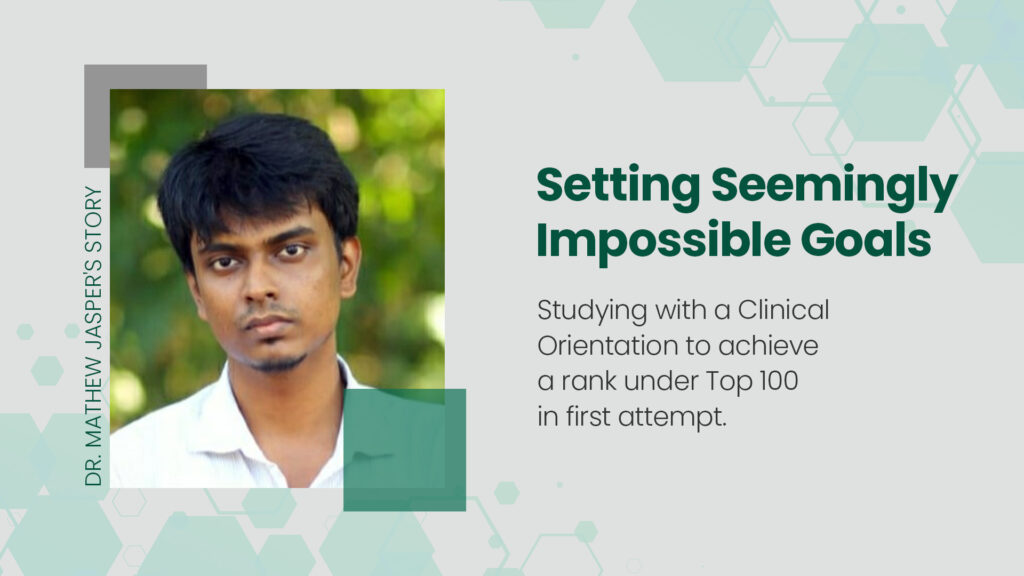 You might think that Mathew might be a topper himself? Or an exceptional student in his college? But no, he isn't. He was an average student who did his graduation from a private medical college in Kerela.
Setting Seemingly Impossible Goals
Dr. Mathew completed his internship in Mar'19. He didn't appear as well as prepare for NEET PG during his internship because of his duties.
Unlike others, after his internship, he worked and joined an internal medicine course to be ultra-sure for the specification of his choice.
He started his preparation from Mid-July and aimed to get a seat in Internal Medicine in Government College in the very same year with a time period of mere 6 months.
Oftentimes, we postpone our goals simply because we make excuses. But certain conditions at Mathew's home didn't allow him to spare another year and he wanted to crack NEET PG at any cost, that too with a rank good enough to reserve the seat of his choice.
Master Plan
Tougher goals require smarter preparation
In order to ace NEET PG in a limited time frame, Mathew adopted a subject based approach.
"During NEET PG preparation, I used to study a subject from my notes and then solve questions of that topic from Pre-PG and DAMS."
Just like any other aspirant, he too had self-doubt. According to him, he never actually recovered from that. It's just that as studied more, his self-doubt became more and more weaker.
Studying with a Clinical Orientation
According to Mathew, conceptual learning is the key to success in NEET PG.
"Whatever I studied I applied it practically. It helped me to prepare in a very integrated manner. Have a clinial orientation. Even if it is biochemistry or microbiology, integrate it clinically. It will help you to remember better."
He even took casualty duty at medical offices and was working at the time of preparation to get a better grip on real-world learning.
Mathew strongly suggests that anyone who is preparing for NEET PG should work up to extent either in the department of their choice or in the job they are comfortable with. Moreover, just like many top scorers, he couldn't emphasize more on the importance of previous years' question paper.
"Even though I didn't sit for the exams last year, I was well aware of what was asked in previous years.
I used to filter out the recent years' questions Pre-PG and went especially through them."
Moment of Truth
In the last some days, Dr. Mathew focused on revision and avoided trying to learn everything from every medium. As per Mathew, learning a lot of information is a must avoid trap during NEET PG.
"I have seen people learn from everything- marrow, dams, web books etc. I don't think so it will help. In my case, I stick to DAMS notes and Pre-PG app. Find one path and stick to it. There is limit to what a person can take."
When the result came, he was less shocked and more relieved that he doesn't have to write the exam next year and spend even more money on coaching. Though he thought of getting a rank around 1000, he never expected a rank around 100.
According to Mathew, this period is meant to be extremely stressful, but it was much more than what h anticipated; especially when he prepared in just 6 months
He further talks about how much stress this system is causing to medical students to get the PG. In other countries, it's not this way and is a bit more structured. Most of the doctors are working and studying. How much this system is causing stress to the medical students to get a good PG college. He hopes to see improvement in the same.
Dr. Mathew wishes to pursue his post-graduation in internal medicine. Pre-PG is proud to be a part of his success journey and wishes him all the best for his future endeavors.