Pre-PG's Selection Guarantee Plan for NEET PG 2024
Tired of coaching classes promising you success with no results?
Worried about investing your hard-earned money in NEET PG coaching?
You may have dreamt of getting into the branch of your choice for years now. But, when you look for coaching institutes that can actually guarantee results, you find none.
We know how it feels when you are desperate for success. You're ready to put your hard-earned money, heart, and soul into getting the desired results but only get empty promises.
Pre-PG understands this and that's why we are offering guaranteed selection.
If you use and practice on Pre-PG based on our recommended methodology, we will guarantee your success in NEET PG 2024.
We are confident that our recommended method will help you crack the NEET PG exam. And, to prove our confidence in our approach, we are offering a 200% refund if you fail to make it to the top 10,000 ranks even after following our recommended methodology.
There are many platforms for NEET PG that claim to train the same toppers but we bet no one will provide this guarantee.
Put all your fears to rest with Pre-PG's exclusive Selection Guarantee 2024 plan. We're committed to your success and won't stop until you achieve it. You have nothing to lose and everything to gain.
How do we define success?
Success is different for everyone and over the years, Pre-PG has become a desired platform for PG medical aspirants who want to taste the success of acing the NEET PG.
At Pre-PG, "success" is defined as being able to get a clinical branch at a government college.
According to our best estimation, in order to reach this objective, you must be among the top 10,000 to 15,000 students in NEET PG/NEXT. This implies that you must rank among the top 6–8% of doctors taking the test.
By following our recommended method, you can make it top 10,000 ranks in NEET PG 2024. We have so much faith in our Selection Guarantee Program that even after following our methodology if you still don't make it to the cut in the forthcoming NEET PG, we will give you a 2X refund.
The Pre-PG Selection Guarantee 2024 Plan
Our topper stories and track record of highest direct repeats in NEET PG speak for themselves.
Every year, we get an overwhelming number of messages from our app users thanking us after they found so many repeat questions in the NEET PG exam.
In fact, in NEET PG 2023, we broke our own record and had a 99% strike rate. If you don't believe us, you can check the blog to verify the claims yourself. 198 out of 200 NEET PG 2023 questions were from Pre-PG, most of them being direct matches.
We love the underdog stories and have many tales to tell. Many of our students started from the bottom and in the end reached the pinnacle of success. In the beginning, they did not fare well, stayed mediocre during graduation, and even after joining Pre-PG, initially struggled to score better in the practice tests.
In spite of this, all these people had one thing in common – They didn't give up and kept trying with an open mind.
They followed our complete learning methodology, took time for practice, and solved lots of MCQs, mock tests, and PYQ papers. Scanned their mistakes from time to time and practiced the incorrectly answered questions regularly from the revisions tab. And most important, used our AI-powered analytics to leapfrog the competition.
So, in short, they left no stone unturned, and their efforts gradually started showing in their test ranks and scores.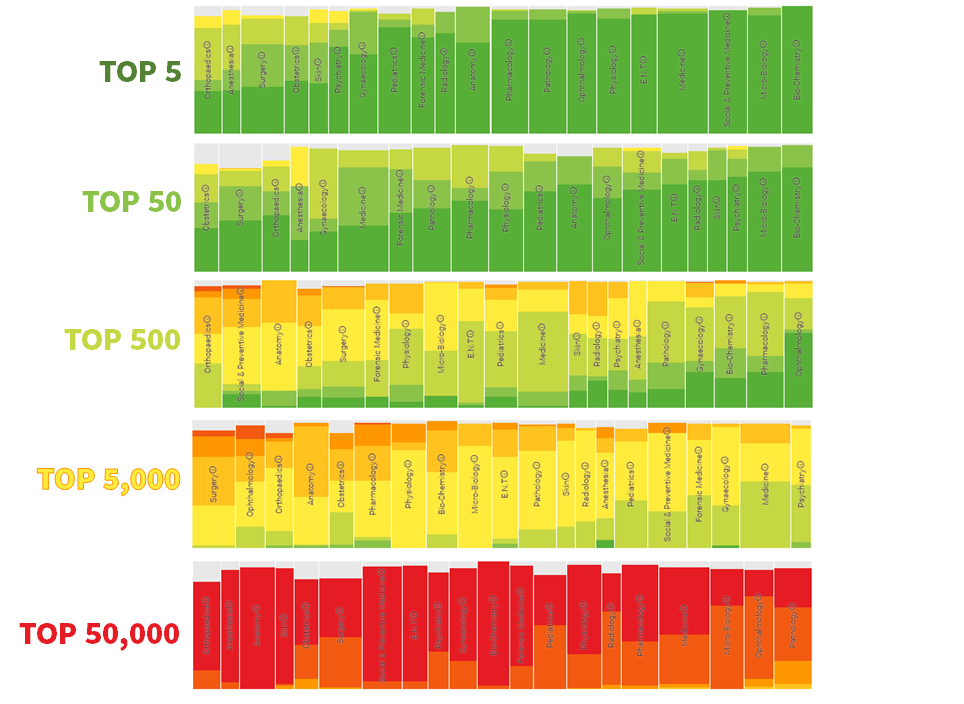 If they can do it, so can you…
The Selection Guarantee 2024 Plan explains how to prepare for the approaching NEET PG exam, the exact methodology you must use, and how to use the Pre-PG app to maximize your score. We have done our part diligently, and now we need you to be 100% dedicated. We will constantly monitor your progress and if we feel that you're lagging, we will remind you.
But, if you are not serious and don't change your ways even after many reminders, we will terminate your program.
We are sure that if you give your best for the next few months, you will secure a rank under 10,000 and get a clinical branch in your preferred government college. You may have a few questions in your mind regarding the Selection Guarantee 2024 plan, we have answered them for you.
How can the selection guarantee program help me?
Pre-PG's Selection Guarantee program for NEXT-NEET PG 2024 is one of a kind full refund guarantee plan that ensures to position you in the top 10,000 ranks. If you follow the process completely, then unquestionably you will get into the branch. If you don't make it to the cut-off despite using our advised strategy, we will give you a 200% refund.
Will I get a refund if I don't get a 1,000 or 2,000 rank?
You can make this vision come true with the Selection Guarantee. Many of our students like Dr. Anmol Godara (AIR 1040 in NEET PG 2023) managed to do that with Pre-PG's SG 2023 Plan.
But we won't give you any refund if you get a rank around 4,000 instead of 1,000 or 2,000.
Which plans are eligible for the Pre-PG Selection Guarantee?
The Pre-PG Selection Guarantee is presently applicable only to the 2024 premium and learning plans.
What's the common difference between free, premium, and selection guarantee plans?
In our free version, you get to practice 15% of the Pre-PG questions if your PrepDNA is extremely low, 20 percent if you are mediocre, and 30 percent of NEET PG questions if you are in the top percentile. You wouldn't have access to sub-topic level practice questions, advanced insights, workout filters, flashcards, and some revision features.
Regular Premium Plan on Pre-PG provides access to 100% of the questions and all the above features except for guidance.
In the Selection Guarantee Plan for NEET PG 2024, we provide guidance and assistance along with the premium features. If you don't make it to the cut-off despite using our recommended methodology, we will give you a 200% refund. We will also keep your parents/mentors in the loop. Besides this, you also get exclusive access to our study material.
Why are the registrations for the Pre-PG Selection Guarantee Plan open only till July 2023?
With Selection Guarantee, we ask that you practice, take tests, and revise for an extended time. Our AI-driven expertise will lead to maximum improvement with the same old effort. We will not ask for more than 10hrs/day but we want you to give full commitment to achieve the desired results. The registrations are open for a short period because a sincere and committed medical candidate would need to prepare for NEET PG for at least 8 to 9 months. To be eligible for a refund if you are not selected, you must use Pre-PG as per the recommended methodology.
How did the NEET PG 2023 selection Guarantee perform?
We enrolled users without any tests to pick out brighter students. In terms of results, we got 90% of them (ranking under 10,000), but in 2024, we want to have 100% of them succeed.
What requirements must be met before receiving a refund?
Candidates must fulfill two requirements to be qualified for the full refund:
Choose a person who can keep track of your progress (a parent, friend, or mentor). He/she will receive regular updates on your efforts and competence. The selected person will hold you responsible for your commitment
Use the Pre-PG recommended methodology: To succeed, you must devote enough time and effort to practice and revision.
We trust our methodology so much that we are ready to give 200% refund but do you trust yourself to diligently follow the recommended method?
—
In the last year, many students who have been a part of Pre-PG's selection guarantee plan, made their wishes come true. Now it is your turn. Trust us to guide you towards success.
With Pre-PG's Selection Guarantee program, we promise to guide you every step of the way. Sign up now and secure your future!
Should you have any additional queries, e-mail us at contactus@mcqdb.com. Our team will get in touch with you and clarify your doubts.