Why Pre-PG is Creating the Largest Clinical Question bank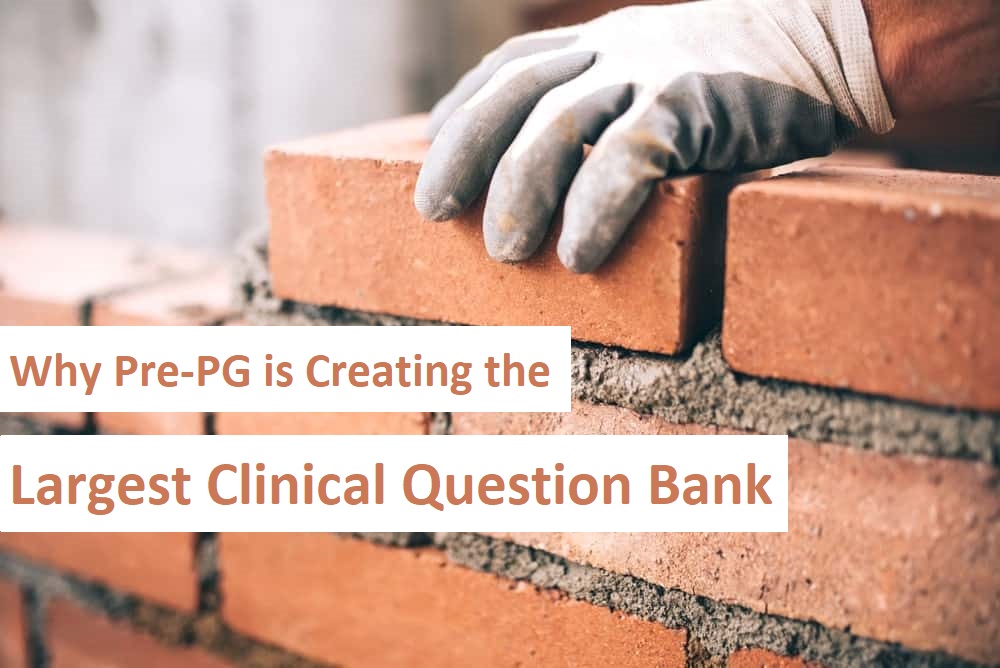 Last year NEET PG observed an increased fraction of clinical and applied questions, including image and video-based questions. One-liners were replaced by paragraph-type questions. This was not just the case with NEET PG. Other exams, especially AIIMS and FMGE, have started testing doctors on a significant number of clinical questions.
With two of the biggest changes in PG medical exams, INI-CET and NEXT, it is very clear that these PG medical exams are now shifting their focus to clinical skills rather than just theoretical medicine to test aspirants.
What to expect?
The combination of recent developments in the medical council prompted us to explore the clinical medicine domain to test doctors based on their practical skills. 
The aim of clinically oriented questions is to test the doctor's practical skills. The essential first step here is identifying uncertainty and the translation of this uncertainty by eliminating the other options and then finding the relevant solution. Developing the ability to perform and analyze rather than simply reading the concepts is one of the key tasks to ace these clinical questions.
In simple words, clinical questions will test you on how well you can apply the knowledge gained from studying books in a clinical scenario. 
How to tackle them?
Clinically oriented questions will continue to scare you till you start training for them. They will test your analytical and practical skills, in and out. The majority of questions will be application-based, image-based, or will be based on the diagnosis. They will integrate pre-clinical, clinical, and para-clinical learnings of your MBBS course.
To answer these questions, your basics of all subjects should be strong enough. It is important to put your clinical learning to the test by diligent practice of such questions.  
Pre-PG understands this very well, and therefore, to help students amp up with the latest pattern, we have now added more than 23,000+ Clinically Oriented Questions on our platform. Moreover, the explanations provide the concepts to train your mind and give you insights into the usual traps.  
How can you access Clinical questions on Pre-PG?
You can use the 'Clinical Question' filter in Pre-PG's workout section to access these questions. Just one click and you can limit your practice to clinical questions only.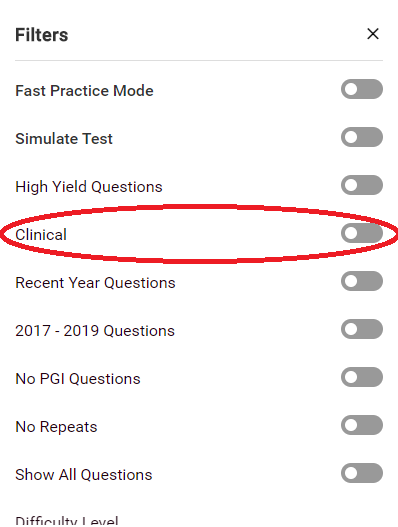 Since not too many old papers have clinical questions, the Pre-PG team has been working extensively with global medical resources to develop this vast question bank for you.
But that does not mean that you start ignoring previous years' questions. Many of the clinical questions test you on age-old concepts. Many NEET PG Toppers, including Shubhangi Jain, had emphasized the same and shared how they practiced previous years' papers on Pre-PG to master such basic concepts. 
At its core: a reading comprehension test
Clinical questions are usually not hard. They also test you on very fundamental concepts and cross-cut several medical disciplines. But why are doctors so scared of them?
The fact is that there is a good reason to be scared of clinical questions. You have to alter your skills to new dimensions, including speed reading and comprehension.
Luckily, there is a way to gain an edge over the competition when it comes to clinical questions. The method is simple, but the execution is hard. You need to develop your test-taking muscle by practicing at least 50 clinical questions every day. Give yourself less than a minute per question, and remember to go back and learn from your mistakes. This hour-long practice per day will help you win.
Pre-PG's new question bank of over 23,000 clinically-oriented questions will enable you to practice every day without the worry of looking for clinical questions. The PrepDNA now includes your clinical performance and will help you find the weakest topics that you should focus on first.
Apart from the rigorous practice, pay attention to your postings and practicals to learn the concepts in an applied manner. This way, you engage with the concepts a lot more, and it will take your preparation to a whole another level.