5 Essential Strategies to Crack NEET MDS 2024 in 20 Days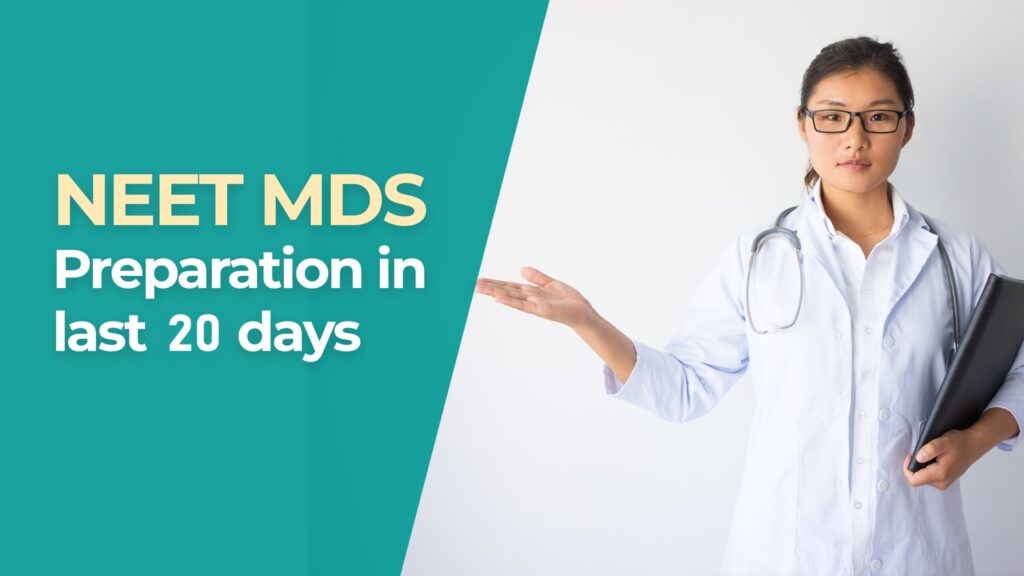 Have you been preparing for the NEET MDS 2024?
Are you anxious about the last-minute preparation needed or how you will perform?
Well, we just have the answers to help you crack the NEET MDS exam in a limited time.
Here are a few tips and tricks to follow during your preparation. There is also a guide to important points to keep in mind during your revision.
Let's get started!
Follow these proven strategies step by step and you will surely get closer to your goal-NEET MDS.
Step 1:Prepare a realistic schedule
With less than a month to go and 21 subjects to revise, it's only wise that you follow a real but strict schedule. Here is a brief guide to a well-planned schedule:
Be practical while preparing a schedule by allotting one day each for every subject.
Stick to what you read for the whole year like any notes you prepared, MCQ books you read, or papers you revised and not confusing yourself with new information that your brain cannot process.
Briefly go through the important matter from the subject like your highlighted points, synopsis, etc.
Avoid reading large chunks of data as this will absorb a lot of time and you may not be able to revise an entire subject.
Follow your schedule with utmost dedication, and be disciplined about your number of hours and subject completion to avoid backlogs.
Fix your sleep and wake-up time, and add slots to your schedule with assorted topics, especially images from Oral Pathology, Radiology, and Oral Surgery that need a bit of revision in the end.
Treat yourselves with short breaks to refresh-this always helps with retaining difficult facts.
Step 2: Agenda to Follow – Read, Revise, Repeat
Guys, no matter how much you have read, do you feel you don't remember anything and all that your read has vanished.
Don't worry every aspirant preparing for NEET MDS feels the same way and everyone can relate to this issue.
So your problem is not unique and so is the solution.
The only proven strategy here is READ, REVISE, and REPEAT.
Follow this simple MANTRA and you will definitely be able to remember the most volatile information in Dentistry.
READ:
Surely, you guys have made sticky notes or highlighted important points from the MCQ books, textbooks or synopsis, etc. Now, read these in the next few days – it's a good idea to read what you already know and master it.
REVISE
This step is crucial to your exam preparation and it's what helps you stand out from the rest.
Every bit of reading you did over the last few months is stored in your memory- it needs to be converted from short-term memory to long-term memory.
The MAGIC that makes this happen is REVISION.
Every subject –clinical or basic has key points that are very important to consider for revision like:
Syndromes in Oral Pathology
Formulae, dates, and years in Preventive Dentistry
Properties of cement in Dental Materials
Classification of drugs in Pharmacology
Instruments in Endodontics
Branches and their supply in Anatomy etc
These are just a few important concepts and not an entire list but it's just to make you realize the importance of Revision and we hope you all understand that revision is the key to success in the NEET MDS exam.
REPEAT
The simplest example that can be related here is we all remember our maths tables, simple algebraic formulae, or even our very basic nursery rhymes. We never go wrong with recollecting these – have you ever wondered why?
The simple answer is REPETITION Guys!
The more you repeat – the more often your brain stores the data in long-term memory.
Subjects like Preventive Dentistry, Oral Pathology, Biochemistry, and Pharmacology are subjects that need special attention in revision as they have many facts and figures to remember. Don't forget to check your PrepDNA on PULP to see which subjects and topics need more time.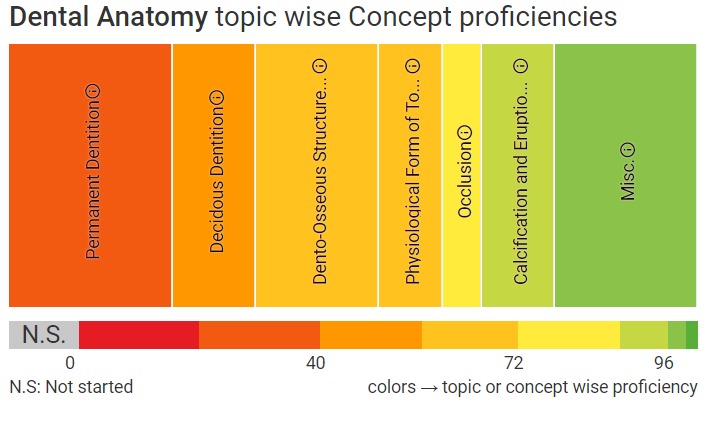 So dear NEET MDS Aspirants, do not undermine the power of repetition and revision – the more you do the merrier it gets.
Step 3: Revise Previous Year NEET MDS Questions
At this point in time, it is a good idea to revise all previous years' papers which will acclimatize you with the recent facts and keep you in sync with the exam pattern.
Revision of NEET MDS previous papers will help in recollecting what you have read and also helps you assess yourself on where you stand in a particular topic or subject.
It opens your eye to your current situation and will help you to focus on your weaker areas and avoid cramming.
Another advantage of solving previous papers in an online mode is it will give a real-time exam experience and this simulation exercise will ease your exam appearance strategy and prove to be a no-brain teaser on D-day. Solving previous papers will also help you go through many image-based questions that are good to retain in memory before exams. By practicing the recent years' NEET MDS questions, you can get an idea of the difficulty level of the exam, the type of questions that may come, and the various topics from which the questions can be asked. Use PULP's "2019-2022 Questions" filter to identify the topics that are repeatedly asked.
Step 4: Attitude makes a difference
Maintain a positive attitude throughout the preparation process.
Have faith that if the paper is tough, it will be tough for the 20,000 other candidates taking the NEET MDS exam and vice versa, if it's an easy paper so it is for everyone.
As the famous quote goes:
"Your success will be determined by your own confidence and fortitude".
You may have not learned everything from the NEET MDS syllabus but if you are confident of what you have learned and can recollect it on the exam day – we call that an achievement.
What actually matters on the exam day is not how many questions you attempted and got wrong but how many you got right. So let's give you some tips on how to solve your exam paper strategically:
Answer your paper in rounds:
First round – solve the questions you are 100 % sure of the answer.
In most cases, if you have prepared sincerely for the whole year this set will account for 50-60% of your paper. Please make sure you are good to go with this set of questions and absolutely sure of getting positive marks on these questions. This should also not take you much time to solve so the time saved up here can be utilized in the end.
Second round – In this round, you must go for the questions that you have a 50-50 chance with the answers. Here, you can eliminate two options and pick the best choice from the two options left. Do not waste too much time in this section.
Third round – This stage is the tricky stage that needs the most time and most of your theory-clinical relativity. This round should include questions you are not aware of "bouncer" like questions. These may be out-of-the-box questions that you might just answer with some relativity or just answer them by fluke.
Beware of these types of questions – as most students end up with negative markings by taking too many chances. However, go with your gut feeling on some of the questions as there is a 25 % chance they may be right.
Review your paper before submitting it.
It is always a good idea to review your paper and make any corrections you need before submitting your online exam.
Always remember, you cannot make any changes once you have submitted the paper, so always double-check the questions you missed, unanswered, or marked the questions for review.
Step 5: Things to avoid
Now, with exams just around the corner, you have clarity on what to do but my friend, we cannot leave you without the basic DON'T'S before the exam.
Things not to do before the NEET MDS exam:
It is not wise to read anything new at this point onwards, as it only adds to panic and creates stress.
Do not read any new books or read volumes of books as you clearly have no time.
Don't do an all-nighter before the day of the exam, you must get 7-8 hours of good sleep before the exam to stay calm and focused on the day of the exam.
Don't discuss about your preparation with anyone – friends or competitors as it leads to an unusual build-up of anxiety. It's always better not to compare your study with theirs and be confident of your own preparation.
Don't read till you enter the exam hall; stop reading the night before, this allows your brain to relax and will have better processing on the exam day.
Don't skip your breakfast on exam day – your body and brain need enough nutrients to work efficiently during exams.
Plan your travel to the exam center to avoid being late due to traffic issues – this creates stress and can affect your recollecting power.
Carry all the necessary documents, and admission tickets and be stress-free to take your exams calmly.
We have summarized the process of preparation for the next 20 days and sincerely hope you follow these strategic tips to succeed in your NEET MDS 2024 exam.
As suggested, please appear in the free NEET MDS mock tests in your PULP app and solve as many questions as possible to get an edge over others. This platform allows you to monitor your progress, identify your weaker topics and lets you focus on those areas to master them.
Use PULP to your advantage for smarter and more effective NEET MDS exam preparation.
Wishing you all the very best for your Dental PG entrance exams!