How to Answer Clinical Questions in NEET MDS
Clinical questions in NEET MDS have recently gained preference amongst the examiners. 240 questions in 3 hours mean that there will be much more lengthy clinical questions. These clinical questions test the dentist's ability and analytical skills to understand a particular condition.
NEET MDS aspirants need to focus more on their comprehension and quick reading skills to go over these lengthy questions to get good scores quickly. Clinical questions are not solely based on theoretical concepts rather they focus more on the clinical skills of the dentists. One should have deep grasps of the fundamentals to be able to solve these complex questions. If you cannot answer conceptual questions, you will find yourself struggling with clinical questions.
So, if you are one of those students who are finding clinical questions challenging, this article will guide you on how you can easily solve clinical questions in NEET MDS.
How Can You Tackle Clinical Questions?
Before taking up any challenge, you must think about how your opponent works. Here too, first, you must understand the examiner's objective by asking you clinical questions in NEET MDS. The clinical question's objective is to test your practical knowledge and your practical learnings, which you gained in your four-year course and internships.
Framing the Questions
The examiner will not ask a concept directly in clinical questions. Rather they will give you some images or present you with symptoms. Read between the lines of the entire paragraph to first understand the concept/topic from which the question came. Then try to find the clues.
Choosing the Options
Every question has four options, out of which one of them is the correct answer. But the other three options are very closed or distractors which can confuse you. With continuous practice of NEET MDS clinical questions, you can easily find out what the distractors are. As you strengthen your fundamentals with each question you solve, you will easily discover the wrong options.
Focusing on the Story
The clinical questions are written in story form. The story contains a narrative of a patient with a certain diagnosis. The case is usually written so that many of the symptoms may confuse you with some other diseases. You may have to concentrate on the story to find the right clues to the correct diagnosis.
How to Answer the Questions
Reading the Case
When you come across a clinical question, the first thing is to read the question carefully and then make a diagnosis. Try to come up with the answers as to what you could diagnose from the patient's symptoms.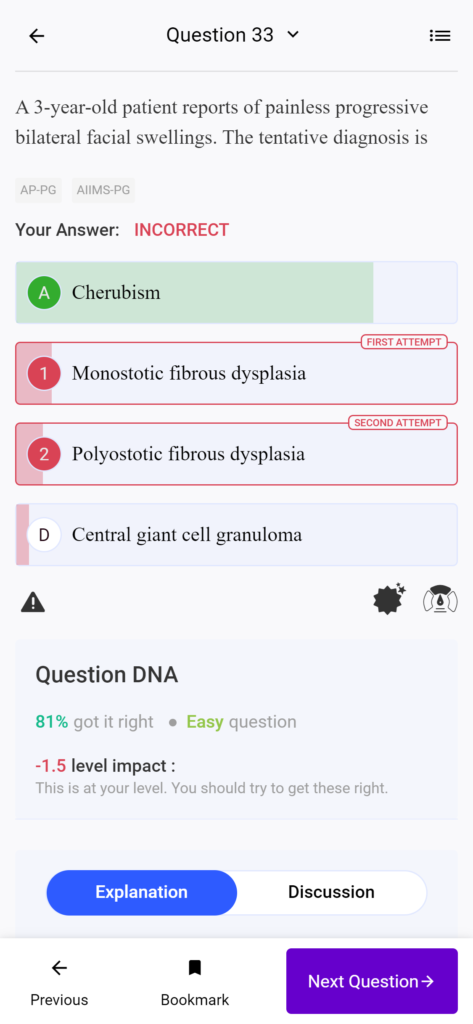 For instance, in the above question, the tentative diagnosis has to be made around the major symotom progressive bilateral facial swellings.
Read the Given Lines
In NEET MDS, dentists should read the paragraph or the lines very carefully to understand where the hidden clue might lie. Since the questions might be lengthy and may consume too much of your time in reading, you must make the right diagnosis while reading it.
Read The Lines Which Are Not Given
Now, this is an exciting part. You might be wondering, how you can find out clues from a line that is not written. But if you think that something is off or absent, then that's your clue. Closely pay attention to the facts which you think have been deliberately missed and then try to fill these gaps.
Practice is the key
If you want to ace the clinical questions in NEET MDS, you must practice many questions. Reading theory and books is vastly different than acquiring practical knowledge. You cannot solve clinical questions if you do not practice thoroughly. Frequent practice gives you the skill to understand the examiner's mindset and trend regarding the clinical questions. Also, you can improve your reading and comprehension skills.
Practicing clinical questions from PULP NEET MDS prep not only increases your speed and accuracy but also enhances your time management skills. Since PULP, the NEET MDS test prep app has the largest question bank of 2300+ clinical questions; you can build your test skills to increase your score in MDS. With frequent practice, you can overcome your fear of clinically oriented questions and strengthen your analytical skills.
—
Training for NEET MDS from PULP can help build your confidence and significantly improve your performance in Dental PG entrance exams. Practice the Clinical MDS questions along with the previous year's questions to know the recent changes and trends in the NEET MDS, INICET MDS, and other exams. Clinical questions test your fundamentals. Practicing, revising, and mastering them with PULP's largest NEET MDS MDS Clinical Q-bank can take your preparation to the next level.