Revision Strategy for NEET MDS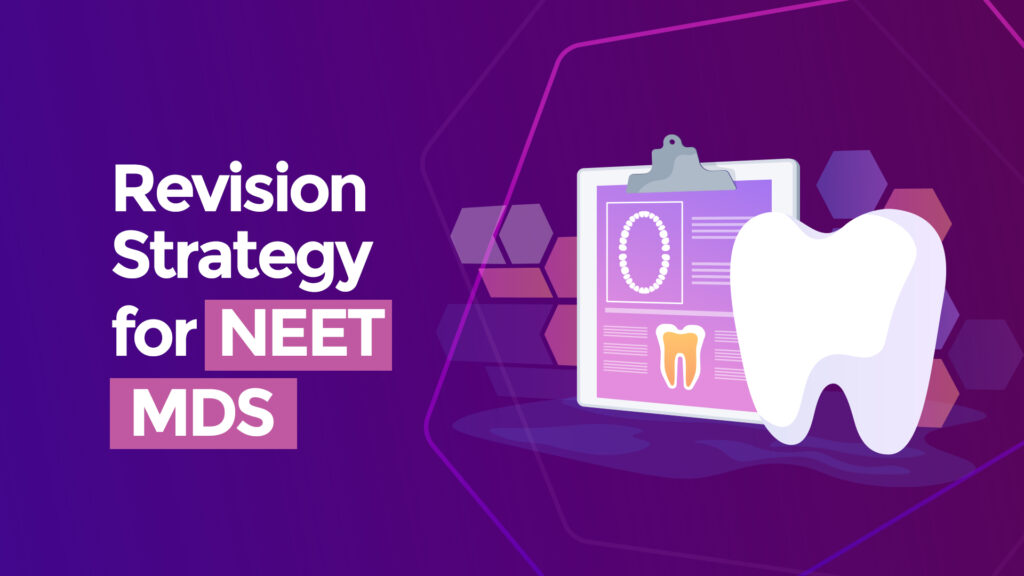 You may have spent hours, days, months preparing for the NEET MDS exam. But all those long hours of study would only be effective when you are able to carry out several phases of multiple revisions.
The NEET MDS exam period is always stressful, and therefore, it is best to be prepared. Before entering the exam hall, you must feel confident to take on any challenge.
The first stage towards this confidence is to develop crucial revision strategies to improve NEET MDS preparation through:
Revision Planning
Applying revision strategies and techniques to become a PRO at revision
Making sure you are geared up for the Final Day.
Take a look at our informative article on the different aspects of NEET MDS revision strategies and how you can apply them.
Revision Planning
It would be best if you created a REALISTIC PLAN for your revision.
For instance, some students create a timetable to complete the entire syllabus of Dental Anatomy in a week! That's just not feasible.
Don't make a plan where you are reading 16-18 hours a day, trying to cram multiple NEET MDS exam topics, only to realize that it wasn't possible in the first place! The whole process will make you more nervous.
You need to build a clear picture of the topics you would be revising and areas where you feel less confident. NEET MDS Syllabus is divided into 17 topics; you can further divide them into sub-topics. For this purpose, it is useful to create a revision timetable that will help you to manage your time.
You can start by following these planning strategies:
Choose what to revise.
What you choose to revise will depend on your subject, the type of topics, and how much time you have left for revision. Unfortunately, there's no miracle number for how many hours you should study, but we advise that you to revise for at least 10-12 hours a day, two months before the NEET MDS exam.
REMEMBER, THE EARLIER YOU START YOUR REVISION, THE MORE PREPARED YOU WILL BE.
Here are some guidance points you might consider:
Make a list of the topics asked in the Dental PG MDS exam, and what can you realistically revise in that time.
Analyze the topics which you have covered in more depth.
Identify the topics where you require improvement.
Identify and revise key fundamentals/concepts/theories.
If you are still wondering how many hours to put into your revision, then our breakthrough analytics, PrepDNA proficiency can help you with that. It acts as a NEET MDS rank predictor and your personal digital guide. That means it will continuously follow your preparation and will tell you if you are in the lower percentiles in a particular topic or not. If you are on the lower side, that means you need to strengthen your theory, work harder, and put in more hours.
In addition, our UNLIMITED ADAPTIVE TEST feature enables you to take customized tests by subject, the number of questions & time.
Plan your revision timetable
Making a realistic timetable and managing your time is crucial to NEET MDS success. You may want to put in as many hours possible in the weeks leading up to your exams, but with too many study hours a day, you may struggle to focus.
Create a detailed revision timetable for NEET MDS, considering the time you have left for the exam, and your strengths and weaknesses. Start by setting up a daily goal. For example, if you want to complete DMS in four days, write the number of hours you would put in the day and the sub-topics you would study.
While deciding on some topics, most students can either be overconfident or too lax. They either put in too much effort or no effort on some topics.
Revising with PULP is easy. Just solving daily NEET MDS mock tests is not helpful, you also need to revise your mistakes. PULP's bookmark revision feature lets you revise your errors and the most challenging questions you have earmarked for your MDS revision. With the daily revision, you can practice the mistakes that have been made in the past three days. The deep revision feature allows you to revise all the mistakes you have committed in the past to master your concepts.
Revision Strategies and Techniques
While developing your revision strategy, it is important to think about the most effective ways to learn. By now, you might now have recognized ways to learn more efficiently and therefore save yourself time.
You can combine the following different revisioning strategies to create your own revision strategy for NEET MDS.
If you want something you have never had, you have got to do something you have never done.
Making notes
You can go through your BDS books and resources and make condensed notes for exam purposes. You can even create separate folders for each topic. These notes can be electronic or hand-written.
You may even find it useful to discuss your notes or doubts with your peers. For example, discuss any important topic with your friends or watch video lectures. This would help you retain that topic in your memory for a long time. Making a summary of topics or writing handwritten NEET MDS notes makes the revision simpler and quick. You can easily scan through all the topics when notes are written at a single place.
When you practice with PULP for NEET MDS, you will get detailed explanations for questions. The explanations will strengthen your fundamentals and concepts and help you apply your learnings or concepts to various questions.
Hands-on revision
You may also learn best by hands-on practice and doing. You can't master NEET MDS prep just by reading books and thinking through theory. You need to solve questions, practice them endlessly, make mistakes and revise those mistakes until you master them.
With PULP, you can take the daily test, solve endless questions, and revise them later. PULP has been designed in such a manner that you can revise in three ways, two of which are reserved exclusively for our Premium users.
Daily revision feature allows all users to practice the mistakes they made in the last three days.
Bookmarked revision feature (for premium users) allows users to revise all the questions (by subject) that have been bookmarked earlier.
Deep revision feature (for premium users) enables users to improve their performance by prioritizing all the mistakes made in the past. You can review any question that you got wrong a long time back. Our AI also observes patterns within the incorrect questions and finds questions to improve your score.
Creating diagrams and mind-maps
While making notes, you can draw pictures, diagrams, and mind-maps for revision. In addition, you can make a colorful pattern out of your notes to highlight important points. So, what about learning from sharing?
You can form your study circle with PULP. Partner with your friends during test preparation and revise together. PULP study circle will help you grow and win together. You can create customized tests and ask your friends to join in the challenge. Share your scores to inspire and motivate each other. Our discussion board feature also enables you to ask & answer NEET MDS doubts for the dental PG exam. You can interact with the community just before the exams to relieve your stress.
Memory aids
Have you ever used flashcards and mnemonics to help you remember important concepts for NEET MDS? Flashcards are very useful when you need to memorize large amounts of information. You can even ask your friends to come together to create your flashcards or mnemonics.
When you write important facts and figures on flashcards, it can help you jog your memory quickly and help you retain the topics and facts for longer.
Conclusion
NEET MDS exam is one of the toughest tests for dentists where BDS students seek admission to the dental PG college of their choice. The exam demands hard work and sweat from each aspirant.
After you qualify for the NEET MDS, the scope of various possibilities is so vast that each student tries to give their best to this exam. But preparing for NEET MDS is no cakewalk.
Your revision strategy can be the major difference between the candidates who qualify for the NEET MDS exam and those who don't. When you have prepared for the WAR for long, why lose out on a BATTLE! Come, be a part of a PULP. Our REGULAR REVISION PLATFORM has been instrumental in the success stories of thousands of aspirants. Let the next story be yours.