95% of NEET 2021 Questions were from Darwin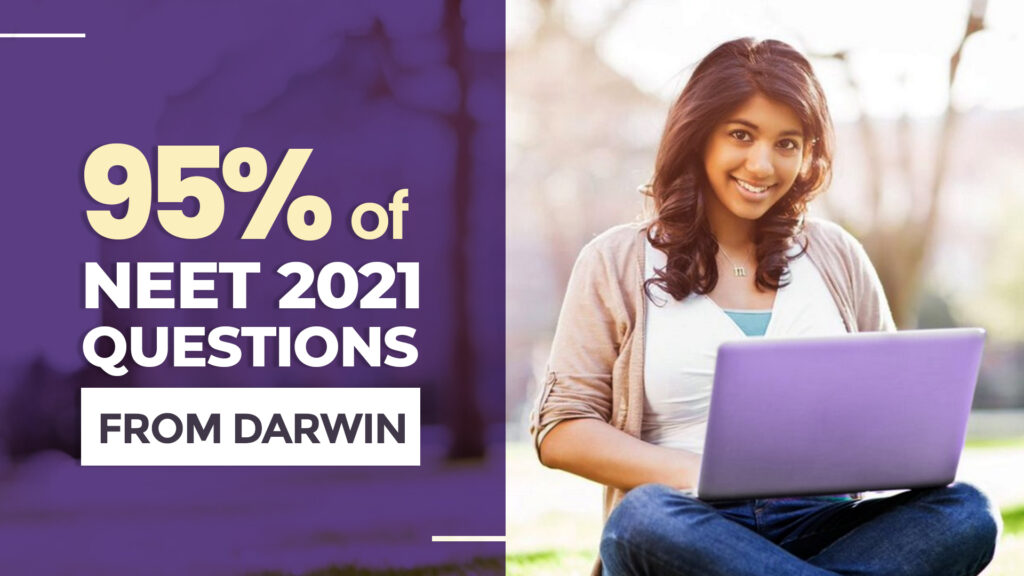 We have been overwhelmed by the responses and feedback you have given us after NEET 2021 exam. We have received tons of messages and emails from Darwin users mentioning how they were able to solve most of the questions in seconds because they were an exact repeat from Darwin's question bank.
This means a lot to us guys!
Last year, 90% of NEET 2020 questions were from Darwin. We expected similar results this year as well. But we continued breaking our own records. We humbly submit that in NEET 2021, more than 95% of questions were from the Darwin app.
And, no, we are not simply making tall claims. We are presenting you with evidence too. Year after year, we see many NEET coaching institutes and online test platforms being put in turmoil by the results. But if there is one bastion that is standing tall and still burning bright, it is DARWIN.
So, you might be wondering, how does this happen every year?
Do they have insiders inside the NTA? Do they know examiner framing questions?
No, that's actually not true at all.
Let us tell you how it is possible that 191 out of 200 NEET 2021 Questions were straight out of the Darwin app.
Our Secret to Success
First of all, Darwin NEET prep is not merely an online test platform. It is a complete package where you solve questions, set your fundamentals right, know your weakness, track your progress, and keep practicing till you become confident.
Our NEET preparation app is a combination of daily test series, topic-wise and subject-wise workouts, customized workouts coupled with effective revision features, PrepDNA insights, biology flashcards, and a discussion forum where students keep each other motivated.
Darwin has been acknowledged as a product innovator. We don't just focus on the question bank, which is a collection of previous years' papers from various medical exams and questions designed by our experts. The thing we do best is the insights we give you to prepare for NEET. Our insights have been helpful to all NEET aspirants and provide a chance to any student sitting anywhere in India – A chance to grab the top seat in India's medical college.
Analyzing This Year Paper
Every year after NEET, we analyze the NEET question paper. We also review our test series, detailed explanations, flashcards, toppers PrepDNA, and our breakthrough analytics. The purpose of our analysis is to learn and understand the new trends in the NEET exam. This also helps us to adapt new test practices and prepare and design questions according to the latest requirement of the NTA. We believe that it is a crucial step to guide NEET aspirants who trust us impeccably.
In NEET 2021, over 90% of questions were repeated from Darwin across every subject. You don't have to hear our claims; in fact, you can cross-check the findings by accessing the exact question ID on Darwin with the NEET 2021 test paper.
For biology, which is considered the backbone of the NEET exam, we had a strike rate of 98%. That is 98/100 NEET 2021 biology questions were from Darwin.
In botany, 49/50 NEET 2021 MCQs were from our Question Bank.
Here, is an example. To access this question on Darwin, click here.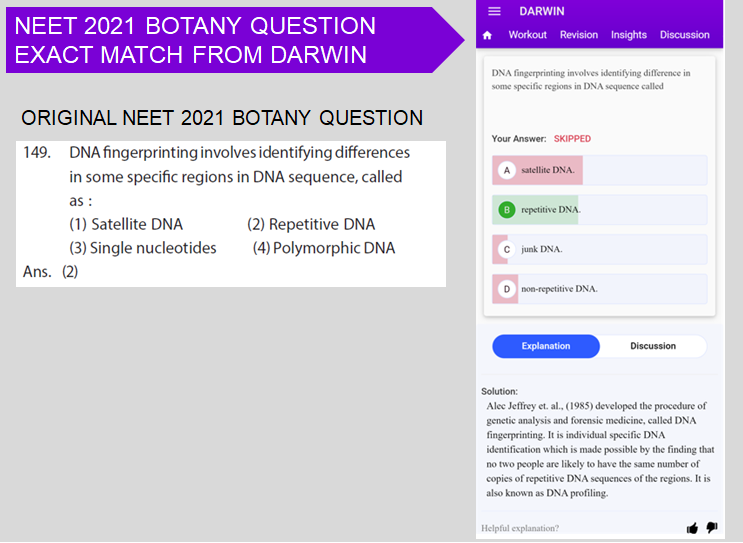 Can't believe it? Here is another one. To access the below NEET 2021 question on Darwin, click here.
Moreover, you can double-check these results for all the 191/200 questions for NEET 2021 from our another blog.
In the Zoology section, we had a strike rate of about 98%. Yes, we know that's massive!! And again, you can verify it by accessing this exact question ID on Darwin.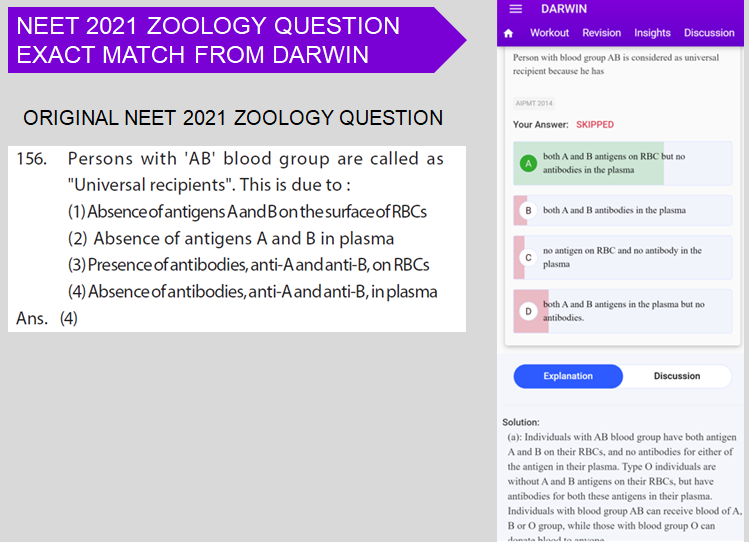 If you want to know how we fared in the Physics section, then get ready to be surprised. We know Physics is a nightmare for every NEET aspirant. But we had a 90% strike rate in Physics. Yes, that means 45/50 MCQs of the Physics section of NEET 2021 came directly from Darwin.
To access this exact NEET 2021 Physics question on Darwin, click here.
The results are not limited to Biology and Physics, in the Chemistry section, 48 out 50 questions asked in the NEET 2021 were from our app.
To access this exact question on Darwin NEET Prep App, click here.
Repeats from Previous Year Papers
We know that the examiner loves to put past year medical questions in the NEET test. We see about 75% of questions pretty similar to the previous year's question papers in every NEET paper. And this year, was no exception.
So, if you have read thoroughly and practiced that question once, you may have been able to answer the question in a fraction of seconds in NEET 2021 exam. As per our analysis, there were at least 15-19 questions from each subject that were similar to past year papers.
Questions from past NEET and AIIMS, old AIPMT, and even regional medical entrance tests came up. And you already know that Darwin is the largest accumulator of such questions. So, if you have sincerely practiced from Darwin, these questions would have been a piece of cake for you.
Cheers to The Mentors Too!
Here, we also want to thank our subject matter experts who not only framed new questions but also provided a detailed explanation to solve every question. If you don't understand the concept clearly, Darwin's explanations after every question would have made it easier for you to learn the concepts.
Solving the MCQs and reading the answers to know the techniques involved in solving the question is a great way to train your brain to find the patterns. In fact, these explanations not only help you to strengthen your fundamentals, but you can also crack many NEET questions that can be framed from these explanations.
If you have dedicatedly read these explanations, there is no doubt that you gained an added advantage in NEET 2021.
Giving You the Best Return on Investment (RoI)
With the expensive classroom coaching mushrooming everywhere, even after burning a hole in the pocket, these institutions fail to help NEET aspirants clear the NEET exam. No, we have got nothing against coaching institutions. In fact, we encourage students to join the best NEET coaching classes.
What we are trying to say is that you spent peanuts while practicing on Darwin. And yet, we still came on top of every NEET prep platform out there in giving the best result.
Darwin NEET prep app is a pioneer in online learning. Our goal is to make you the very best version of yourself, and our high-quality online test platform ensures that every hardworking NEET aspirant gets his due.
Your commitment to your journey, along with the most loved NEET prep app, is surely a winning combination.
All the Best!