Last Minute Preparation Tips For NEET | Darwin App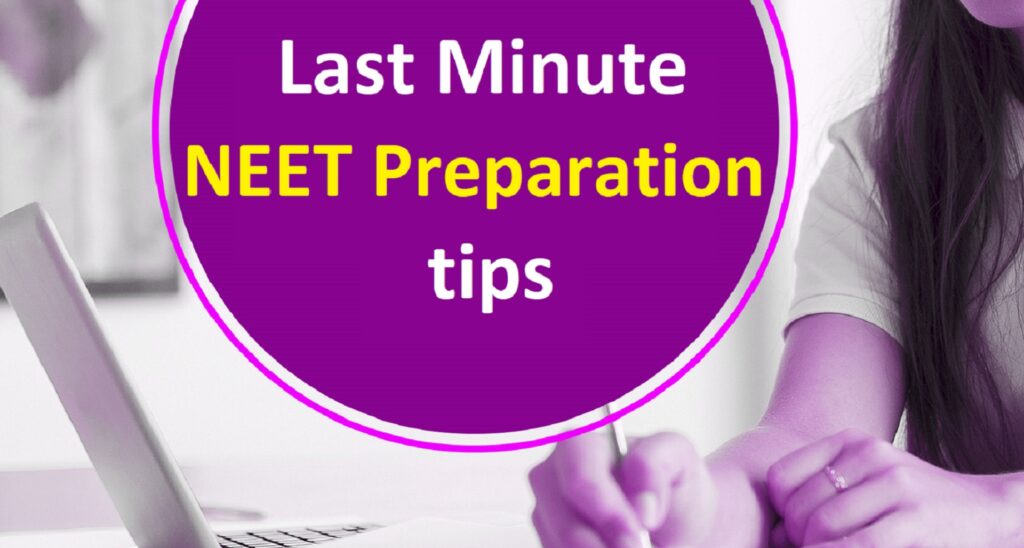 As the exam day is coming closer, you might be looking for last-minute NEET preparations tips to increase your chance of getting into a medical college.
We understand that you have given your all in the last two to three years while preparing for this sole entrance test for admission to MBBS courses in India. But the road to success is challenging. The NEET exam demands hard work and patience.
How you prepare and perform in the last few days will decide how you perform on the final day. Therefore, it is important to put in the maximum effort and make use of this time wisely and smartly.
Here are some tips that can boost your preparation.
1. Plan Ahead
Planning is utterly important to prepare for NEET exams. In addition, a good plan helps you prioritize your preparation. Analyze what has already been completed and what ought to be covered. For example, if you want to complete 14 chapters from Class 11th NEET Chemistry, you can divide it into three parts.
Chapters you have already finished.
Chapters that are partially completed
Chapters that are yet to be prepared.
A last-minute timetable depending on the priority will help you take care of the important and urgent tasks. But be realistic. Don't think that you could complete NEET Chemistry or NEET Physics in three days!
Planning also helps you procrastinate less. With a written list of tasks, you are more likely to study better and achieve your targets. Planning helps you become more productive because you know exactly what you will be studying before sitting down at your desk. Finally, you can track your progress continuously to see if you have achieved your goal for the day.
Good organization removes uncertainty and gives you the confidence to crack the NEET exam on D-day.
Did you know that Darwin app advanced technology helps you stay organized?
Darwin EffortDNA features can tell you the amount and direction of effort you have put in your NEET prep. It means that you would know which topics you have prepared thoroughly, and which topics need your attention.
Our experts have designed the NEET mock tests according to the weightage and significance of each topic. The weightage of the marks can help you decide accordingly if you want to leave the unprepared topics altogether. Furthermore, if you just want to focus on a single topic, you can customize your workout.
2. Focus on Your Weak Areas
After the above analysis, check the weightage of questions asked from the chapters that are already prepared and the ones that are not yet prepared. This exercise will help you to decide whether you should focus on the unprepared ones.
In the last some months, it's better to solve mock questions from these unprepared chapters. Darwin not only lets you solve chapter-wise or topic-wise questions but also provides you detailed explanations. In this manner, you can also prepare concepts for the unprepared topics.
As this is the last-minute preparation time, you will not have enough time to go through every chapter. Divide your study hours. Decide which subjects you feel confident in and what are your weak areas. Then, focus on brushing those weak spots so that you are better prepared to head to the NEET exam.
On Darwin, you can find out what your weaker areas are. Its breakthrough technology, PrepDNA proficiency, acts as a NEET exam rank predictor that will be your personal digital guide throughout your preparation. It can tell you from what topics you are getting the most questions wrong. As you solve the test, it continuously follows your preparation and displays your strengths and weaknesses. Pay more focus to the areas where the PrepDNA shows the lower percentile.
3. Practice NEET Previous Year Papers
While preparing for this highly competitive exam, you must practice past years' question papers and mock papers.
Practicing previous years NEET questions papers will not help you track your performance but will also make you comfortable with the NEET exam paper pattern. You must perform in exam-like conditions. Solving NEET exam sample papers help you develop speed and build the temperament required to clear the exam.
After you solve papers, check whether your marks are as per your preparation's levels. Analyze the concepts or topics in which you are constantly making mistakes. Our adaptive question delivery engine brings up similar questions in which you are making errors. By focusing on those topics or questions, you will not have any weak spots before going into the exam.
For example, you may be struggling to remember the facts from Biology topics. You can focus more on remembering the facts and diagrams to do well on these types of questions in your exam.
Every Darwin NEET prep app user can practice more than 15000+ NEET questions for free. The Darwin app has more than 30 years of NEET solved papers and questions from various medical examinations. Solving the papers can help you with time management and speed.
To know how well you are faring, you must check your ranking against your competitors on Darwin's daily test rank section. This will help you know how well prepared you are or how much additional effort you may have to put in.
4. Solve Mock Papers To Know the Right Methods of Solving the Questions
For the NEET exam, it is crucial that you solve all the questions. But it is also utterly vital that you solve them correctly! Therefore, you must know the right method to solve the questions.
When you solve new questions in a mock paper, you will understand how different questions can be framed from a concept. These NEET MCQs will test your mettle and indicate where you stand amongst your competitors.
For instance, in the NEET Physics exam, there are different methods of solving numerical problems. Each concept can come up with a different numerical question. When you solve hundreds of questions, you can know the various types of strategies involved in solving a question for a particular concept. Follow that strategy which is the shortest one.
A minute saved can get you 4 marks!
First, work on reading the question properly and then deciding if you want to attempt it or not. Reject the questions that you are not confident of. Also, reject unimportant topics or lengthy questions which may take most of your time.
Solving numerous NEET mock papers will allow you to decide on the right questions you will be attempting in the exam. After all, one negative mark in the NEET exam can cost you your dream college seat.
With the help of the Darwin app, you can solve a variety of NEET mock papers from any subject or topic. When you solve them, you can get an idea of applying your learnings or concepts variedly. Then, based on the result of your mock test, you can accordingly change your strategy and improve the performance.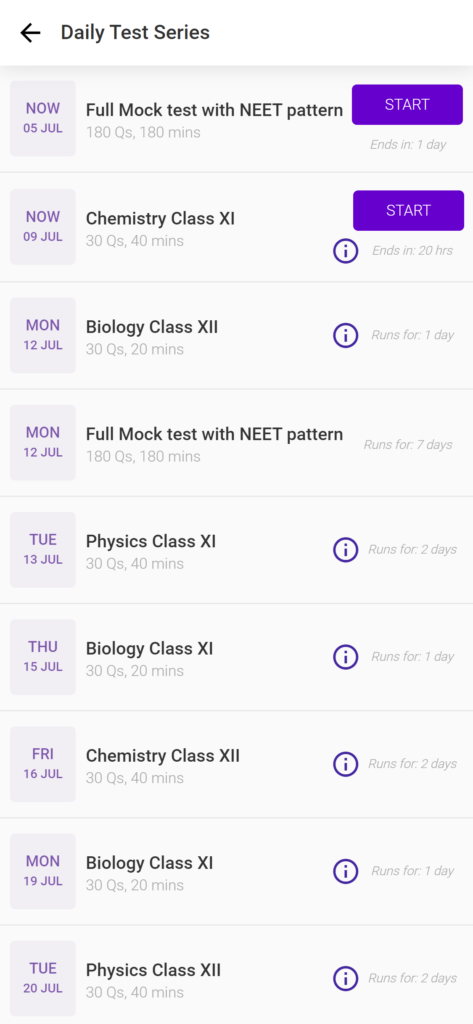 5. Revise. Revise. Revise.
Start revising all the questions papers that you have solved previously. This will not strengthen your core concepts but also your weaker areas. When you revise your mistakes, there is a lesser chance that you will make the same mistake in the exam.
Make short notes to revise a day before the NEET Exam. The concise notes will help you complete the syllabus in a mere few hours. Also, don't forget to revise the diagrams.
Darwin NEET prep app has been designed in such an ingenious manner that it makes revision simple and easy for NEET aspirants. Students can easily take the test, bookmark the questions in doubt or weaker concepts and come back later to revise it.
Darwin's adaptive question delivery displays all the questions that have been marked wronged in the past. Thus, you can easily revise your mistakes and strengthen your weaker areas. Revising mistakes also helps in improving retention.
Darwin not only enables you to solve question papers and revise your mistakes, but it also gives you detailed explanations to strengthen your concepts. Thus, you can strengthen your concepts while practicing the questions. That's a double win for you!
6. Take a Breath
Yes, we know you have worked hard. You have prepared for the most challenging medical entrance exam. However, your 2–3 years of NEET preparation are completely different from your last-minute preparations. Your preparation will give fruitful results only when you develop a good exam temperament.
Exam temperament can only be developed when you practice the above points and take care of your mental and physical health. Conversely, too much NEET exam stress can prove damaging to both the general well-being and performance.
Exercise and eat a healthy diet. Keep your stress levels low and get rid of exam anxiety by meditation. If you do not want to meditate, try listening to good music and have a good sleep. This will also cast away your exam worries.
Darwin brings the NEET community closer. You can form your social groups and create challenges for your friends to solve. The discussion forum is an interactive feature where NEET aspirants can discuss their doubts and the latest updates about NEET. You can join the social circle to relieve some stress from your exams.
BEST OF LUCK!
So, Dear students! If last minutes preparation makes you jittery, applying the above strategies will certainly help you excel in NEET.
From planning time management to minimizing any distractions, from adequate revision to getting sufficient rest, you will be well prepared to give your best in the NEET examination.
Keep being confident and stay optimistic. All these elements will guarantee a good rank in the NEET exam. Subscribe to the Darwin app to maintain the momentum of your preparations, and you will be well-prepared to give the NEET exam your best shot!