Pre-PG Vs Marrow – You Decide
Every year, we see thousands of students getting convinced by the fallacious claims of various coachings/app and spend tens of thousands to get canned question banks for NEET PG.
But have you ever decided to dig deeper? Ever thought, how these coaching institutes are making these laughable claims.
We decided to compare ourselves with these apps to prevent you from falling into such marketing traps.
For your sake, we are comparing Marrow Vs. Pre-PG. Why Marrow, you may ask? Well, this year Marrow claimed a strike rate of 95%, mentioning that 190 out of 200 NEET PG 2021 questions came from their Q-bank. They had even posted screenshots on their social media platforms to convince NEET PG aspirants.
Well, we also claimed that 194 out of 200 questions asked in NEET PG 2021 were from Pre-PG's question bank. Our current strike rate is 97%.
Fact vs Fake
Let's directly get to the result of our analysis comparing Pre-PG and Marrow. Note that on Marrow's Facebook album, they have shared claims of just 174 Questions (not 190). If you look closely, they have repeated the same question multiple times, making the data look like 190 Questions. Click here to cross-check Marrow's findings.
But even we if consider these Marrow questions, you will find that just 55 of these questions were strong matches. Pre-PG on the other hand had more than 2 times the number of Strong Matches than Marrow in NEET PG 2021. The number of strong matches on Pre-PG for NEET PG 2021 was 128.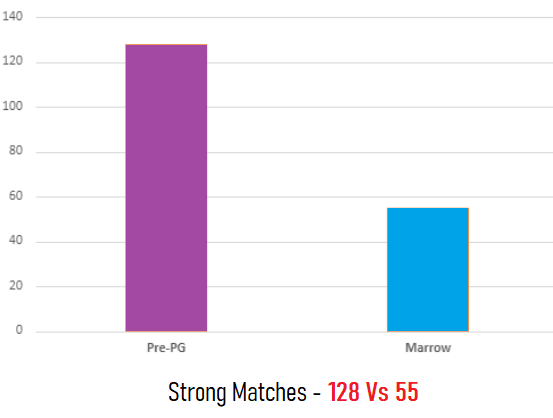 Just by thoughtfully solving these Strong Match questions on Pre-PG, you could have got over 125+ questions right in NEET PG 2021! What would you get if you did the same in Marrow? Just about 55. This surprised us.
IN OTHER WORDS, BE CAREFUL ABOUT MARROW'S MARKETING GIMMICKS. They claim 190 REPEATS on their website. In reality, the number of strong matches is 55. But what about the remaining questions?
If you will look at Marrow's evidence(screenshots), the majority (117 out of 190) of the claimed questions that in reality came from their explanations part. Sharing one such example.
To access this question on Pre-PG, click here
To cross-check Marrow's claims, click here
Click here to see more examples of Marrow's false narrative about repeats. More than 50% of these questions are claimed from explanations. How likely are you going to recall these facts from notes?
It goes without saying that, Strong Match > Answer in Explanation or Notes > Video Reference > Not Present. We bet you can solve and review 30 questions by the time you try to digest some concepts mentioned in lengthy explanations or notes.
Unlike others, we offer what we advertise to our students. Even our haters cannot challenge our truthful evidence and testimonials from thousands of our users.
We posted a blog about the questions repeated this year from our platform and gave out the information about the exact question ids and when these questions were uploaded on Pre-PG to satisfy our critics. We also wanted to provide upcoming NEET PG aspirants a solid proof before they decide to choose Pre-PG.
It is better that you check the claims yourself. Check out Pre-PG's complete list of repeats along with their time of upload, and verify the findings by accessing the exact question on Pre-PG.
We leave it on you to decide,
Who is exaggerating?
Who is saying the truth?
And, who would you trust for NEET PG Prep?