Why Pre-PG over other NEET PG Apps | Decide for Yourselves
As soon as the NEET PG exam is over, almost every other coaching institute and app got in the marketing fight to convince students that similar to previous years, this year too, the maximum number of questions that came in NEET PG were repeats from their platform. And that's where the whole drama around the strike rate begins. Many students fall for this tall claim hoping to see their names amongst the toppers.
Once joined, many profit-hungry medical PG coaching institutes also ask you for extra money for non-personalized sealed question banks. You happily agree to it too, aspiring to get a PG seat in your desired college and branch. But, all dreams come crashing down when you realize that these were just empty promises.
We know how it feels. Hence, we decided to dig deep and share some details to open your eyes to reality.
We believe in our integrity and when we compared our claims with them, we weren't surprised by the result.
Marrow claimed that 189 of the 200 NEET PG questions this year were from their Q-bank (and even said that 191 of the 200 questions originated from their videos).
Prepladder claimed a strike rate of 96% and DAMS claimed a tall tale of a whopping 100% strike rate. The list is never-ending!
These same institutes create a false sense of credibility by claiming the same set of top scorers and advertising them as their success stories. The same set of toppers not only used the Marrow but we're also preparing with platforms "P" and "D" too. Isn't that ridiculous?
This further encourages students to misrepresent their success and promote the institute, creating a cycle of fake results and marketing.
We also claimed that 198 of the 200 questions asked in the NEET PG 2023 exam were from the Pre-PG's question bank and had a strike rate of 99%.
For the pointing fingers who argue that we are liars, we published a blog about the questions from our platform that were repeated this year and provided information about the precise question ids and the dates these questions were posted on Pre-PG.
And the thousands of messages received by our students thanking us after they felt the relief of seeing so many repeat questions in NEET PG 2023 is another proof of our claims.
But still, for the naysayers, we are not sharing this to blow our own trumpet. Nor are we against any medical PG preparation coaching institutes/apps but we genuinely want the doctors to get the best PG coaching and value for their money.
How is the strike rate defined?
You may have heard this term only in cricket, but several coaching institutions utilize it to highlight the number of similar or identical questions from their apps and the ones asked in the NEET PG exam.
Each question has been divided into four brackets.
We classify the MCQ as a Strong Match if the options and questions offered by the learning platform are strikingly similar to or identical to the actual exam questions. If the logic is the same but the question differs slightly, it qualifies as an indirect match. The solution is then presented in the form of explanations, notes, or flashcards, depending on the source of the question. Not present refers to questions that are not present in the app.
We hold morality very high and only claim the truth. We make claims regarding the Pre-PG questions if you are answering them via our platform. You can read this blog to see if our statements are true.
So, now coming to the crucial part. Pre-PG has a breakthrough strike rate of 99%, most of them being strong matches. If you have meticulously practiced, we are sure that you would have found your name enlisted in the top rankers.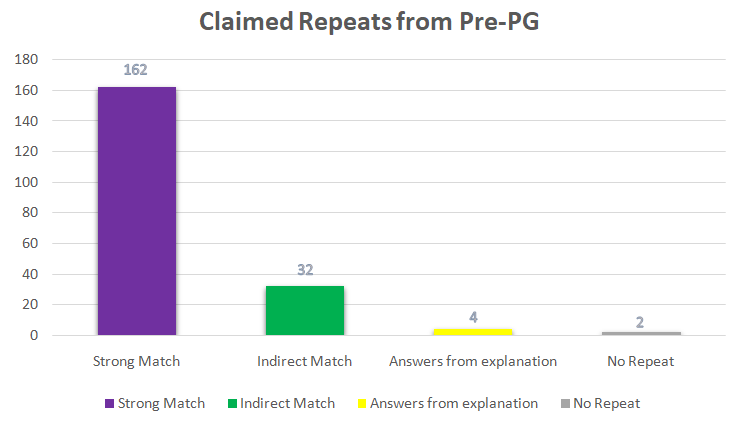 You will find no other institute has mentioned their percentage of strong matches or even indirect repeats. The sad reality behind this is almost every other repeat claimed by them is from their notes, videos, or from the lengthy explanations. Students are smart enough to judge whether it should even be considered a repeat or not.
NONE OF OUR CLAIMED REPEAT IS FROM OUR VIDEOS, NOTES, AND NON-TEST MATEIAL.
We bet you can solve and review 30 questions by the time you try to digest some concepts mentioned in lengthy explanations or notes. We leave it to you to decide, which platform will yield more improvement with the same effort.
Sharing an example of a claimed repeat from Pre-PG and other apps.
To access this question on Pre-PG, click here
To cross-check Marrow's claims, click here
To cross-check Prepladder's claims, click here
Pre-PG has been designed to give the best experience to all the hardworking doctors preparing for the medical PG entrance.
We have compiled a Q-Bank of 75,000+ MCQ but we don't want you to practice all those questions.
We focus on personalized learning. Our algorithm presents you with the top 20,000 to 30,000 questions that are customized for you, after considering your strengths and weaknesses. Check your PrepDNA to monitor your progress and avoid any surprises on D-day.
We have done our part. Now as aspirants, it's your duty to practice as many questions as possible to make your medical dream come true.
Again, we would like to reiterate that we are not backlashing any institute/app as many of them are good. We only ask them to be honest with their claims.
We ask you to carefully check these claims instead of falling for their marketing trap.
Bracing till the end
As we too have claimed a 99% strike rate in NEET PG 2023, you may think – how are we different. So, here are a few things that make us unique:
Our team of the best subject-matter experts regularly strives to keep the Q-bank up to date with the latest trends.
PrepDNA, our innovative analytics feature that helps you perform to your fullest potential by identifying your areas of weakness
Our unique customization feature allows you to create personalized mock tests with the subjects and topics of your choice.
You will be prepared for all types of patterns and levels of difficulty by studying 30 years' NEET PG, AIIMS/INICET PG, JIPMER, PGI, and FMGE PYQs. As a result, you will be ready to take the NEET PG in any situation.
Largest collection of clinical questions to prepare you for the new pattern
Advanced revision features to eliminate mistakes
And this is not all…
Pre-PG constantly strives to provide the best service at the most affordable price. We believe that every aspirant who's ready to give his/her 100% and more should be given the best platform to achieve their dreams. We understand that each student has unique strengths and weaknesses, and our app is designed to cater to individual learning needs.
Every year, we make sure that Q-bank aligns closely with what is asked in NEET PG.
Unlike some, we give our users what we advertise. Even our haters are unable to refute the veracity of our proof and the thousands of user testimonials.
It's now up to you to choose. Whether you want to repeat the same mistake again or choose a platform that can actually help you get the desired results.